DOJ file James Merril criminal trial brief (TelexFree)

In a September 28th trial brief filing, the DOJ claim TelexFree was
a massive pyramid scheme that roped in about a million people worldwide and caused about a billion dollars in losses.

TelexFree paid participants a yearly return of over 200% without requiring them to sell anything.

All they had to do was (a) pay TelexFree $1425 and then (b) spend a few minutes cutting and pasting tiny classified ads to a handful of web sites every day.

The company paid participants to recruit others too, but never required significant sales of an actual product.

Unsurprisingly, TelexFree collapsed; by April 2014 it owed its participants about $5,000,000,000.
At Merrill's trial, currently scheduled for October 24th, the DOJ plan to
prove that TelexFree was a Ponzi and pyramid scheme (and) that Merrill knew this almost from the beginning, and yet continued to actively promote the company and profited from its illegal proceeds.
The DOJ's filing is 46 pages long, so in the interest of brevity I've condensed the brief with only minimal commentary.
Read on for a brief of the DOJ's case against James Merrill.
Introduction
TelexFree was a "network marketing company"1 that offered its participants something more: according to James Merrill, the "opportunity of a lifetime"; according to co-defendant Carlos Wanzeler, a way to "change your life"; and, again according to Merrill, a chance to be part of something that Fortune 500 corporations (that "squeeze employees until there's nothing left") feared – "strength in numbers that network marketing produces."

By the end, about 2,000,000 people around the world signed up to become promoters for TelexFree.

Between about February 2012 and April 2014, TelexFree participants bought about 6,500,000 promoter accounts with the company.

But from its beginning, TelexFree was a fundamentally fraudulent business.

Claiming to sell a retail product, TelexFree offered a complex, jargon-filled compensation plan that transformed the entire enterprise into a pyramid scheme and a Ponzi scheme (depending on which part of the compensation plan a participant used).

And, like all such schemes, it collapsed.
TelexFree in the United States
Before TelexFree, James Merrill and Carlos Wanzeler had worked together since about 1988.

In about 2002, Merrill and Wanzeler joined their first network marketing business together, Common Cents Communications, Inc.

Through this business, the men were agents for a now defunct telecom company called WorldxChange.

By the mid to late-2000's, Merrill and Wanzeler had started another company, called Diskavontade (also called Brazilian Help, Inc.).

Diskavontade maintained an office in Shrewsbury but later moved to what became TelexFree's headquarters at 225 Cedar Street, Marlborough, Massachusetts.

Merrill and Wanzeler's next business venture, TelexFree, was formed in February 2012, when Common Cents Communications changed its name.
TelexFree in Brazil
The idea for TelexFree actually originated in Brazil with a man named Carlos Roberto Costa ("Costa").

In 2010, Costa established a company called Ympactus Comercial Ltda ("Ympactus"), in the Brazilian state of Acre, to sell cosmetics, perfume and personal hygiene products.

Costa, a friend of Wanzeler, was well-known in the world of network marketing in Brazil.

Costa came to Merrill and Wanzeler with the idea of marrying Costa's network marketing strategy with TelexFree's VoIP product, and a partnership was formed.

By later in 2012, the relationship became more official: Merrill and Wanzeler became part owners in Ympactus (Merrill 20 percent, Wanzeler 30 percent, Costa 50 percent), and Ympactus signed a licensing agreement to market and promote TelexFree in Brazil.

While residing in Brazil, Costa also became a part owner of TelexFree in the United States though he did not speak English and spoke mostly with Wanzeler.

Ympactus in Brazil and TelexFree in Massachusetts, though separate on paper as corporate entities, were both TelexFree – they both marketed the same compensation plan, and the same product, from the same web site, backed by the same set of servers.

During the charged wire fraud conspiracy, Merrill received substantial compensation from Ympactus/TelexFree in Brazil.

Based on bank records from Brazil and the United States, in February 2013, the equivalent of about $1,500,000 was transferred from an Ymapactus account in Brazil to an account held by Wanzeler in that country.

The funds were then transferred from that account to an account belonging to Wanzeler in the United States.

From there, on February 4, 2013, Wanzeler wrote a check to Merrill from that account, for $865,000.
Merrill's position at TelexFree
Merrill was the president of TelexFree in the United States and a 50 percent co-owner of the company with co-defendant Carlos Wanzeler.

But his role was not quite as dry as the term "corporate president" might imply.

TelexFree's public events – in Newport Beach, California; Orlando, Florida; Brazil; and Boston, Massachusetts – were arranged to generate excitement and to present Merrill to TelexFree's predominantly working class Latin American victims as a minor
celebrity; a competent and experienced American businessman with serious credentials.

At the Orlando conference in November 2013, TelexFree's "international marketing director" introduced Merrill to the crowd to the song "Eye of Tiger" (from the Rocky soundtrack).

A DVD TelexFree made available from its website for another event featured staged images of Merrill approaching a cruise ship with crowds running to greet him.

By July 2012, the TelexFree website featured a photograph of Merrill and invited visitors to "Meet the founder and president of TelexFREE ads and technology, Mr. James Merrill."

Clicking Merrill's photograph led visitors to a biography of Merrill which claimed that Merrill earned a degree in Economics from Westfield State University (which was false) and described Merrill as a "Man of great vision."

The page included photographs of Merrill standing in front of a bright red Hummer (which he did not own); ); and Merrill standing in front of the office building at 225 Cedar Street in Marlborough, presented as "the headquarters of Telexfree in the U.S" (even though TelexFree leased only a small portion of the building).

Merrill ran TelexFree on a daily basis. He handled "most of the admin and vendor relations and product development."

While Merrill also later claimed to have little knowledge and a limited role in TelexFree's compensation plan, he was in fact intimately involved in reviewing and developing it.

Merrill also edited the PowerPoint presentations maintained on TelexFree's site that explained TelexFree's compensation plan and were intended for use by its promoters for recruiting purposes.

Based on advice from TelexFree's lawyers, from the very beginning Merrill was keenly aware that the compensation plan was not only fatally flawed, but illegal.

Merrill also opened and maintained the bank accounts for TelexFree. TelexFree needed U.S. financial institutions and third-party payment processors to facilitate the flow of U.S. dollars to TelexFree to fund its operations and pay commissions and bonuses to an ever growing number of participants.

Merrill opened each of the bank accounts and signed each of the business contracts on behalf of the company, and did this repeatedly over a two-year period, as banks regularly forcibly closed TelexFree's accounts for fear that TelexFree was involved in money laundering or other illegal activity.
TelexFree's compensation plan
This part of the brief pretty much covers what BehindMLM first reported in our 2012 TelexFree review.
The warning signs
As early as December 2012, Merrill and Wanzeler knew that if they did not earn revenue from the actual sale of their product (that is, sale to a genuine retail customer who wanted to use the service) they would be in trouble.

For example, during a trip to Brazil in December 2012, Ryan Mitchell listened to Merrill and Wanzeler's description of TelexFree's business plan and asked an obvious question: How does a company that takes in $1,425 (from selling an AdCentral Family plan) but then has to pay out $5,200 a year per plan, survive?

Where does the money come from?

Mitchell asked how much revenue was coming from the sale of the VoIP and added, "If you can't answer these simple questions . . . everyone is eating BS!"

Merrill acknowledged the obvious: "If all the Revenue is from agent start up fees and we pay agents without them acquiring customers, we would be in trouble."

This admission comes 16 months before TelexFree's collapse.

By early January 2013, Gerald Nehra, TelexFree's first legal counsel and a specialist in the MLM industry, gave Merrill specific advice on the need for actual product sales.

For example, during a series of emails in January 2013, Merrill provided Nehra with a copy of a new PowerPoint for posting on TelexFree's site.

Nehra wrote back various suggestions, including that, on slide 11, "we need to say somewhere that this bonus is paid when the enrolled person buy/sells the VoIP service."

Merrill resisted this change and acknowledged that there might be "a higher risk of regulatory scrutiny."

By later in January 2013, Nehra began receiving emails from TelexFree promoters in Brazil about allegations that TelexFree in Brazil was "engaged in [an] illegal pyramid scheme or Ponzi scheme" there and that an investigation being conducted in the State of Acre in Brazil.

Nehra forwarded the emails to Merrill, who assured Nehra that they had lawyers in Brazil and that, "As far as I know no other problems with that investigation."

Between March 2013 and May 2013, Nehra fielded additional emails from TelexFree participants, this time in the United States, who questioned whether TelexFree was an illegal pyramid and Ponzi scheme.

Nehra again forwarded this emails to Merrill and discussed with Merrill, in detail, the critical issue of ensuring that the company has "real customers" to prevent TelexFree from promoting a "money game."

In May 2013, Nehra received a complaint from a Florida resident who compared TelexFree to a company the U.S. Securities and Exchange Commission ("SEC") sued in August 2012 called "Zeek Rewards."

Nehra forwarded the email to Merrill and wrote, "I am on board to defend a program that sells long distance to customers. . . no mention of that below."

In June 2013, Nehra forwarded yet another complaint that TelexFree was operating as an illegal Ponzi/pyramid scheme.

In the email Nehra asked Merrill, "Continued payment of commissions requires customer sales – does it not?"

Merrill responded by saying (despite all mounting evidence to the contrary) that the "incentive to sell [the TelexFree product] was "strong."

In June 2013, a court enjoined TelexFree's operations in Brazil (having concluded that TelexFree was a pyramid scheme) and froze more than $300 million in Ympactus accounts.

TelexFree's marketing director in the United States was flooded with phone calls about the Brazilian shut down of TelexFree and its potential impact on TelexFree in the United States.

As a result, the marketing director hosted an internet conference call for TelexFree promoters, with Wanzeler and Merrill, to answer those questions.

The call was later posted on YouTube. During the call, Wanzeler assured the audience that they had talked to their lawyers in Brazil and "I'm sure 99% we can fix this problem today and tomorrow."

Wanzeler further added that it was not going to affect TelexFree operations in the United States.

Merrill then seconded Wanzeler, assuring listeners that "what Carlos said is very true . . . things will work itself out in Brazil" and "it does not affect the U.S. market."

Shortly after Brazilian authorities shut down TelexFree in Brazil, TelexFree pivoted and focused on the United States.

On July 26-27, 2013, TelexFree hosted its first corporate event in Newport Beach, California. The featured speakers at the conference included Merrill and Wanzeler, as well as Gerald Nehra; it was Merrill who asked Nehra to speak at the conference.

Specifically, Merrill told Nehra that they were going to change the "buy-back" provision of the compensation plan, the provision that allowed AdCentral and AdCentral Family account holders to make $1040 or $5200 a year, respectively per account owned.

Later on in 2014, long after the Newport conference, Merrill told Nehra that the wanted to make the change but had been "outvoted."

In advance of his talk, Nehra also had some questions about the numbers of customers that TelexFree had.

Merrill, in turn, tasked two people (Ryan Mitchell and Jay Borromei) to look at the Diskavonatade database and report those numbers.

During a series of emails between July 23 and 30, 2013, Mitchell gave Merrill (and in turn, Nehra) detailed numbers regarding actual phone calls, but as far the number of actual customers, Merrill indicated that, "The customers is more complicated it is an ongoing IT issue."

In a July 26, 2013 email, Nehra repeated the request.

During the Newport conference, Merrill spoke to the crowd about the strong "brothership" he had with Wanzeler, and said they had been in business together since 1988.

Merrill then made his pitch for TelexFree. He talked about how corporations and Fortune 500 companies "squeeze the employees until there's nothing left," and told the crowd that corporations feared the power of network marketing: "They fear the strength in numbers that network marketing produces. They fear the freedom that we all share here in the business."

At the end, Merrill told them TelexFree was getting ready for "Stage Two" and said, "God bless you, stay with us, we're ready to take on those corporations."

Following Merrill's presentation, Wanzeler took the stage and addressed TelexFree's Brazilian legal problems by invoking religious belief and telling the crowd, "Trust in God, and trust the law . . . it'll open up again. We very close to this get fixed."

Wanzeler then talked about how the Brazilian injunction had hurt a million people in Brazil, offered to say a few words in Portuguese to all those people, paused, and broke down crying.

Merrill stood by his side and comforted him. Wanzeler's tears brought the crowd to its feet in a standing ovation.

Nehra, as agreed, spoke at the conference. During his talk, Nehra told the crowd that they "are in the right place."

Nehra's apparent legal blessings were predicated on Merrill's assurancesthat TelexFree could change the buy-back provision: Nehra told the crowd, "you are on very solid legal ground," an assessment based on the fact that, "from what I've heard from Jim and Carlos in the implementation phase, and Jim and Carlos have promised me that they are going to follow my
guidance . . ."

Nehra also expressly ducked a question from the crowd about the Brazilian injunction, telling the crowd that he was "the MLM specialist attorney for TelexFree in the U.S. only," and reminding them that "I should not be used as marketing tool[.]"

But Merrill did use Nehra as marketing tool. In an earlier email dated January 9, 2013, Merrill discussed with Ryan Mitchell bringing on board someone with MLM experience as a way to "leverage his . . . knowledge as Marketing tool [sic]. Just like we did with Gerry Nehra.

Gerry gives our agent comfort that our business model is legally sound. We used his Bio on our Website."

Nehra's biographic information was indeed prominently displayed on the website, under "Legal Department."

Following the Newport Beach conference, Nehra was deluged with emails and questions about whether TelexFree was an illegal pyramid and/or Ponzi scheme.

The emails provided a clear picture of what was actually going on. Individuals were investing huge sums of money into TelexFree.

For example, on July 29, 2013, Nehra received an email from a promoter who invested $12,000.

Nehra forwarded the email to Merrill and asked, "How does someone put $12,000 in? not what I approved . . . if the train is about to go off the tracks . . . put the brakes on – now . . . this firm can only defend a business model that sell a service to customers that are using the service. . . I strongly recommend you track and post on your web site – Your ACTIVE customer activity."

Days later, on July 30, 2013, Nehra forwarded another email to Merrill about another inquiry into the legality of TelexFree, with the following warning: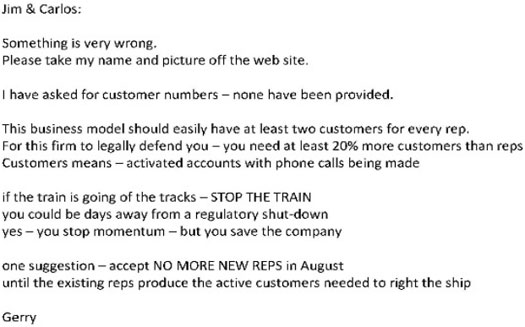 Days later, in an email response on July 31, 2013, Merrill suggested that the email Nehra forwarded was from a "competitor," and said, "We do have plenty of customers and we are making the changes to increase qualifications.

Is our reporting inefficient yes but we do have customers."

Meanwhile, over time, Merrill opened and maintained most of TelexFree's bank accounts.

As Merrill knew, finding a financial institution willing to hold millions of dollars of promoter contributions was a problem.

TelexFree needed bank accounts to hold new money from new promoters, which it then used to pay commissions and bonuses to earlier investors.

While Merrill claimed to have been "very upfront" with the banks about TelexFree's business, bank employees take a different view.

For example, on June 6, 2013, Merrill met with an assistant manager at a TD Branch in Worcester, and became uncomfortable when he saw a video camera on her desk.

Merrill asked why the camera was there, angled his body away from the camera, and moved a placard on Brown's desk to obstruct the camera's view of Merrill.

Uncomfortable with Merrill's vague descriptions of TelexFree's business, TD Bank directed the branch manager to follow up with Merrill.

After weeks of trying to track Merrill down, he finally met with Merrill in October 2013. Merrill described the TelexFree business model to Dos Santos, but failed to mention anything about the ad-posting aspects of TelexFree's compensation plan.

Soon after, TD Bank told Merrill the bank was closing TelexFree's account.

TelexFree fraudulently presented the closure of its bank accounts as a positive sign.

On August 8, 2013, Citizens Bank notified TelexFree that it was closing TelexFree's account.

Shortly thereafter, TelexFree's marketing director spoke on an investor call (posted on YouTube on August 9, 2013) about the closure.

He indicated that their current bank was not allowing them to do any more transfers because "you guys have far exceeded the amount of transfers that you can do on a given week[.]"

The marketing director described this event as "really exciting" and said, "Now, the exciting thing is that it's happening because we're growing so fast and doing so many transfers and it's – I'm tickled."
Merrill distributes $10,000,000 in illegal proceeds to himself, Wanzeler & Costa
In late December 2013, Merrill, Wanzeler, and Costa decided to pay themselves millions from TelexFree accounts.

On December 26, 2013, Merrill caused more than $10,000,000 to be transferred from TelexFree's bank account at Fidelity Cooperative Bank to Merrill and Wanzeler's personal accounts: $3,000,000 for Merrill, $3,500,000 for Wanzeler, and $3,500,000 earmarked for Costa.

Of this total amount, at least $9,000,000 came directly from money paid by new participants to join TelexFree.

Upon receipt, Merrill divided his haul into different investment accounts.

On January 21, 2014, the MSD issued subpoenas for records and Merrill and Wanzeler's testimony.

Babener described the action as "serious and is an escalation" and warned Merrill that his testimony will be under oath and can be used against you in a criminal proceeding.

Despite this, on March 5, 2014, TelexFree's marketing director, after speaking with Merrill about rumors of an investigation, hosted a conference call in which he denied any type of investigation and said that "there's nothing going on."

On March 25, 2013, Merrill did testify before the MSD. Among other things, he significantly downplayed his involvement in TelexFree's compensation plan.
TelexFree collapses
Finally, on March 9, 2016, TelexFree altered its compensation plan to require promoters to sell more of the VoIP product before qualifying for bonuses.
Note that the above is verbatim from the trial brief. The correct date should be March 9, 2014.
Or at least on paper. Many promoters simply bought themselves additional VoIP plans as a cost of doing business, because they were doing so well posting ads and recruiting other people.

But thousands more, having no desire to actually sell anything and perhaps seeing the writing on the wall, began yanking their money out of TelexFree.

Over the next six weeks, TelexFree hemorrhaged millions of dollars a week.

On April 13, 2014, after TelexFree's accountant told them they owed billions of dollars to their promoters, TelexFree declared bankruptcy.
The case against Merrill as I see it looks pretty solid.
The DOJ estimate they will call "about 27 witnesses" and 'that the trial should last three to four weeks'.
Stay tuned…
Footnote: Our thanks to Don@ASDUpdates for providing a copy of the DOJ's Trial Brief (filed September 28th).