TelexFree vows recovery in Bankruptcy Protection
If the injunction continues TelexFree may enter into bankruptcy.

Should the company spend a few more days being prohibited from signing up new investors, they would have no money to pay the old ones.

-Djacir Falcão, one of TelexFree's lawyers explaining on July 10th why the Acre injunction should be lifted

News broke yesterday on BehindMLM that TelexFree was entertaining the idea of applying or Bankrupty Protection in Brazil.
The comment was accompanied by a TelexFree Facebook notice, informing the company's affiliate investors that owner Carlos Costa would shortly be putting up a video explaining the move.
Less than twenty-four hours later Costa came through, announcing, amongst other things, that on Thursday the 19th TelexFree had indeed filed for Bankruptcy Protection in the Brazilian state of Espírito Santo.
In both the TelexFree Facebook announcement and Carlos Costa's video, it is claimed that the company filing for bankruptcy is to "protect its affiliates". But is that really the case?
Having failed to convince judges in Brazil to lift the business crippling Acre injunction, handed down in June which prohibits TelexFree from recruiting new investors and paying out existing ones, the main thrust behind the bankruptcy protection filing appears to be the belief that TelexFree will be able to present an alternative business model to the courts, and more importantly this time have it accepted.
According to Brazilian law,
Law 11,101, enacted on February 9, 2005, regulates the country to bankruptcy, and the bankruptcy of the extrajudicial business and society.

The reorganization is addressed in chapter three of the law, explaining that it "aims to facilitate the overcoming of a situation of economic-financial crisis of the debtor, in order to allow the preserving of employment of workers and the interests of creditors, thus promoting the preservation of the company, its social and stimulating economic activity."

The 2005 law ended the instrument of "bankruptcy" in Brazil and allows the indebted company to present its own proposal to the creditors.

The legislation sets a deadline of six months for negotiation between the parties, which is mediated by a trustee appointed by the Court.

If no agreement is reached between creditors and debtors via a recovery plan, the company is declared bankrupt.
Carlos Costa previously floated a modified TelexFree compensation plan, which stripped out everything except the matrix component. Costa asserted that by placing all affiliates into a matrix and shuffling around their money the company would somehow prove its sustainability and non-reliance on new affiliate money to pay out existing investors.
Whether or not this model was submitted to a court is unclear, however TelexFree has lost every filed appeal since Costa made his proclamation.
Based on the fact that, if granted, bankruptcy protection would permit Costa to resubmit the matrix-based business model, I believe the re-submission of Costa's model is at the core of TelexFree's application.
Where TelexFree will find the money to pay out over 100% of what it took in however is unclear, with many affiliate's investments having already been paid out to existing investors before the company was effectively shut down in Brazil.
When asked for clarification on the balance TelexFree owed its Brazilian affiliates, their lawyer Horst Fuchs declined comment.
(TelexFree's)  lawyer, Horst Fuchs, said that the (bankruptcy) claim was filed on Thursday (19) at the Justice in the Espírito Santo, but he did not divulge the amount of the debt owed.

"It will be released a note on the subject and director Carlos Costa will also make a clarification video to publishers," the lawyer said, without giving details about the action taken by the company to try to secure the payment of its creditors (affiliates).
Whether known by Fuchs at the time or not is unclear, but when Costa's video did finally come out it too failed to elaborate on the precise sum of the debt the company owed its affiliates.
Instead, Costa took the opportunity to rant on about how apparently nobody understands TelexFree's business model:
People do not analyze our documents and [they] do not analyze our evidence. Is this normal? I do not know, but it is this way.
Whether Costa is deliberately feeding affiliates and the general public false information is unclear, however it should be noted that in all thirteen denied appeals initiated by TelexFree, the judges ruling on the appeals have had to analyse evidence from both TelexFree and Public Prosecutors before coming to a decision.
After going over said evidence from TelexFree back in July, Judge Thais Kalil remarked:
how TelexFree earnings are paid out was advantageous to the prosecutor's argument, in that adding publishers to the network is of more importance than actually trying to sell the VoIP product.

"The issue is that the earnings will be exhausted when the main source of revenue of the group (new affiliate registrations) stops. Many (affiliates) do not even have the opportunity to recover their initial investment (minimum U.S. $ 339) and this is detrimental", the judge wrote.
Other judges received death threats upon reaching similar conclusions after analysing evidence from TelexFree in subsequent injunction appeals.
Meanwhile whereas TelexFree and Carlos Costa have reassured affiliate investors that the company filing for bankruptcy protection is in their best interests, this appears to not be the case.
In the video, Costa said that the bankruptcy is a "right to life of the company."

The director also said that the decision was taken for three reasons. The first would be to delay the Justice of Acre to judge the merits of the lawsuit filed by the prosecutor of the State.
As it stands now a civil case has been filed against TelexFree by Public Prosecutors in Acre, with criminal charges covering money laundering, embezzlement and expected to follow. Investigations have also been opened up against TelexFree in several additional Brazilian states.
As per Costa's own words, if TelexFree is successful in their Bankruptcy Protection application, they will be granted an immediate 180 day relief from any charges stemming from cases filed against them.
Not only does this undermine claims that the Bankruptcy Protection application is in the best interest of affiliates (it's clearly in the best interest of the company), it also demonstrates a lack of faith by management and their legal team of successfully defending the cases in court.
One possible reason for this is Costa's revelation that
the only agreement prosecutors would accept is a refund of the advisers and the "extermination of the company.
Naturally when the prosecutors mention a refund, they are talking about TelexFree refunding 100% of the money invested to its owed affiliates. Due to the nature of Ponzi schemes, naturally TelexFree are unable to do this (at least not without shuffling funds in from other countries, which leaves them shortchanged when those affiliates try to withdraw their investments).
This is all the more an important point for TelexFree's non-Brazilian affiliates to note, considering
Telexfree would have to submit a recovery plan that does not take into account the value of assets and bank accounts ​​blocked by
the (Acre) injunction.
So why is Bankruptcy Protection a more attractive way for TelexFree to pay out affiliates? Well, if protection is granted
lenders – including affiliates – would probably have to accept discounts on debt, and an extension of the payment deadline.
"Discounts on debt" naturally meaning TelexFree will pay out affiliates less than what they invested into the company.
Of course Costa is quick to deny this, claiming
Carlos Costa indicated, however, that there will be no discount. Affiliates will receive what they have in their backoffice.

"If approved [ the bankruptcy ], every affiliate has got a balance in their backoffice [ as it is called to account for every associate in the company ], this balance is what the affiliates will receive, ok?"
How much weight can be applied to Costa's promises though is suspect. Costa held up a fraudulent insurance contract back in June and declared to affiliates that their investments with TelexFree "100% guaranteed" by insurance company Mapfre.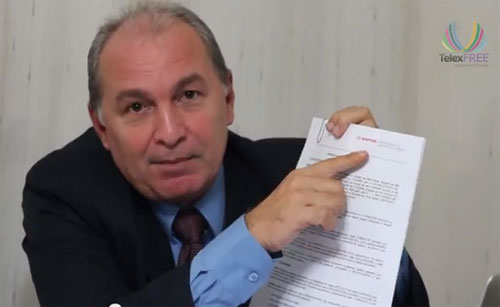 Mapfre immediately denied any business relationship with TelexFree and announced they were exploring their legal options against the company.
Meanwhile Costa never mentioning guaranteed investments or Mapfre again, except to blame affiliates for "spreading misinformation" after they parroted his initial claims and guarantees all over the internet.
Also not revealed in either TelexFree's Facebook announcement or Costa's YouTube video is the fact that, if bankruptcy protection is granted, affiliates will be last to receive any payments.
"By law, in case of bankruptcy, a company must first pay taxes (federal, states and municipalities). Next it pays company employees. And lastly, the lenders are entitled to ask for money owed.

In this case, affiliates of the company are the lenders," said lawyer Bruno Vicariate, a legal expert consulted by UOL.
Taxes, check.
Company employees? Why, that would be none other than James Merril, Carlos Wanzeler and Carlos Costa would it not? And of course their lawyers…
Oh and yeah, whatever's left after the money "owed" to TelexFree management has been transferred out of Brazil and Costa is safely on a plane, can be scattered out amongst the affiliates.
This is in stark contrast to what happens should Acre's Public Prosecutors win their civil case against TelexFree, which would seek the recovery of funds to be paid out to affiliates who lost money as a first priority.
A case TelexFree seem determined to stall and prolong a judgment being handed down for as long as possible.
Will TelexFree's Bankruptcy Protection application be granted?
Stay tuned…