Bitcoiin securities fraud warning issued by Tennessee

On March 7th pump and dump altcoin Bitcoiin was issued with a securities fraud cease and desist by New Jersey.
Citing that notice, the state of Tennessee has issued its own investor warning against the company.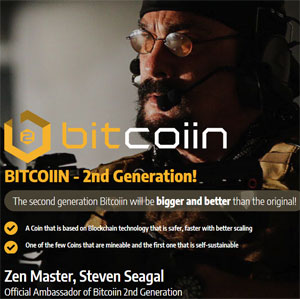 Tennessee stopped short of issuing Bitcoiin with its own cease and desist, but confirmed the company is also operating illegally in the state.
None of the companies, promoters, or investments related to Bitcoiin are registered with the Tennessee Department of Commerce & Insurance's ("TDCI") Securities Division.
The Tennessee Securities Division urges anyone in the state who has invested in Bitcoiin to contact them.
So far Bitcoiin and Brand Ambassador Steven Seagal appear fine with risking further regulatory repercussions from US regulators.
Bitcoiin continues to promote their ICO in the US despite the New Jersey notice. The company appears to be run by scammers of Chinese origin.
The US is still believed to be Bitcoiin's largest source of investors, with domestic promotion continuing in secret since the NJ notice.
Steven Seagal meanwhile has taken no action toward dissociating himself from the company.
Following two new rape accusations made earlier this week, the latest in a string of sexual misconduct allegations over the past few months, perhaps Seagal and his "team" have their hands full.
I'm sure they'll get around to it… eventually.