Speak Asia CEO Manoj Kumar investing in… Brazil?

Speak Asia's Indian CEO, Manoj Kumar was last seen in a video published to Youtube by an anonymous account on October 11th, 2011. In the video Kumar made a bunch of promises but to date none of them have been followed through.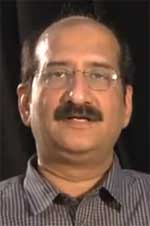 Despite Speak Asia facing battles across multiple legal fronts to prove it isn't a ponzi scheme and fighting for its very existence in India, Manoj Kumar (photo right)has remained in hiding overseas.
Having fled India shortly after the RBI announced they would be investigating the company, despite a re-assurance he would be back in India by the end of May, Kumar instead chose to hide.
A few days ago a BehindMLM reader contacted me asking me to review a company for them. The company in question was called 'Mister Colibri', which is Portuguese for 'Mister Hummingbird'.
The reader was under the suspicion that Mister Colibri was being run by the same people who launched failed MLM scam 'The AdMatrix' in India.
The AdMatrix launched in India in late 2010 and by early September 2011 had collapsed with the owners going into hiding. Commonly accepted as the owner of AdMatrix is a one Mr. Ram Sumiran Pal.
Upon the collapse of Speak Asia, last we heard Ram Sumiran Pal was hiding in a hotel in Mumbai India with his brother, Ram Niwas Pal. Since then it's been mentioned that Ram (Ramnivas/Ram Niwas) Pal and Sumiran Pal are the actual brothers involved, and Satish Pal is their friend. Whatever the case, these three men appear in one way or another to be involved in the running of the AdMatrix.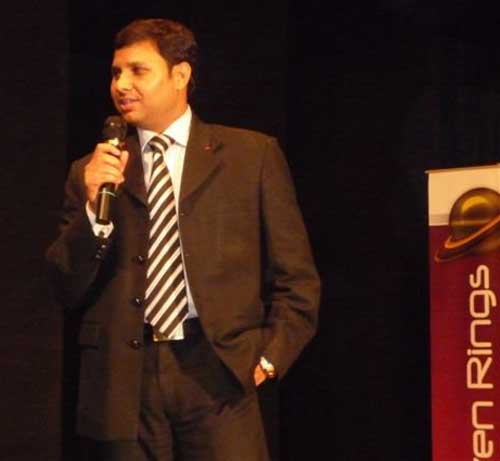 Retracing their steps, back in June 2010 the above photo was uploaded by Ram Pal to a social network clearly showing him onstage at a Seven Rings International event.
Seven Rings International, remember that name as it's the key to all of this.
So far we have the Ram brothers running The AdMatrix and the tracing of one of them back to Seven Rings International.
Getting back to 'Mister Colibri', a quick visit to the website reveals that indeed it's merely a clone of the failed AdMatrix scam in India.
The idea behind Mister Colibri is the same as the AdMatrix. The company charges a membership fee and provides random Youtube videos for members to watch and pays them a weekly commission for watching the videos.
Oh, and also pays huge commissions for the recruitment of others via a binary which Mister Colibri pay you a commission for each member you have in your downline. Although only available in Portuguese, there do appear to be some other slight additions to the Mister Colibri compensation plan, but the main focus remains on the recruitment of others.
With no retail products, a membership fee and commissions paid out on the recruitment of others, like the AdMatrix, Mister Colibri is a simple pyramid scheme waiting to collapse.
The Mister Colibri website itself merely copies and pastes its explanations of ads from Wikipedia. You can see this when you compare the Mister Colibri 'Industry Challenges Page' below (click to enlarge),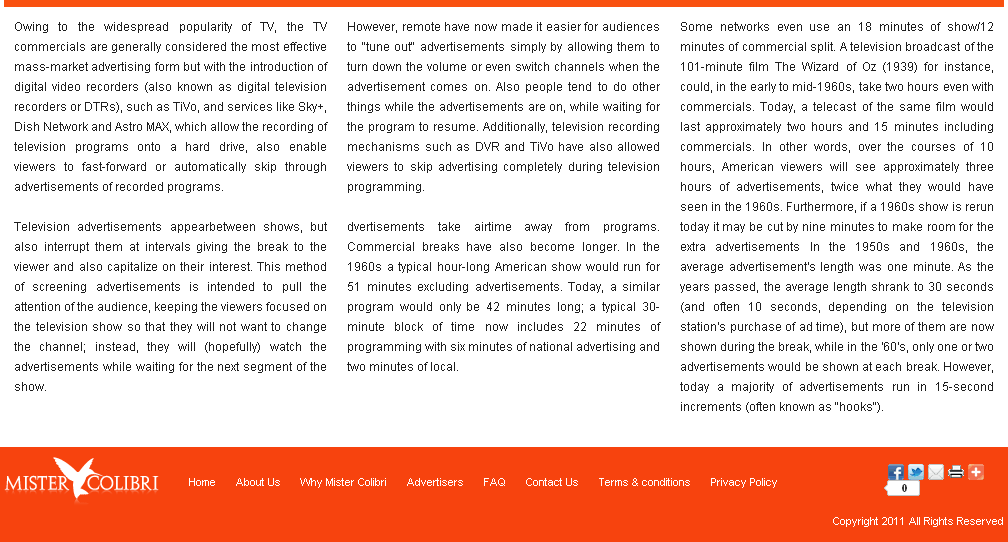 with Wikipedia's entry on television advertisements.
Pay particular attention to the paragraph that mentions the 'Wizard of Oz' on the Mister Colibri page, it's copied virtually verbatim from Wikipedia (no doubt the rest of the text is copied/spun from Wikipedia and other free article resources).
The navigation menus from both websites also share multiple similarities (click to enlarge):
The AdMatrix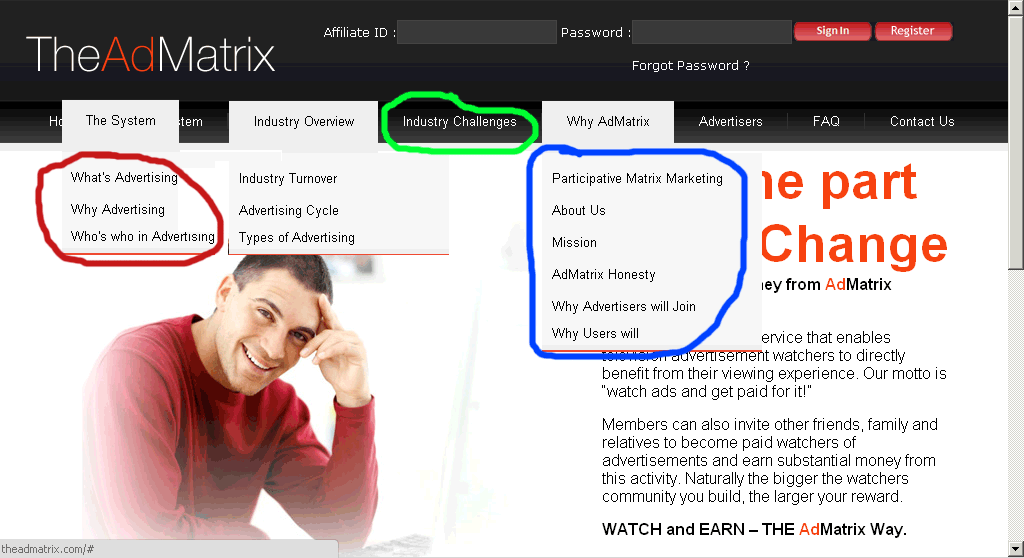 Mister Colibri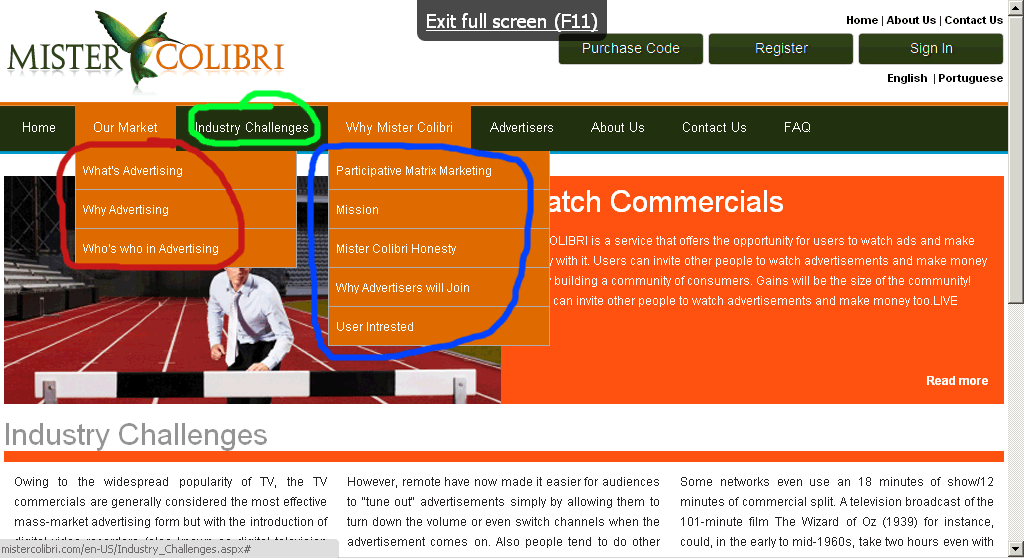 And finally, just to cement the fact that the Mister Colibri is simply a clone of the AdMatrix site, a quick look at the source code for Mister Colibri reveals four instances of the word 'admatrix' (click to enlarge);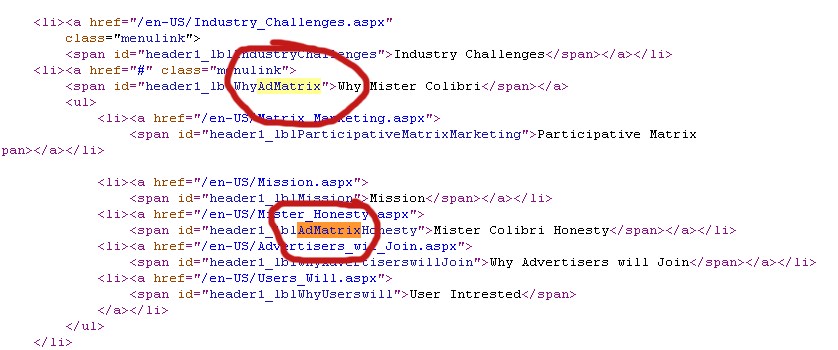 To create the Mister Colibri website, all they've done is copy and past the template, change the logo and replace 'the AdMatrix' text with 'Mister Colibri'.
So what's the business relationship between the AdMatrix and Mister Colibri? Did someone simply ripoff the Indian scam or is there more to it?
Remember I mentioned Seven Rings International, let's get back to them. Ram Pal, who ran the AdMatrix scam is obviously involved in Seven Rings International. So there's a clear relationship there.
The next part of this story involves the murky business  relationship between Speak Asia and the AdMatrix.
In July the AdMatrix were linked to Speak Asia as part of the money laundering trail Speak Asia was using to funnel money through once it had left India for Singapore. Based in Holland, the AdMatrix's bank account suspiciously popped up as the EOW traced Speak Asia's money once it was laundered from Singapore after it arrived from India.
Then, in August less than a week later the CID announced it was investigating the AdMatrix scam, which they found had 'an office in the same building as that of Speak Asia'.
Clearly there was some sort of relationship between Speak Asia and the AdMatrix. That relationship?
Seven Rings International. This was further confirmed when in October 2011, Nayan Khandor, owner of Brand Saloon Inc., was arrested and confessed that Speak Asia paid him to make up non-commissioned surveys, who he then passed on to none other than… Seven Rings International.
Seven Rings International, through Ram Pal, obviously had a stake in the AdMatrix and again, as evidenced by the close proximity of the offices and financial routing between the two companies, in Speak Asia.
Then of course there's the front company set up, Podium Ring International, who are listed as being registered in the tax haven of the British Virgin Islands and having a 100% shareholder stake in Speak Asia in Singapore's ACRA business registry documents.
The last piece of the AdMatrix –> Seven Rings International –> Speak Asia puzzle is of course Manoj Kumar. Kumar serves as the Indian CEO of Speak Asia, but is also on the management team of Seven Rings International.
Now that we've cemented the business relationships between these three companies, that brings us back to Mister Colibri and the unexplained mystery of why and how an AdMatrix clone has appeared in Brazil.
For the answer to that, we turn to the website 'ColibriMakeMoney'. Run by Mister Colibri member Lilian Oliveira (alias 'Lilian Matias'), there's an interesting blog entry on the site which contains the names of 'three men (who) envisioned the idea' of Mister Colibri.
Update December 4th, 2011 – Oliveira, presumably at the direction of Seven Rings International, modified her site within 48 hours of the publication of this article. /end update
Update 26th December, 2011 – After the Mister Colibri and Speak Asia link was exposed in the Indian national Media (Mumbai Mirror), it seems Oliveira has now completely taken her website offline. It is no longer available.  /end update
'ColibriMakeMoney' is reproduced below as it appeared on December 2nd, 2011 (click to enlarge).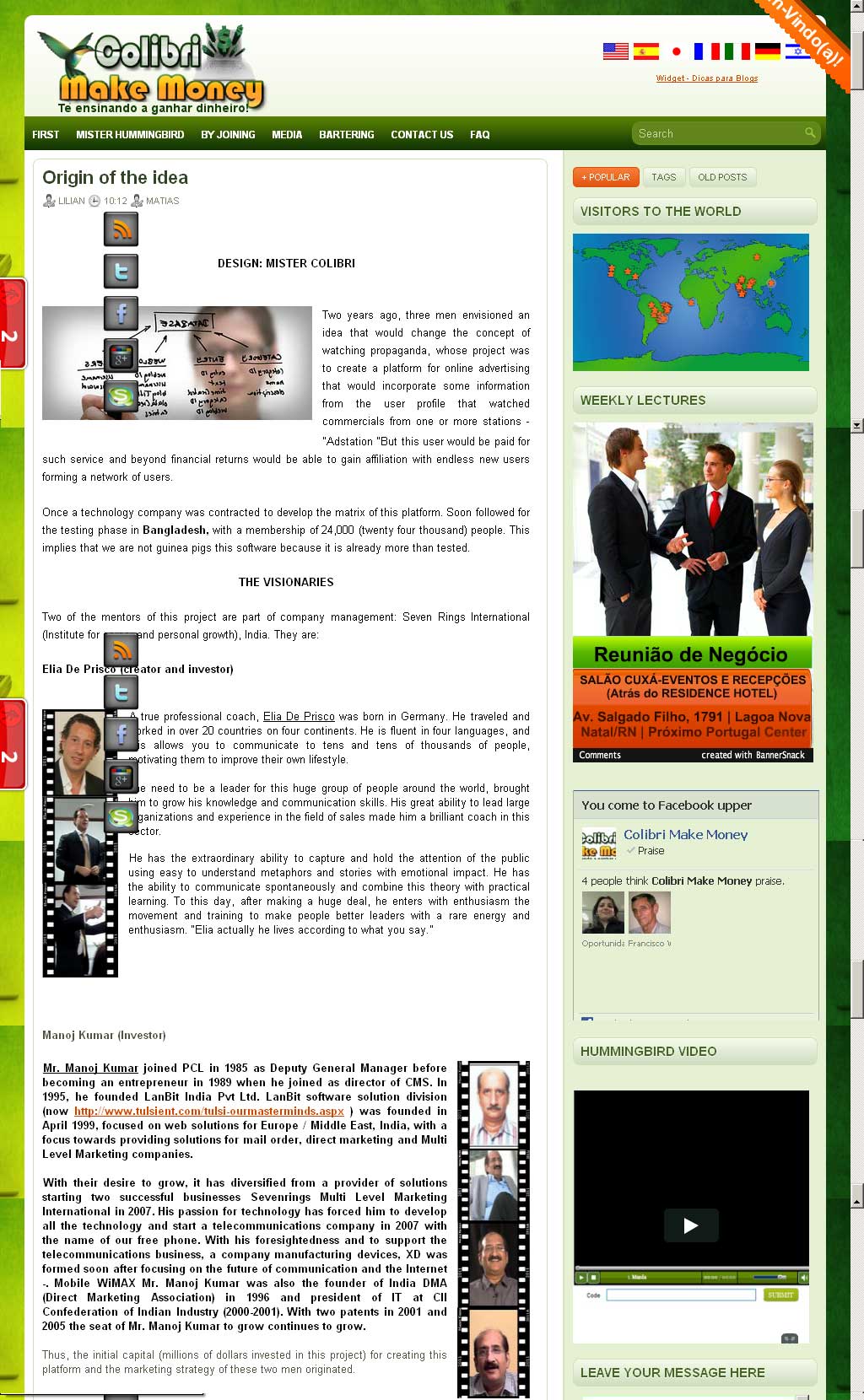 Suprise, surprise – who pops up other than Speak Asia's CEO Manoj Kumar. Kumar is credited as 'an investor' who provided 'the initial capital (millions of dollars invested in this project) for creating this platform and the marketing strategy' for Mister Colibri.
So where did these millions of dollars of Kumar's come from? Why, the AdMatrix and Speak Asia of course. The same money Speak Asia's panelists currently believe they have a hope in hell of retrieving, despite the obvious fact that Seven Rings International has laundered it through multiple countries and banking channels around the world.

Another one of Seven Rings International's Management Team, Elia De Prisco (photo right), is also listed on the ColibriMakeMoney blog as being the creator of Mister Colibri.
Regardless, both men appear to be acting on Seven Rings International's behalf.
On her blog Matias also mentions that
A technology company was contracted to develop the matrix of this platform.

Soon followed for the testing phase in Bangladesh with a membership of 24,000 (twenty-four thousand) people.

This implies that we are not guinea pigs this software because it is already more than tested.
Aside from getting the country wrong (AdMatrix was based in India, not Bangladesh), its interesting to note that Mister Colibri members have been told the company has already tested it's model elsewhere. I wonder if they were told the company AdMatrix also collapsed less than a year later?
Finally the third man named, is some Brazilian partner listed as Gian Piero Di Cillo, a 'personal friend' of Elia De Prisco.
This man appears to be the local frontman and his inclusion in the scam fits the modus operandi of installing a puppet that Seven Rings International used in its other two scams, Speak Asia (Harendar Kaur from Singapore) and the AdMatrix (Anne Wessel from Holland).
While the Speak Asia scam burns to the ground and 1.2 million Indians (and 20,000 more AdMatrix members) try to recover their money from Speak Asia, it appears CEO Manoj Kumar has been busy running scams in other parts of the world.
You want to know why Manoj Kumar refuses to set foot in India and stand by Speak Asia? His involvement in Seven Rings International's worldwide scam projects, money laundering efforts and tax fraud through Podium Ring International is why.
From India to Holland, Singapore, Italy, Brazil, the British Virgin Islands, Dubai and god knows what other countries, I guess when the EOW stated that the Speak Asia scam 'may have been on a global scale', they weren't kidding.
It's worth reading this Indian Express article again to help put the global scale of the Seven Rings International/Podium Ring International scam into perspective.
The investigations by the Mumbai and Andhra Police have so far found three firms operating out of Mumbai — Kritanz Management, Seamless Outsourcing and Tulsiyat Enterprises — from dubious office spaces.

They were allegedly acting as collecting agents for Speak Asia from all its 137 Indian franchisees.

The money collected from the "investors" through the franchisees would be wired to foreign accounts in banks like the Overseas Bank in Singapore.

The owner of one of the Mumbai-based collecting agent firms was shown to be the retired watchman of the building in which the firm was located.

Officials say the criminal conspiracy is obvious from the fact that none of the accounts is directly in the name of the company.

The money instead has been routed through bank accounts of failed enterprises of Speak Asia founder Harender Kaur, identified on the website as a chartered accountant of Indian origin and now a Singapore national.

The companies in whose names the Rs 600 crore have been received include Haren Ventures, Haren Technologies and Haren Auto Parts, apart from a Dutch company that too runs a multi-level marketing scheme, involving hiring people to watch paid advertisements.

Haren Ventures and Haren Auto Parts, Speak Asia's parent companies, are shown to be registered with British Virgin Islands, like the Speak Asia holding firm.

There was not a single written contract with any of Speak Asia's 137 franchisees. With the marketing scheme registered as a Singapore corporate, police believe the founders and management of Speak Asia could have made a quick disappearing act at the slightest sign of a red flag.

Kaur is now wanted along with CEO Manoj Kumar Sharma in the scam.
With Mister Colibri sucking in over 21,000 members in Brazil since their February launch, it appears Seven Rings International are all but done with India. Mark my words CEO Manoj Kumar will never set foot in the country again and Harendar Kaur will most likely never be heard from again (does anybody really believe she's stamping those sporadically released 'official' statements Speak Asia put out?)
In light of the global scale of this scam, all of a sudden a committee meeting between five men seems rather insignificant.
Here's hoping the Indian authorities haven't been asleep at the wheel and fully understand that the scope of the criminal activity they are investigating goes far beyond Speak Asia and its panelists.
And that Brazil is prepared for the devastation of this global scam yet to come…