EOW confirm Bajpai on the run, move to cancel bail
"Tarak Bajpai has disappeared and we don't know where he is."

I am sure it cannot be an officer from the EOW (who said this), as they will not make such wrong comments.

Ashok Bahirwani, AISPA Secretary (currently on the run from the EOW)
Tarak Bajpai is in Mumbai under the gaze of the EOW. Nobody is running away, they're fighting hard.

–Anju Argarwal, daughter of AISPA Secretary Ashok Bahirwani

The last we heard of Tarak Bajpai, he was hiding out in hospital and upon being discharged in October, had applied for anticipatory bail so that the EOW or anybody else couldn't arrest him again and bring him in for questioning.
Upon hearing the case, a judge denied Bajpai anticipatory bail and instead released him on regular bail with the condition that he  'furnish personal sureties from Mumbai, Thane and Panvel within eight weeks'.
These personal sureties included reporting to 'the investigating officer/office every week'.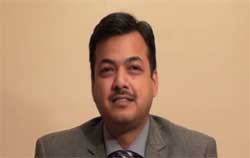 Shortly after Bajpai (photo right) was granted bail, the EOW stated that he had infact gone into hiding and they had no idea where he was.
Contrary to the reports of those involved with Speak Asia, such as Ashok Bahirwani and his daugher's statements quoted above, the EOW today confirmed that Bajpai hasn't been seen or heard from since he was granted bail.
With more than eight weeks passing since October, today the EOW has now ruled out the possibility of Bajpai surfacing and have been left with no other conclusion to draw other than the fact that Speak Asia's COO Tarak Bajpai has, as they'd previously stated, dissappeared.
In a statement published by the TOI, the EOW claim that 'Bajpai was avoiding cooperating with the police, and neither appeared before the investigators nor did he furnish the personal surety'.
As a result, upon the failure of Bajpai to meet his bail conditions, the EOW have now 'approached the court for the cancellation of (Bajpai's) bail'.
The cancellation of which would mean that Bajpai would, like Speak Asia's CEOs Manoj Kumar and Harendar Kaur, become a certified fugitive on the run from the law.
Tarak Bajpai's disappearance, no doubt aided by Speak Asia and their lawyers Phoenix Legal, can be explained by the possibility of his arrest and interrogation by the authorities.
The results of which would no doubt be disasterous for Speak Asia's current legal efforts to legalize ponzi schemes in India.
Previously Bajpai had used medical excuses to get out of being interrogated but with that stalling tactic now unavailable, it appears Speak Asia and Bajpai are willing to do anything to keep him from being taken into custody by the authorities.
Even if that means ignoring bail conditions set upon Bajpai by the courts.
A far cry I'm sure you'll agree from the official company statement released on December 4th, which asserted that Speak Asia
is totally committed to cooperating with the concerned authorities and therefore has not initiated any action that may be deemed as obstruction to the investigations.
Further highlighting the hollowness of this pledge is the accompanying news from the EOW that Rajeev Mehrotra, technical head of Speak Asia's website who was also arrested along with Bajpai back in July, has also 'disappeared and not attend(ed) court since' he was released on bail at the same time Bajpai was back in October.
Despite disappearing, failing to meet his bail conditions and assist the authorities with their investigations however, Mehrotra has still managed to find the time to get his lawyers (funded by Speak Asia?) to approach
the Supreme Court asking (them) to quash a FIR against him and challenge the cancellation of his anticipatory bail application by a Hyderabad court.
For some reason, despite his obvious involvement in the Speak Asia ponzi scheme and useful information Mehrotra would no doubt provide under interrogation by the authorities, ensuring that he is not arrested by them appears to be more important.
Quite the curious behaviour for the employee of a company who claim to be 'totally committed to cooperating with the concerned authorities'.
Not surprisingly, two others also arrested in July for their involvement in Speak Asia have also been confirmed as  having disappeared.
Shaikh Rais Latif (32), assistant for daily portal operations and in-charge of regular pop-ups, and Ravi Janakraj Khanna (44), finance accountant, who were also arrested along with Bajpai, are also not attending the EOW office.

"We are planning to move the court for cancellation of their bail as well," said the officer.
With all four of the July arrestees granted bail having been confirmed disappeared and on the run, including COO Tarak Bajpai as well as the company's two CEO in hiding overseas, I'll leave you with the following quote from Speak Asia's Indian CEO, Manoj Kumar, released just last week in an anonymously uploaded YouTube video –
"our people simply vanished and run away", there cannot be more stupid accusation than this.
Stupid or not – you tell me.