Manoj Kumar listed as co-founder of Mister Colibri

Back in early December of last year, I was contacted by a Brazilian national who was concerned over the MLM company 'Mister Colibri' and the similarities it appeared to have with the AdMatrix.
The AdMatrix being a scam run by Seven Rings International that paid members to watch Youtube videos and paid out commissions on the membership fees of new members who joined the company.
Being an obvious ponzi scheme, once the new memberships dried up and the company was no longer able to operate, the AdMatrix collapsed and management went into hiding.
Upon looking at the Mister Colibri scheme and comparing it to the AdMatrix, I found that the websites (even so far as to share the same source-code), business model, marketing material and basic layout of the two companies was near identical.
Perhaps more interesting than all that however, was the fact that unlike the AdMatrix, Seven Rings International were listed as the creators of Mister Colibri.
To my surprise, a Mr. Manoj Kumar popped up as an investor into Mister Colibri and was named by Mister Colibri members  Lilian Oliveira (alias 'Lilian Matias') on her blog 'ColibriMakeMoney'.
Within 48 hours of going public and exposing Manoj Kumar as an investor of Mister Colibri, Oliveira removed any reference to Kumar from her website.
Less than a week later, the entire website was pulled off the internet. Quite obviously, "someone" over at Seven Rings International was unhappy at their involvement in Mister Colibri being exposed.
Why?
Manoj Kumar is none other than the CEO of Speak Asia, an Indian ponzi scheme scam that also comes under the umbrella of Seven Rings International. Amongst other things, Speak Asia are currently being investigated for money laundering.
As far as its Indian operations go, Speak Asia have transferred over a hundred million USD out of India and essentially cut and run, abandoning their Indian business operations.
As it stands now, the entire publicly known management team of Speak Asia have fled. The only real presence Speak Asia has left in India are lawyers the company employs to engage its legal battle to legalize running ponzi schemes in India.
The significance of Manoj Kumar investing in a near-identical scam in Brazil, strongly suggested that Seven Rings and Speak Asia's money laundering efforts would thus be trackable by the authorities.
Indeed, after being tipped off by a Speak Asia panelist, India's Economic Offenses Wing, who were already investigating Speak Asia's money laundering efforts, began to look closer into the Speak Asia –> Seven Rings –> Manoj Kumar –> Mister Colibri money laundering operation.
After three weeks of conducting their own investigations after the link was exposed, the EOW went public and announced that there was a strong enough evidence linking Manoj Kumar and Seven Rings to Mister Colibri.
Investigations had shown that SpeakAsia used AdMatrix (registered in Holland), and another company, Seven Rings International, to launder money abroad, and that several people on boards of all three companies were common.

When contacted, Additional CP (EOW) Rajvardhan told Mumbai Mirror:

"We strongly suspect the SpeakAsia people have laundered money from India to Brazil to start this new venture. We have already established links between AdMatrix, Seven Rings International and SpeakAsia."
The EOW went public with this announcement on December 23rd, 2011 – which (perhaps not so) co-incidentally was also roughly around the time the Mister Colibri business opportunity effectively went dead.
Shortly after the EOW went public, a popup appeared on the Mister Colibri website announcing their servers were 'down for maintenance'. Weeks later, this message is still present on the Mister Colibri website and now members are starting to worry.
Only a few days ago, Paulo Cesar wrote
My concerns have increased the end of this year when the site undergoes maintenance for several weeks, not being able to watch the ads and therefore it is not possible to make money.

The management claimed that the servers are changing to meet the growing demand of users (60,000 +) but this suspension coincided with problems in India.
Those familiar with the AdMatrix scam will note that this is pretty much what happened when Seven Rings decided to wind up the company too. The AdMatrix website still loads but business operations ceased and those running the scam at a local level fled.
Before we get into one possible reason for Seven Rings to suspend their Mister Colibri business operations, it's important to note that on the public record, Speak Asia CEO Manoj Kumar has vehemently denied any involvement in Mister Colibri.
A few days after the EOW went public and confirmed they were investigating money laundering links between Kumar, Mister Colibri, the AdMatrix, Seven Rings and Speak Asia, Kumar put out a YouTube video statement, in which he stated
They say that I have invested in Colibri, if they have worked so hard, why can't they go to the ROC of brazil which can be done on the net also and they can easily find out that who are the promoters of the company. I am surely not the promoter.

They are local people from Brazil; I have no investment in the said company, not even a single naya paisa.
We're not entirely sure who "they" are, but seeing as the investment link was confirmed by a Mister Colibri member's website, we can only assume Kumar is talking collectively about Mister Colibri members.
Whilst Kumar claims to have no investment in Mister Colibri, the evidence against him clearly proves otherwise.
First and foremost, Kumar is publicly listed as being on the management team of Seven Rings International.
Linking Seven Rings to Speak Asia, is the fact that the Seven Rings website is hosted on the same server as the Speak Asia website. This server, currently located at IP address 113.197.34.99 in Singapore, is a private server and not open to the public.
Meanwhile linking Seven Rings to Mister Colibri, is the listing of 'Seven Rings International FIZCO' when new members pay their membership fees to Mister Colibri.
Mentioned here on Facebook by a Mr. Dirceu Marcal:

and also here on a screenshot of the membership payment screen of the Mister Colibri website: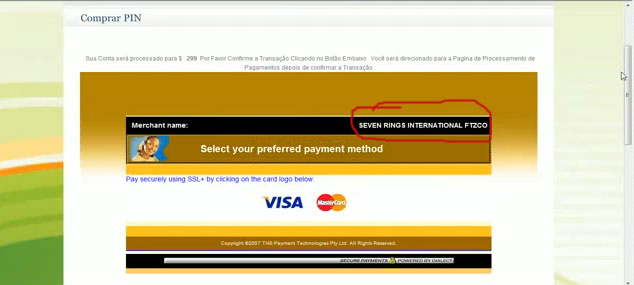 As you can see Seven Rings, the company Manoj Kumar is on the management team of, clearly owns Mister Colibri. But ok, maybe Kumar only has a vested financial interest in Mister Colibri through Seven Rings…
believable, except for the fact that Mister Colibri members keep naming Kumar as a major investor of the company.
The first instance of this was on the aforementioned 'ColibriMakeMoney' blog (click to enlarge),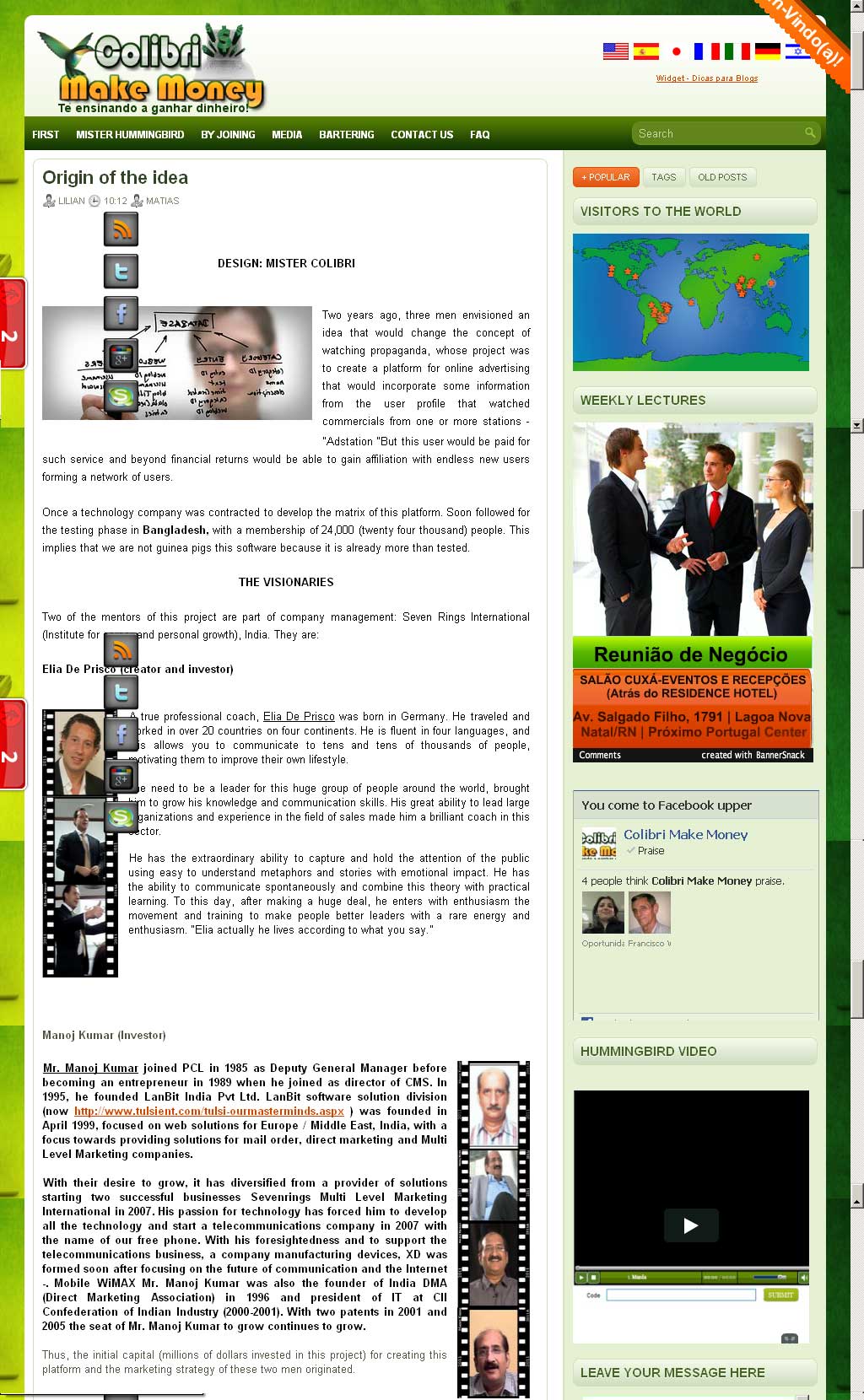 where Kumar is listed as one of the creators of Seven Rings, as well as having provided
the initial capital (millions of dollars invested in this project) for creating this platform (Mister Colibri) and the marketing strategy.
With ColibriMakeMoney pulled offline within days of Manoj Kumar being exposed, the above screenshot is currently the only proof left that this website ever even existed.
Naturally, despite most likely being responsible (through his involvement in Mister Colibri) for ordering blog owner Oliveira to remove any and all references to him on ColibriMakeMoney, Kumar claims
I have myself checked the site nothing of this sort appears or as ever appeared on this site.
Given the Seven Rings International links and fact that readers of BehindMLM saw the ColibriMakeMoney page when it was online when the story was first published on December 2nd, Kumar's claims border on outright lies.
I say border on because it's a half truth. With the ColibriMakeMoney website pulled offline, indeed mention of Kumar's investment with Mister Colibri no longer appears on the site.
But ever? The screenshot clearly proves otherwise.
With ColibriMakeMoney offline, the only thing that could prove Kumar is lying would be his name surfacing elsewhere in connection with his investment into Mister Colibri.
Ladies and gentlemen, Exhibit A: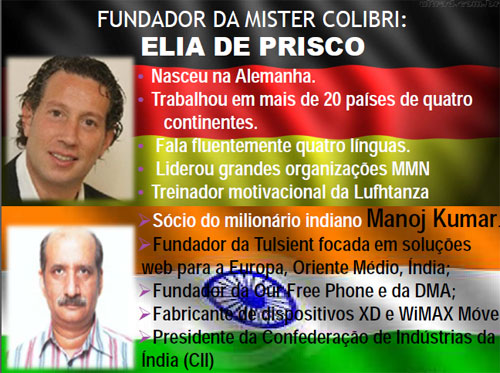 The above screenshot is from a Mister Colibri business presentation and under the title 'FUNDADOR DA MISTER COLIBRI' (English: 'co-founder of Mister Colibri'), lists Manoj Kumar as being
Sócio do milionário indiano Manoj Kumar.

Fundador da Tulsient focada em soluções web para a Europa, Oriente Médio, Índia;

Fundador da Our Free Phone e da DMA;

Fabricante de dispositivos XD e WiMAX Móvel

Presidente da Confederação de Indústrias da Índia (CII)
or in English,
Member of Millionaire Indian Manoj Kumar.

Founder of Tulsient focused on solutions web for Europe, Middle East, India;

Our Founder of Free Phone and DMA;

Manufacturer of Mobile WiMAX devices and XD

President of the Confederation of Industries India (CII)
The Mister Colibri business presentation naming Kumar as a Mister Colibri founder can be viewed in full from the website 'colibribrasilia.com.br'. Looking at the PDF information of the file itself, we can see that it was created on the 29th November, 2011 – two days after the Colibri Brasilia website went live.
Colibri Brasilia is the website of Mister Colibri member Paul Henry F. Moraes,
Name: Paul Henry F. Moraes

Location: Brasília – DF, Brazil

Tel: +55 (61) 3369-7647 (GVT)

Cel: +55 (61) 9212-6910 (CLEAR)

E-Mail: paulofmoraes@live.com

Mister Hummingbird ID: PauloMoraes

Since Affiliate : 01/07/11
Colibri Brassilia went online on the 27th November 2011 and the domain is registered to a one 'ALVARO LUIZ CHAM JORGE'.
The relationship between Alvaro and Moraes is unclear but it appears, beyond his membership to Mister Colibri, Moraes has nothing to do with Seven Rings or Manoj Kumar.
With absolutely no motive for Mister Colibri members to name Manoj Kumar other than it being the truth as told to them by the company itself, quite clearly the use of Manoj Kumar's name as an investor/co-founder of Mister Colibri and his management status at Seven Rings proves without a shadow of a doubt Kumar is heavily involved in the scam.
Given this, there is no other logical conclusion to draw other than that when Manoj Kumar appeared in a Youtube video on December 27th denying any and all involvement and investment in Mister Colibri, he was lying through his teeth.
With what appears to be the collapse of Mister Colibri in Brazil (the company cites server upgrades to cope with growing membership – but what, at worst that'd result in a few days downtime?), one can only wonder if it has something to do with Speak Asia promising members in India to be able to pay.
Obviously with only 60,000 members the funds Seven Rings and Kumar made from the Mister Colibri scam doesn't even come close to the 30,000 crore INR ($1.5 billion USD) Speak Asia currently owes its panelists  (as reported by the EOW after analysing Speak Asia's backend database).
However, the funds from Brazil could explain the lavish legal representation Speak Asia, the company's officials and associates along with AISPA have enjoyed since the company's legal troubles started back in May.
Note that whilst the above is just a theory I'm putting forth as the timing of the Mister Colibri downtime seems way to co-incidental and exactly mimics the demise of the AdMatrix scam in India, the link between Kumar as an investor/co-founder of Mister Colibri is not.
The evidence proving Kumar's involvement in Mister Colibri is overwhelming, whereas to date the only refute presented is Kumar's verbal denial…
…in a Youtube video
…uploaded by an anonymous dummy account
…from an unknown location.
Kumar did claim to be at a Speak Asia Singapore office but at the end of the day all we know is that he's standing next to a Speak Asia sign.
Kumar has very obviously lied about his involvement in Mister Colibri and use of Speak Asia's panelist's funds to kickstart Seven Ring's Brazilian business operations through Mister Colibri – so really, who knows what else he is lying about.
I guess when you've been running ponzi scheme scams for as long as Kumar has, sooner or later your lies catch up with you.
Today marks the return to the Supreme Court of Speak Asia in the Solomon James writ 383.
As the matter is heard today, I wonder if it weighs on the minds of Speak Asia's faithful members that not only was some of their membership money directed to Brazil to rip off unsuspecting Brazilians, but that any funds appropriated as a result of today's hearing is probably going to be tainted with at least some of the proceeds from Seven Rings' scam operations in Brazil.
With some Mister Colibri members who now they themselves have lost money to Manoj Kumar and Seven Rings wondering where their own money went, I guess perhaps a more pertinent question to Speak Asia's members would be to ask if they even care.