Mark Scott's case for a OneCoin retrial

On December 15th, Mark Scott finally filed his case for a OneCoin retrial.
Scott was convicted in November 2019 and seeks to overturn his conviction.
Arguments raised by Scott in favor of a retrial focus on two instances perjury by witness Konstantin Ignatov, and how the perjury allegedly impacted the jury's guilty verdict.
Konstantin Ignatov is the brother of OneCoin founder and former CEO Ruja Ignatova.
When Ruja fled in late 2017, Konstantin went from being her personal assistant to CEO of OneCoin.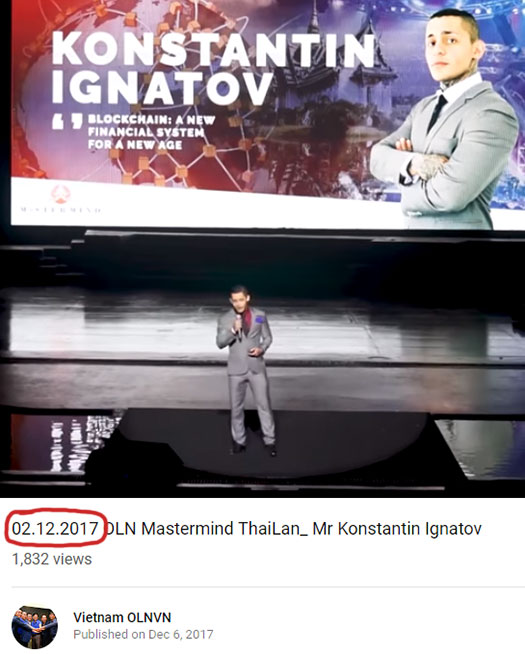 Konstantin was arrested by US authorities in March 2019. Part of Konstantin's guilty plea, entered into later that year, saw him agree to full cooperation with US authorities.
That pledged cooperation saw Konstantin produced as a witness in Mark Scott's OneCoin money laundering trial.
News of Konstantin committing perjury broke back in September.
The first instance pertained to Konstantin's OneCoin work laptop, which he testified he threw away.
In actuality Konstantin gave the laptop to Duncan Arthur, who he was travelling with at the time.
Arthur travelled with it back to Bulgaria and turned the laptop over to OneCoin.
Konstantin's girlfriend then arranged to have the evidence on the laptop destroyed.
Arthur made a copy of the evidence before it was destroyed.
Arthur stated that on the laptop were "many details about OneCoin's financial dealings in London, Dubai, Sofia, and the disposition of assets including bank accounts, investments related business
ventures, valuables and real estate in billions of dollars."
In July 2020 Arthur turned the laptop evidence over, as part of "eight boxes of OneCoin material", to UK and US authorities.
The DOJ is believed to have learned of Ignatov's laptop perjury in June 2021, via another report sent to them by Duncan Arthur.
The Government failed to disclose this reported perjury … with the Manhattan DA investigator claiming, quite disturbingly, that he had "got busy with other things" and believed that Mr. Scott had been sentenced to jail already.

The second instance of Konstantin's perjury pertains to a meeting between Mark Scott (right) and Irina Dilkinska, a OneCoin executive.
In his December 15th motion, Mark Scott's attorney writes;
Dilkinska was more than 3,000 miles away in New Delhi on the date in question, as travel records definitively prove.
Scott's attorney goes on to claim DOJ Prosecutors were aware of Konstantin's perjury at the time.
Worse, the Government was aware during trial that the story Konstantin was spinning for the jury about the Dilkinska meeting in Sofia was almost certainly false.

E-mails from the Government's discovery, which the defense identified for the Government while Konstantin was still testifying, made clear that Dilkinska was almost certainly not in her home city of Sofia when Mr. Scott visited OneCoin's offices there on Wednesday, July 20, 2016.
In addition to travel records, Scott's attorney references an exhibited email exchange. that took place at the time of the alleged meeting.
The exchange took place during the time of the alleged meeting in Bulgaria. In the exchange Dilkinska tells Scott she'd be "traveling for the whole week".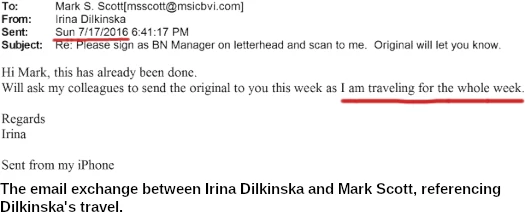 The email exhibit was rejected for Scott's trial, on the basis it was "clearly inadmissible hearsay" and lacked "independent corroborating evidence".
That evidence wouldn't surface until earlier this year.
A source provided the defense with a copy of Dilkinska's passport with stamps showing that she was in India on the date of the meeting, a passport that counsel for Dilkinska has confirmed is accurate.

Counsel for Dilkinska then provided the Government with a video of Dilkinska herself flipping through the pages of the passport.

Finally, on December 3, 2021, the Government informed defense counsel that Indian authorities had confirmed the accuracy of the passport stamps:

Dilkinska arrived in India on July 19, 2016 and departed on July 22, 2016.

OneCoin's supposed head money launderer was most certainly not in Sofia on July 20, 2016, much less at a meeting in OneCoin's offices with Mark Scott, as Konstantin had told the jury.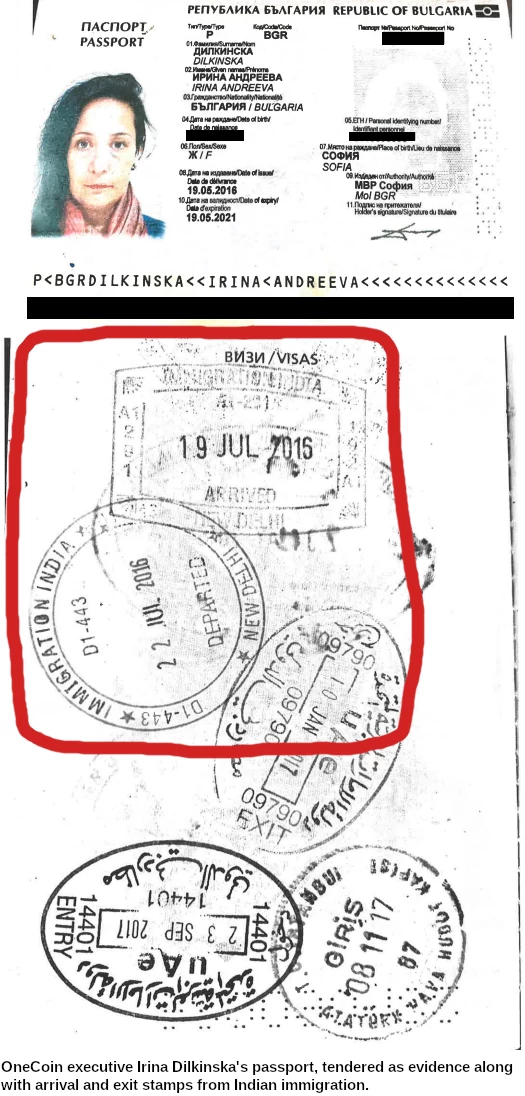 Dilkinska worked directly with Ruja Ignatova. Her attorney working with Mark Scott's defense team is an interesting development.
Dilkinska, Konstantin claimed, was "in charge of creating and managing fake companies for the company OneCoin," the purpose of which were to "create bank accounts . . . for the money laundering purposes."
If Dilkinska is a person of interest in the DOJ's ongoing investigation into OneCoin, they haven't made that public.
It should be noted Scott's attorney makes a big deal about an illegal phone Konstantin obtained in prison (it seems OneCoin defendants have no problem gaining illegal access to cell phones).
I'm not aware of any revealed evidence pointing to anything on Konstantin's seized phone pertaining to Scott's trial.
Scott's attorney puts forth that Konstantin's perjury resulted in him being denied a fair trial.
These multiple confirmed instances of perjury cast grave doubt on the entirety of Konstantin's testimony, including his claims that Mr. Scott
was "one of the main money launderers for OneCoin."

Had the jury known that Konstantin had blatantly lied about the fictitious Sofia meeting with Dilkinska as well as the destruction of the OneCoin laptop, the entirety of Konstantin's testimony would
almost certainly have been discredited.

And if Konstantin was so quick to lie on two occasions, the jury would have had grave reason to doubt Konstantin's broader testimony that Mr. Scott was a "money launderer."

Were the jury to disregard all of Konstantin's testimony – or at least all testimony inculpatory to Mr. Scott that was not otherwise corroborated – there can be no confidence it would have returned the same verdict.
In late September, the DOJ claimed Konstantin's perjury was "not material" to Scott's guilty verdict.
The DOJ put forth Konstantin's perjury,
amounting to only a small piece of Ignatov's testimony and regarding an event that took place after the charged conspiracy and was unrelated to Scott's guilt, was not material to the jury's verdict.

Ignatov's full testimony had limited relevance to the key issue in dispute at trial, i.e., Scott's knowing participation in the charged criminal conspiracies.
The evidence submitted by the DOJ, resulting in Scott's conviction, extended well beyond Konstantin Ignatov.
A decision on whether Mark Scott will be granted a retrial remains pending.
Update 26th December 2021 – It's going to be a few months yet before we get a decision on Scott's retrial motion.
Citing "multiple issues and grounds for relief not raised" not raised previously, the DOJ has requested permission to file a sur-reply.
Scott has consented to the request, and in exchange will have the opportunity to file a response to the sur-reply.
The DOJ's request was approved on December 22nd, giving them until January 28th to file. Scott will then have until 18th February to file his response.
Update 12th April 2022 – On March 30th the DOJ requested an oral argument hearing now that Scott's retrial filings are all in.
On April 7th the court scheduled oral arguments for April 14th. On April 8th the hearing was rescheduled to April 25th at DOJ's request.