How OneCoin was illegally promoted in the US

On paper OneCoin never officially operated in the US. Unofficially US investors were being fed the same lies and encouraged to sign up.
Spearheading these efforts were Maurice Katz and Sal Leto. Katz and Leto hosted various OneCoin events across the US, with the assistance of local promoters.
One such event was attended by William Horn.
Horn (76) is from Tennessee. He first learned of OneCoin in 2015 following repeat encounters with James West at a local electronics store.

West (right) pitched Horn on OneCoin, using the infamous "bitcoin killer" spiel.
Although he agrees he was 'not looking to invest in any cryptocurrency', Horn states, at the time, he was 'closely attuned to what was happening with' bitcoin.
Horn claims he didn't want to invest anything initially, but to get rid of West gave West $500 to invest on his behalf.
A: It's an expensive way to get somebody to stop seeking you out.

Q. But unfortunately he didn't take the hint, correct?

A. No. He didn't take the hint. He was persistent. He was a better salesman than I. He sold me on the end.
West took the cash and signed Horn up with a OneCoin Starter Package.
The same year West was recruited, OneCoin began promoting a USA launch.
The first launch event happened in July 2015. Although attended by a few hundred investors, as far as launching OneCoin in the US went the event flopped.
A few months later OneCoin announced it was opening a US bank. Finally in October 2015, OneCoin announced it was officially pulling out of the US.
Nautrally, that was a lie.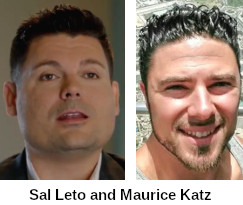 In January 2016 Maurice Katz and Sal Leto held a OneCoin event in Nashville.
Q. How many people approximately attended that event?

A. Approximately 300.

Q. And could you briefly summarize some of the things that the speakers at that event said about OneCoin?

A. They said that the bottomline if you put money into this it's going to grow like wild fire, make a lot of money off of it.
In April Katz and Leto held another event Horn attended, this time in Houston, Texas.
West hired a bus to attend the Texas event. All up he put up around $5000 to pay the way for other investors to attend.
Horn also attended regular local events in Tennessee. These events were organized by James West.
At the events, attendees were instructed to
lose your cellphone. Do not bring the cellphone. If you're caught using your cellphone in that meeting hall we'll take it.

You could not record audio or video at these meetings.
The reason for the secrecy is because Katz and Leto were promoting OneCoin across the US illegally.
Q. Did anyone tell you why?

A. They had not been accepted through the SEC, Securities and Exchange Commission, in North America.

Q. Meaning you had an understanding of OneCoin was not authorized by the SEC in the United States?

A. They were viewed as selling unsecured securities, unregistered.
In addition to Katz, Leto and West, Horn identifies Bob Byrum as being "at the top of the (OneCoin) food chain".
In an attempt to avoid triggering an SEC investigation, US OneCoin investors were instructed to lie about their residence.
Q. When you registered with OneCoin what were you told to say regarding where you lived?

A. We were told in addition to your regular address you were a resident of U.S. Virgin Islands.

Q. Did anyone say why you should report that you were a resident of the U.S. Virgin Islands?

A. That was because they were not registered in the United States as a legitimate concern.
Once signed up with bogus details, US OneCoin investors then wired funds to a German bank account in the name of IMS GmbH.
IMS is owned by Frank Ricketts and was part of OneCoin's money laundering network.
IMS wasn't the only shell company OneCoin used. A later $6062 Tycoon Package investment was sent to Secure Point Corporation of Lynbrook, New York.
So as not to raise suspicion, OneCoin investors were instructed to lie about the purpose of the transfers.
Q. Do you remember what you told the bank about the reason for this wire transfer, your own bank?

A. It was for educational purposes, educational documents and training.

Q. And why did you tell the bank that that was the purpose of the wire?

A. Well, number one, we were told that the wire would probably not take place if the true nature of the money being spent was said to the bank.
Documents in OneCoin's backoffice explicitly stated:
Do not include words like OneCoin investment, digital currency or cryptocurrency.

Using these words or similar will cause your bank wire to be rejected and funds will be returned.
Following these instructions, Horn transferred $20,570 to IMS' account in Heiligenhaus, Germany.
The money was transferred in Horn's granddaughter's name. Horn claims the intent was to create "a little savings account for her education later."
Horn pawned a gold chain and sold Dodge truck and generator to fund his OneCoin investment. In total he invested "close to $30,000".
In addition to his own OneCoin account and that of his granddaughter, Horn also convinced two younger brothers and a sister to sign up.
Horn claims he began to suspect OneCoin was fraudulent around May 2016.
Q. And what caused you to come to that conclusion?

A. Nothing in my years I've been on this earth that anybody was going to make those fictitious gains with a little bit of money.

They were giving away so much that it couldn't be true. It was a fraud. And I determined that.
In late 2016 Horn would eventually report his concerns to the FBI. OneCoin's token withdrawals collapsed in January 2017.
Q. Mr. Horn what happened to the money that you invested in OneCoin?

A. Well it's gone. It's not to be had.

Q. Have you ever gotten a penny of it back?

A. No.

Q. How about your family that invested? Did they get any of it back?

A. Nothing. They were the ones that could ill afford to lose the money.

Q. How has the loss of the money affected you and your family financially?

A. Well somewhat like other people they were afraid — were afraid, ashamed to admit that we were duped into investing money and some people do it, just never tell anybody that they spent thousands.
Age 73 at the time, Horn claims OneCoin losses left him having to work "longer (and) harder".
After OneCoin, Maurice Katz and Sal Leto began promoting iPro Network. The SEC sued iPro Network for fraud in May last year.
After iPro Network Leto hitched his name to Eaconomy. Eaconomy collapsed less than a week ago.
Leto is now Chief Networking Officer of Auvoria Prime, a forex trading bot scheme. Maurice Katz appears to be laying low.
James West is currently promoting CorVive. I wasn't able to find any information on Bob Byrum.
To date the SEC has taken no action against OneCoin or any of its promoters in the US.