Youngevity offering forex trading… with Sal Leto?

If Youngevity marketing forex trading wasn't strange enough, they'd apparently partnered up with Sal Leto.
Yes, that Sal Leto.
Youngevity market a bunch of products but are very much rooted in nutritional supplements. Case in point: every product featured on Youngevity's "best seller" website list is a nutritional supplement.
In fact there's absolutely no mention of forex training on Youngevity's public-facing homepage. You have to find it.
The link to Youngevity's forex products is buried in the long list of shop related links.
This is kind of odd, seeing as plans to push forex training onto Youngevity distributors began last September.
But I'm getting ahead of myself.
A reader tipped me off to Youngevity's forex offering via email:
Hello, In case you were interested in following up with Sal Leto … he is now involved with Youngevity. Selling his trading platform.
My first thought was, "Sal Leto has teamed up with Youngevity to sell forex training? That's a strange pairing."
Running a search for Sal Leto on Youngevity's website didn't return anything. I next sought out Leto's social media and, sure enough, he posted this on September 18th;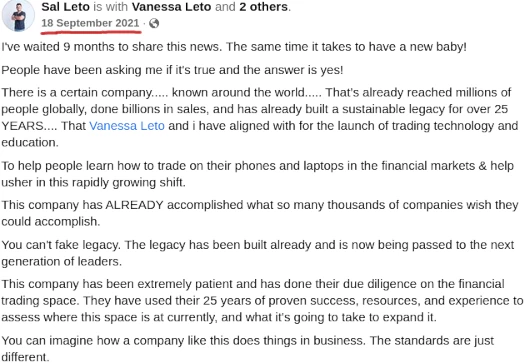 Kind of an anomaly for a company of this caliber and reputation to come in with their resources to compete in a cutting edge space.
But the research has been done to do it in a way that solidifies the continuance of their legacy.

We are building the world's largest customer base of successful traders.

I know many of you need the right mentors and the right systems that are proven but haven't found it yet.
This was followed by a presentation in front of top Youngevity earners on September 20th.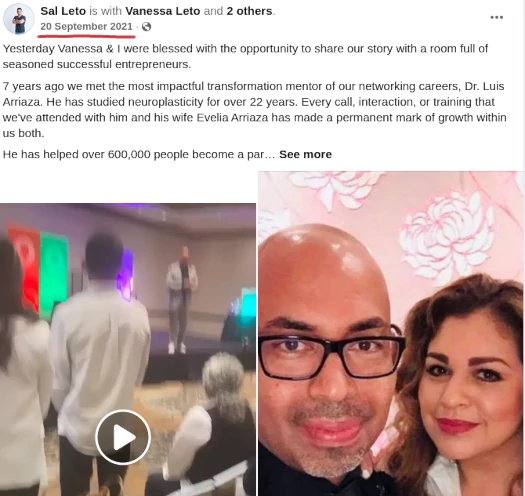 I can't speak for Youngevity but if they have done their research, as Leto claims, they'd know Leto was one of the ringleaders behind OneCoin's failed US launch.
That's OneCoin, the $4 billion MLM crypto Ponzi scheme.
Three years after Leto's failed efforts to spread OneCoin across the US, the company would again try to reenter the country.
This resulted in US authorities arresting then OneCoin CEO Konstantin Ignatov in March, 2019.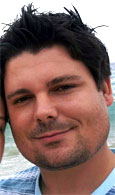 Leto (right) not appearing on Youngevity's website or marketing suggests the company is intentionally failing to disclose who's behind their forex offering.
This alone is a potential violation of the FTC Act (unfair or deceptive acts or practices).
After OneCoin, Maurice Katz and Sal Leto began promoting iPro Network. The SEC sued iPro Network for fraud in May last year.
After iPro Network Leto hitched his name to Eaconomy. Eaconomy collapsed in March 2020.
Leto then resurfaced as Chief Networking Officer at Auvoria Prime.
Auvoria Prime, as reviewed by BehindMLM in April 2020, was a forex trading bot attached to a "forex education program".
Today there's no mention of Sal Leto on Auvoria Prime's website. The automated trading bot has been replaced by trade offerings from people you've never heard of.
Leto's last official Auvoria Prime communication is dated November 17th, 2020.
Leto stopped posting on FaceBook in August 2020. He resumed in May 2021.
Getting back to Youngevity's forex trading products, they've been branded as "FX by Youngevity".
What's on offer sounds remarkably similar to Auvoria Prime.
FX is a platform that provides community, coaching & education, advanced trading technology, and leadership growth training.

At FX, we will help you learn new skill sets and provide training by the best leaders in the industry to help you accelerate your future.
Under FX by Youngevity you have MAX Indicator, MAX Trader's Academy and Live Trading Sessions.
The MAX Indicator is an Artificial Intelligent [sic] oriented software application known an "Indicator".

The software is designed to scan the fluctuation of prices and values throughout several different financial markets.

The MAX Indicator then uses this data that's been collected to product an information report ot the user.

The customer can use this information as potential confirmation of current market activity to assess whether or not they want to place a trade and attempt to earn a profit.

When you subscribe to the MAX Indicator platform … you will also have exclusive access to attend Live Trading Sessions.

The Max Trader's Academy is a comprehensive, multi-sensory learning platform designed to equip traders of all experience levels to raise the bar on their personal trading.

MAX Trader's Academy was created to empower you with the knowledge and skill to become a more profitable trader.
MAX Indicator Initial Enrollment provides access to MAX Indicator and MAX Trader's Academy, it retails at $210.99
MAX Indicator Business Essentials Kit combines access to MAX Indicator and MAX Trader's Academy with Youngevity supplements, it retails at $299.95
MAX Indicator Business Builder Kit adds more supplements and "CEO Training Materials", it retails at $499.95
My immediate concern was whether Youngevity are offering any kind of automated trading.
As far as I can tell, they aren't.
Each user is 100% in control of their own money and their own trades.
As a precaution against FX by Youngevity's offering changing in the future though, I'll state that any automated trading product would constitute a securities offering.
This would require Youngevity to register its forex opportunity with the SEC (Youngevity itself is already registered). Failing to do so would constitute securities fraud.
Personally I'm not entirely convinced. Some Youngevity distributors seem to be pitching automated trading: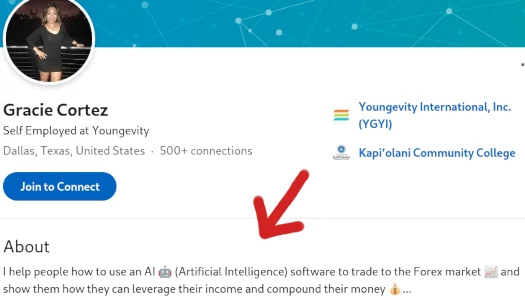 That aside, as represented by Youngevity, Leto's contribution to FX by Youngevity is signals software.
Leto himself obviously didn't develop the platform, with that information being withheld from consumers.
Personally I'd want to know if I was buying into forex trading provided by someone whose only MLM claim to fame was securities fraud.
Through one of the largest and most notorious MLM Ponzi schemes ever no less.
Update 12th January 2022 – I've confirmed, as at the time of this update, there's no automatic trading component to Youngevity FX or MAX Indicator.
Update 15th July 2022 – Max Indicator is still available on Youngevity's website.
Sal Leto however is now marketing 8 Minute Trader. This appears to be a new trading launch from Youngevity.