Argentinian OneCoin arrests climb to fourteen (4 new)

As part of the ongoing Argentinian investigation into OneCoin, prosecutors in Cordoba have approved the arrest of four additional suspects.
Rodrigo Domínguez, Aldo Leguizamón and two other people stand accused of defrauding clients through the OneCoin Ponzi scheme.
Dominguez and Lguizamon are well-known as a local businessman and doctor respectively.
Leguizamon ran "Cripto Travel", a merchant store on OneCoin's failed DealShaker platform.
Cripto Travel represented it was selling new Toyota vehicles to Argentinians. The vehicles were purchased in ONE tokens, plus an additional $1500 in "expenses and freight".
In reality Cripto Travel's listings were stolen from a Mexican auto company and no vehicles were delivered.
After OneCoin collapsed, Dominguez went on to promote ZevenCoin. ZevenCoin was tied into promotion of an "ozone capsule" developed by Dominguez's company Elypson Home.
In the middle of last year, Domínguez presented Elypson's new creation, an ozone capsule capable of sanitizing and performing intelligent temperature control, in relation to Covid-19.
The marketing ruse was ZevenCoin's owners were financing development of the capsule. In turn, Dominguez and Elypson Home promoted ZevenCoin.
Argentinian Prosecutors allege ZevenCoin
never existed and it was a deceptive pyramid scam maneuver that stripped large sums of money from clients seduced by the investment.

"They sold smoke", they point out, indicating that they were offering a fraudulent virtual currency.
The now defunct ZevenCoin website redirects to what appears to be another ERC-20 shit token project with the same name.
The full list of OneCoin scammers arrested in Argentina thus far is:
Adolfo Gustavo Amuchástegui
Eduardo Alejandro Taylor
Edgar Nicolás Moreno
Mónica Gabriela Blasco
Mariana Noel López (with house arrest)
Manuel Vicente Peralta Guevara
Andrés Matías López
Ricardo Beretta
Ariel Eduardo Morassut
Daniel Cornaglia
Aldo Leguizamón
Nancy Diazamón
Hernán Pizarro and
Rodrigo Domínguez
The good news is Argentinian Prosecutors aren't done. They are still after three indicted suspects, for which arrest warrants have been issued.
The bad news is those suspects are Ruja Ignatova, Konstantin Ignatov and Jose Gordo.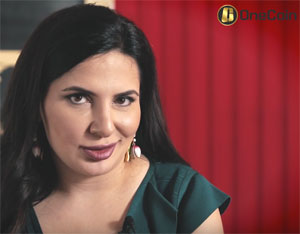 Ruja Ignatova (right), OneCoin's founder, disappeared in late 2017.
Konstantin Ignatov, Ruja's brother and former OneCoin CEO, was arrested by US authorities in March 2019.
Ignatov plead guilty to criminal charges relating to OneCoin and is awaiting sentencing.

Jose Gordo (right) is believed to be a Spanish citizen. He is one of OneCoin's top net-winners.
Gordo was appointed Master Distributor of Latin America and Mexico after Sebastian Greenwood's arrest.
In mid to late 2019 Gordo abandoned OneCoin. He resurfaced as a promoter of Apex International in October 2019.
Apex International was a short-lived Ponzi spinoff of Kuvera Global.
In June 2020 Gordo joined Beyond Wealth, a reboot the Onyx Lifestyle Ponzi scheme.
Gordo continues to scam people through his "Fenttix" and "My Business Academy Pro" branding.
At some point Gordo fled to Panama. He remains at large on the run from criminal charges.
Update 9th November 2022 – Two defendants, Rodrigo Domínguez and Aldo Leguizamón, pled guilty to the charges against them.
Domínguez and Leguizamón were each handed down prison sentences earlier this week.