8 OneCoin Ponzi scammers arrested in Cordoba, Argentina

Authorities in Cordoba, a city in central Argentina, have arrested eight promoters of the OneCoin Ponzi scheme.
Among those arrested is Edgar Moreno, a well-known local radio and television presenter.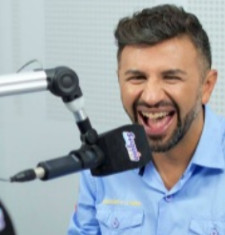 Moreno (right) and seven accomplices were arrested on Thursday, on the order of Complex Crimes Prosecutor Enrique Gavier.
The full names of those arrested are
Gustavo Adolfo Amuchástegui, Andrés Matías López, Mariana Noel López, Edgar Nicolás Moreno, Manuel Vicente Peralta Guevara, Mónica Gabriela Blasco, Daniel Cornaglia and Ricardo Beretta.
Note that there's nine names above, meaning one hasn't been arrested yet. I wasn't able to determine who that is.
The Cordoba Complex Crimes Unit has additionally indicted Konstantin Ignatov, Ruja Ignatova, José Gordo and Eduardo Alejandro Taylor.
Following his arrest by US authorities, Konstantin Ignatov pled guilty to OneCoin fraud charges in late 2019. Pending ongoing cooperation with US authorities, Ignatov is yet to be sentenced.
Ruja Ignatova, founder of OneCoin, has been indicted by US authorities and is a fugitive on the run.

Jose Gordo (right) was a top promoter of and earner in OneCoin.
Gordo resides in Spain and was appointed Master Distributor of Latin America and Mexico after Sebastian Greenwood's arrest.
In mid to late 2019 Gordo abandoned OneCoin. He resurfaced as a promoter of Apex International in October 2019.
Apex International was a short-lived Ponzi spinoff of Kuvera Global.
In June 2020 Gordo joined Beyond Wealth, a reboot the Onyx Lifestyle Ponzi scheme.
Eduardo Alejandro Taylor appears to be an Argentinian promoter of OneCoin, now on the run.
Pending sentencing, Konstantin Ignatov is believed to have worked out a witness protection deal with US authorities. It is unlikely he will face criminal charges in Argentina.
Ruja Ignatova, Jose Gordo and Eduardo Taylor are now fugitives wanted by Argentinian authorities.
Of the three only Jose Gordo's whereabouts is known. That said, whether Argentinian authorities will file an extradition request with Spain is unclear.
Update 12th December 2020 – As per Eduardo Taylor's Facebook profile, he's fled Argentina for Brazil.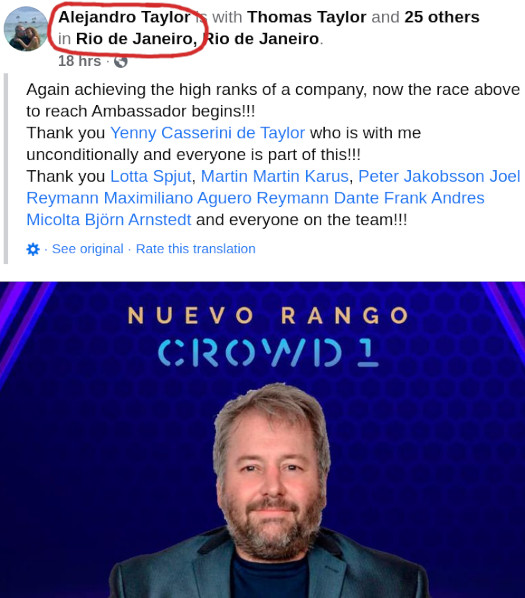 Continuing his crime spree, Taylor is currently promoting the Crowd1 Ponzi scheme. /end update
LaVoz reports that Moreno and his group had been promoting OneCoin in Cordoba "for at least three years". In addition to Argentina, Moreno is reported to have been promoting OneCoin in Panama too.
The arrests on Thursday came about following an investigation into one victim's ~70,000 EUR loss.
One of these investors was a man who reported having been contacted in March 2018.

After some meetings, he was incorporated into a WhatsApp group formed in 2017. First he invested 1,000 euros and then almost 70,000 dollars, he said.

He said that the organizers of OneLife promised them that the value of onecoin would increase significantly from January 8, 2019, when it would become the first "public" cryptocurrency on the international market, "with all the rules. legal to be accepted by the main world financial entities and governments ".

Therefore, they were told that they should hurry to buy as much onecoin as possible before January 8 , since then the value was going to multiply and the potential business was no longer going to be so profitable.

But it came on January 8, 2019 and what was promised did not happen.

Investors began to ask for explanations and only received new promises.
The above should be familiar to anyone who's been following developments in the comments of our OneCoin articles here. It's also reflective of the experience of those still gullible enough to be promoting OneCoin.
One broken promise after another.
Lavoz reports the Cordoba victim attempted to get their money back from Moreno. Nothing eventuated however and so he filed a complaint with authorities on June 30th.
The case fell to the Prosecutor's Office for Complex Crimes, headed by Enrique Gavier, who, after collecting new evidence with his group of investigators, decided to search, charge and detain the suspects this Thursday.
The arrests took place simultaneously while
raids (were) carried out on private homes, notaries' offices, law firms, the headquarters of the OneLife company and the headquarters of the company Compañía Bursátil SA.
Looking forward I'm not sure what public access to criminal cases in Argentina is like. Any updates on the case we receive will be published below.
Update 29th December 2020 – As per an update from WhistleBlowerFin, Eduardo Alejandro Taylor has been arrested in Brazil.
Ariel Morasut, who appears to be a new suspect, has also been arrested in Argentina.
Update 9th November 2022 – Two defendants, Rodrigo Domínguez and Aldo Leguizamón, pled guilty to the charges against them.
Domínguez and Leguizamón were each handed down prison sentences earlier this week.