Kuvera Global launches new unregistered securities, SEC still asleep

MLM cryptocurrency companies and securities fraud practically go hand in hand.
It is easily the biggest regulatory threat facing the industry and, for that reason, you'll see me emphasizing it in a lot of our reviews.
Most of the time the companies in question aren't registered with the SEC and, because of that, I cut the regulator some slack.
They can't keep track of everything and investigations take time. A lot more time when the companies are operating through offshore shell entities and puppet overseas management.
But when a US based company that's registered with the SEC flaunts and continues to flaunt securities law, has been fined once and continues to operate illegally, I have no words.
How is this happening?
Kuvera Global operates in the US through parent company Investview.
BehindMLM first sounded the alarm over Investview's apparent securities fraud back in December 2017.
Back then they were operating as Wealth Generators.
Sure enough, it came to light Investview received a subpoena from the CFTC in February 2018.
The regulator subsequently fined Investview $150,000. It was later revealed the reason for the fine was Investview failing to register its forex trading opportunity.
A month after receiving the CFTC subpoena, Investview renamed Wealth Generators to Kuvera Global.
BehindMLM sounded a second Investview securities fraud alarm in June 2018. This time over Kuvera Global's cloud mining passive investment opportunity.
To date neither the SEC or CFTC has done anything about Kuvera Global's unregistered securities offering.
In the wake of suspending crypto mining ROI payments in October 2018, Kuvera Global has launched several new investment opportunities – none of which are registered with the SEC.
These include FX One, Crypto One. Equities and Equities Pro, cryptocurrency mining, a new tech startup investment service and Apex.
FX One is a manual forex signals service for $229 and then $149 a month. Given FX One is manual, it's not a securities offering and from a regulatory perspective is a non-issue.
Things go downhill from here.
Crypto One appears to be a manual cryptocurrency trading signals service, however it's clearly marketed as a "dump money in this and collect a return" product.
It is priced the same as FX One, $229 initially and then $149 a month.
Our source material from here on out are presentations hosted by Roger Garth.
According to Garth's personal website, he
joined Kuvera on Jan 1st 2018, sponsored my first three within 3 hours and my first 12 within 11 hours.

Almost one year later my team spreads across the UK, half of mainland Europe, Asia, Africa and North America.
Garth is joined by many of his downline on his marketing webinars (I counted twenty-four at one point), so Kuvera Global would be hard-pressed to claim ignorance of his marketing efforts.
With that in mind, here's a slide on how Garth personally pitches Crypto One.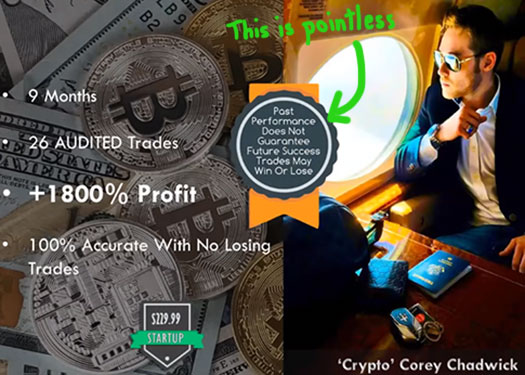 For context, Corey Chadwick is credited as the source of the crypto trades Kuvera Global provides affiliates.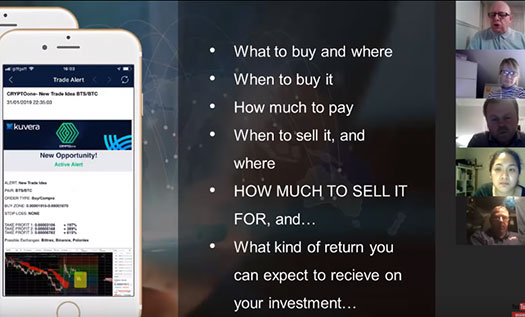 As you read through Garth's pitch for Crypto One, keep in mind his "past performance" pseudo-compliance disclaimer.
In the last ten months (Corey has) given us twenty-six audited trades.

If you'd followed those trades you would have made more than 1800% profit – just following those trades.

To date the trades that Corey has given us have been 100% accurate, with no losing trades.

Now again, can I tell you those trades are always going to be 100% accurate?

No I can't. We make no secrets of this. We're not perfect and we have to say that past performance does not guarantee future success. Some trades may win, some trades may lose.
Read over that last paragraph again, because this is literally the next thing Garth states;
However the odds are stacked in our favor because of our track record.
The problem with Crypto One isn't so much the manual signal service itself, it's entirely how it's being marketed.
If you put just one thousand pounds into (Crypto One) this time last year, by now you'd be sitting on eighteen thousand pounds.

That's an astonishing return on investment.
If that isn't implying thousand plus percent returns based off of past performance than I don't know what is.
Moving on to Equities and Equities Pro, which Garth states 'will teach you how to trade stocks and shares'.
The specifics of either service aren't discussed, but Garth does state
if you go for the Equity Pro version of it, it will actually do the trading for you.
Automated stock and share trading? Yep, that's definitely a securities offering.
As previously mentioned last we heard Kuvera Global suspended its crypto mining payouts.
It seems as some point they've started them up again.
Make no mistake, if you're dumping money into Kuvera Global and collecting a passive return, purportedly through crypto mining or otherwise, that's a securities offering.
The new tech startup investment service sounds like passive investment advice, with a 100 pound price tag.
Startups tells you when new companies come out that are gonna be hot.

Companies like SnapChat, companies like Uber, companies like WhatsApp and AirBnB. Companies that have made millions and millions and millions of dollars for the investors.

And yet you can get involved with these companies for a hundred pounds when the opportunity comes out.
Then there's Apex, Kuvera Global's "newest product" as of late March 2019.
(Apex) will teach you how to make a passive income.

You make a one off investment and get paid every single month for the next five years.
Is there really anything left to say?
There's also some financial management tool services available, but these seem straightforward compared to the glaring regulatory violations above.
Kuvera Global and their affiliates make much of being a publicly traded company, which is through Investview.
Investview's last quarterly report filed with the SEC is for Q4 2018.
There is no mention of any of the passive investment opportunities Roger Garth details above.
Kuvera, LLC provides research, education, and investment tools designed to assist the self-directed investor in successfully navigating the financial markets.

These services include research, trade alerts, and live trading rooms that include instruction in equities, options, FOREX, ETFs, binary options, crowdfunding and cryptocurrency sector education.

In addition to trading tools and research, we also offer full education and software applications to assist the individual in debt reduction, increased savings, budgeting, and proper tax management.
The report does however note Investview's $2.8 million in running losses for the current financial year.
The closest Investview comes to disclosing its multiple securities offerings is in regards to something called S.A.F.E.
On December 30, 2018, our wholly owned subsidiary S.A.F.E. Management, LLC received its registration and disclosure approval from the National Futures Association. S.A.F.E. Management, LLC is now a New Jersey State Registered Investment Adviser, Commodities Trading Advisor, Commodity Pool Operator, and approved for over the counter FOREX advisory services.
S.A.F.E. however wasn't mentioned once by Garth. Personally I'd never even heard of the company until going through the report.
Similarly, what's on Kuvera Global's website differs drastically from Garth's recent marketing presentions.
The only products featured on Kuvera Global's website are the financial management services.
There's nothing about investing in startups, dumping money into Kuvera Global and getting paid monthly for five years, or any of the other passive investment opportunities Garth detailed.
As I see it Investview is not only ripe for another regulatory investigation, it's begging for one.