GSPartners replaces JONE with XLT and Lydian World Ponzis

In early June GSPartners began circulating promotional material for a new real-estate themed Ponzi scheme.
JONE tokens were supposedly tied to physical real-estate in the J One Towers, an apartment complex in Dubai.
Before GSPartners could make any big announcements at their Dubai event later in the month, the developer behind J One Towers came out and denied having anything to do with GSPartners or Josip Heit.
This halted promotion of JONE tokens in their tracks. With GSPartners' Dubai event going ahead as scheduled, it also raised the question of what would be revealed.
In place of JONE tokens and the J One Towers ruse, GSPartners has found a new developer to partner with.
Cue the launch of XLT tokens.
To realize their Dubai real-estate themed shitcoin Ponzi scheme, GSPartners' new partner in crime is Driven Properties.
Driven Properties is run by founder and Managing Director Abdullah Alajaji.

Supposedly the deal between the companies will see 200 Movenpick Hotels and Apartments Dubai units tied to XLT token investment.
Before he was cut off by Heit, Alajaji spoke briefly about the "Movenpick Hotels and Residents" scheme at GSPartners' recent Dubai event.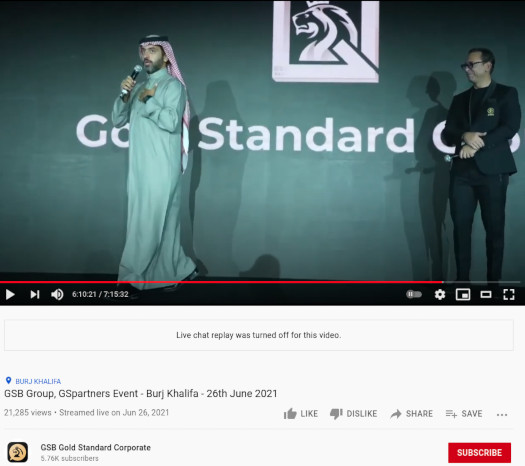 The official marketing name for GSPartners' XLT real-estate scheme is "Movenpick Exclusive Living G999".
Outside of letting GSPartners use their units through Driven Properties, Movenpick appears to otherwise be a legitimate apartment and hotel operator.
Unless there's a secret development Movenpick hasn't made public, their only presence in Dubai seems to be Movenpick Hotel & Apartments Bur Dubai.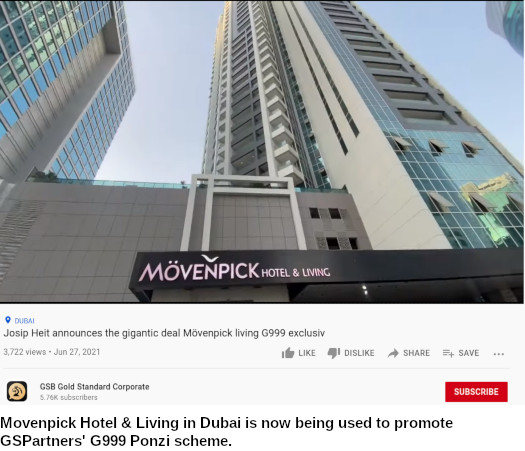 The development features "312 rooms, suites and hotel apartments".
The ruse is XLT tokens are tied to floor-space. When the apartments are rented out, some of that revenue is paid back as a return to XLT token holders with tokens tied to that apartment.
Interestingly enough I was able to tie Driven Properties to J One Towers: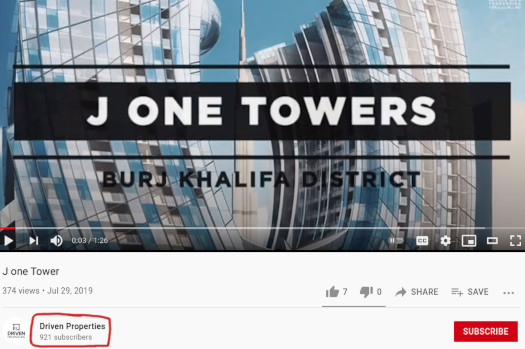 I wasn't able to confirm Driven Properties was involved in the bungled GSPartners J One Towers deal.
It's not out of the realm of possibility that GSPartners and Driven Properties worked together to set up the JONE token Ponzi scheme, unbeknownst to J One Towers' developer, RKM Durar Properties.
Whether Movenpick know one of their properties has been attached to GSPartners' Ponzi scheme through Driven Properties is unclear.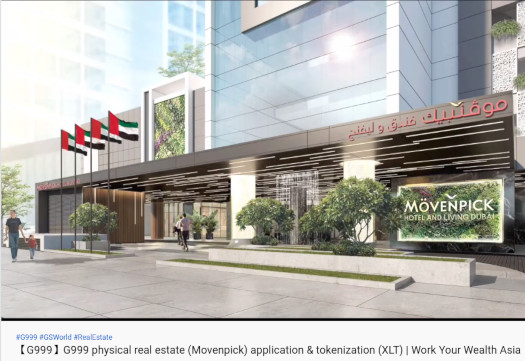 If Movenpick are aware and don't care, one explanation could be their current financial situation.
COVID-19 not withstanding, things must be pretty dire for a company operating multiple hotels around the world to get in bed with a Ponzi scheme.
Movenpick was bought by Paris-based Accor Group in 2018.
Courtesy of Statista, here's Accor Group's revenue chart up to 2020.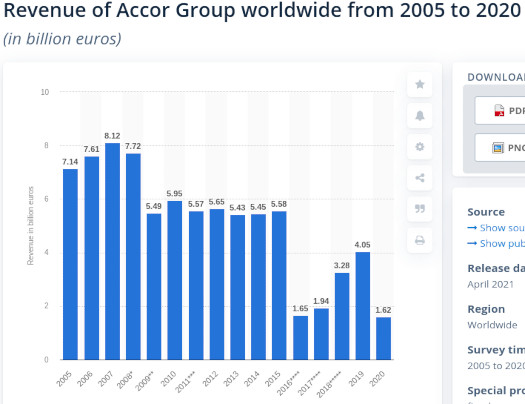 Bear in mind Accor Group is a large company. I wasn't able to establish what percentage of that revenue was attributable to Movenpick's Dubai business.
Considering Dubai primarily relies on tourism, this isn't surprising.
Lease 200 otherwise unoccupied units to GSPartners for an upfront fee and small percentage of collected fees, and hope nobody outside of the MLM Ponzi world notices.
That seems to be the game-plan here.
GSPartners will manipulate the value of XLT tokens as the company dumps them onto affiliates over the coming months.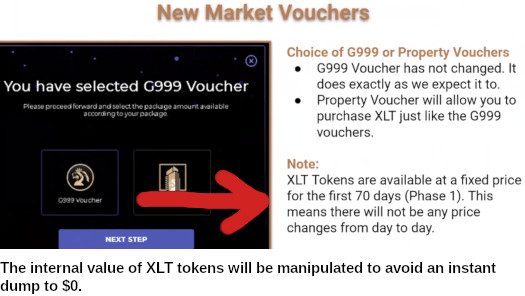 There are three phases of XLT token price manipulation. The first phase lasts for 70 days. Details of the second and third phases have not been made public.
This manipulation is to ensure XLT doesn't immediately plummet to $0 like G999 tokens have.
With a manipulated value for at least 70 days, marketing efforts to encourage XLT token investment won't be interfered with.
Well, provided potential investors don't do any due-diligence on GSPartners and the scam so far.
In addition to direct investment, GSPartners can also park 500,000 or more G999 tokens with the company.
Doing this will prevent G999 coin holders from selling the tokens for two years.
In exchange for not selling, GSPartners will reward these affiliates with XLT and LL tokens (see below).
In addition to the XLT Ponzi scheme, GSPartners is also launching Lydian Lions.
Lydian Lyons (LL) are another internal GSPartners token, used to participate in Lydian World, an NFT virtual world Ponzi scheme.

You can see the public-facing version of Lydian World over at "lydian.world".
Participation in the Lydian World investment scheme costs 2500 LL.
Note that how much LL is required to invest in a country position is not disclosed to the public. To see that information you need to via Lydian World from a GSPartners affiliate backoffice.
The basic gist of this Ponzi scheme is you pay your 2500 LL entry fee, invest more LL in a country position, wait for GSPartners to manipulate how much your investment position is worth and cash out.
GSPartners solicits investment in its various Ponzi tokens in bitcoin, ethereum and tether.
GSPartners is not registered to offer securities in any jurisdiction it solicits investment in. The company operates illegally the world over.
In what may be a response to increasing regulatory scrutiny, GSPartners has introduced a $49 annual pseudo-compliance affiliate fee.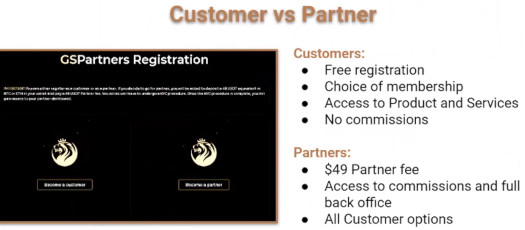 This is an attempt to differentiate affiliate investors from GSPartners' non-existent retail investors.
Affiliates who don't pay the $49 fee, which is backdated to anyone who signed up in 2020, are blocked from earning commissions.
The reason GSPartners' new fee is pseudo-compliance is because charging $49 to participate in an MLM Ponzi scheme still means you're running a Ponzi scheme.
The only effective change is gate-keeping pyramid scheme commissions behind an annual paywall.
Oh and whatever $49 multiplied by how many affiliates pay the fee comes to, will no doubt help GSPartners put off its inevitable collapse for a while.
Intimidation lawsuits filed in South Africa in May claim investment into GSPartners's G999 has slumped 60% throughout 2021.
After a brief anemic pump during GSPartners' late June Dubai event, G999 has dumped back down to its typical near worthless value.
As I write this G999 is publicly trading at $0.00516, slowly dumping down to its historic low of $0.002928.
GSPartners opts to operate illegally around the world ,because registering with financial regulators and providing audited financial reports would confirm it is a Ponzi scheme.
BehindMLM has reached out to Movenpick with the following enquiry:
Hi,

I am Oz, author of BehindMLM.

As part of our ongoing research and coverage of Josip Heit's G999 Ponzi scheme, we've learned Movenpicks's Dubai hotel and apartment building is being used to promote GSPartners' XLT token Ponzi scheme.

Is Movenpick aware of this? If not, do you have any plans to address being part of a company committing securities fraud around the world?

If so, why is Movenpick comfortable with its name and brand being associated with securities fraud?

I await your answer via email, thanks.

-Oz
I've received confirmation that my email has been received by Accor Group. I'll update if we hear anything back.
Update 10th July 2021 – Accor Group has responded to our email.
They state that the developer tied to Movenpick Hotels and Apartments in Dubai has been sent a cease and desist.