GSPartners collapsing, South African YouTube channel blamed

GSPartners is claiming a 66% reduction in victims signing up to lose money.
In a desperate attempt to find a scapegoat, GSPartners has sued a South African YouTube channel.
Plaintiffs GSPartners and owner Josep Heit filed suit in the High Court of South Africa on May 18th.
They are joined by South African GSPartner promoters Tony De Gouveia, Bruce Hughes, Andrew Eaton and Brendon Earp-Jones.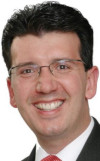 Tony De Gouveia (right) is a resident of Johannesburg, South Africa.
De Gouveia is a serial Ponzi promoter. Before GSPartners De Gouveia was shilling Karatbars International, Lifestyle Galaxy, Skill Dragon and Dragon Mining.
Bruce Hughes is a resident of Durban, South Africa. He is a former Karatbars Ponzi promoter.

Like De Gouveia, Andrew Eaton (right) came up scamming people through Smart Media Technologies (Lifestyle Galaxy).
Brendon Earp-Jones is another South African Lifestyle Galaxy alumni. He is also a former Karatbars Ponzi promoter.
Bruce Hughes, Andrew Eaton and Brendon Earp-Jones promote GSPartners together through "GSB GiHugeness":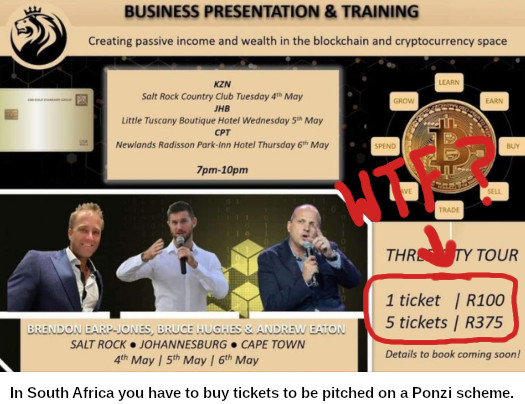 I did find mention of De Gouveia in connection to GSB GiHugeness but nothing concrete.
Named defendants in GSPartners' lawsuit are Louis Nel, Francois Harris and Gert Christoffel Grobler (aka Gareth Grobler).
Together the defendants feature in GSPartners related videos on the "G-Crypto" YouTube channel.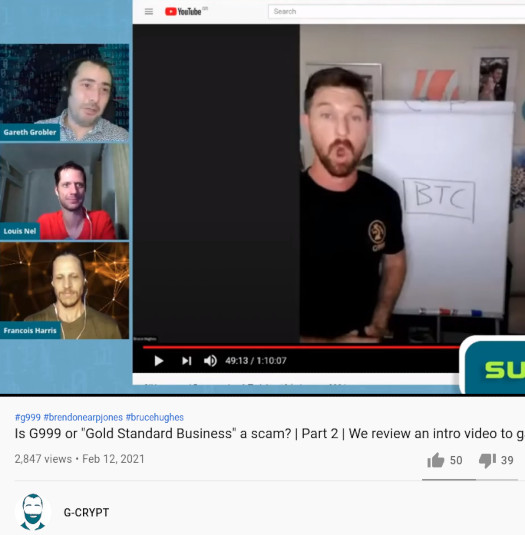 GSPartners alleges commentary aimed at GSPartners and the plaintiffs is defamatory.
Specifically, GSPartners object to the content of seven G-Crypto YouTube videos;
The GSPartners plaintiffs object to language used in the videos.

I've provided a sample list from the lawsuit covering one of the videos on the right.
Conclusions drawn from the videos, which the GSPartners defendants again object to, are that (quoted verbatim);
they are dishonest
they conduct and promote the business and products of GSPartners as a scam
Josip Heit, the Chairman of GSP, is a criminal and a personal of low moral fibre and conducts a scam business
Tony De Gouveia is a "pyramid marketing guru", conveying that De Gouveia is a criminal and a person who uses illegal means to market GSPartners and as such is a dishonest and unethical person who employs unethical and criminal practice in his business dealings with the international community
they are persons who employ business techniques and use business techniques used by "serpent wax salesman"
the plaintiffs and the business of GSB is designed to deceive people
the plaintiffs are traders and lies and a false business
(GSPartners) is a scam conducted by dishonest people
(GSPartners) is a dishonest business
they prey on the weak and mislead them
(GSPartners) is conducted and premised on unlawful principles and practices
(GSPartners) is illegal and premised on criminal practices, i.e. it is a Ponzi and/or pyramid scheme
(GSPartners) is conducted in contravention of statutory and regulatory laws and prohibitions
The GSPartners plaintiffs claim, citing 17,235 G-Crypt video views, that
on average 35,000 new members joined (GSPartners) each month since December 2020.

However, since publication of the YouTube videos, the new monthly membership has reduced by 66% for the months of February, March and April 2021.
GSPartners claims that each new victim recruited into the Ponzi scheme generates, on average, $250.
$250 is multiplied by hypothetically lost GSPartners affiliate investors between February to April 2021, totaling a monthly loss of $5.77 million.
Tony De Gouveia claims he was earning $81,399 a month, which dropped to $40,077 from February 2021
Bruce Hughes claims he was earning $16,547 a month, which dropped to $8027 from February 2021
Andrew Eaton claims he was earning $31,306 a month, which dropped to $17,969 from February 2021
Brendon Earp-Jones claims he was earning $10,979 a month, which dropped to $9129
That these disclosed incomes are a direct result of recruiting people into a Ponzi scheme, doesn't seem to faze GSPartners or its promoters.
In light of their Ponzi income disappearing;
GSPartners has made two claims, R25 million ($1.74 million) and $17.32 million
Josip Heit is claiming R25 million ($1.74 million)
Tony De Gouveia has made two claims, R25 million ($1.74 million) and $123,966
Bruce Hughes has made two claims, R25 million ($1.74 million) and $25,560
Andrew Eaton has made two claims, R25 million ($1.74 million) and $40,011
Brendon Earp-Jones has made two claims, R25 million ($1.74 million) and $5550
The GSPartners plaintiffs are also seeking an injunction, removal of the allegedly offending YouTube videos and a public apology video.
The irony is that, in light of GSPartners being a Ponzi scheme, the above objected to statements are factually accurate.
The long and the short of it is Josip Heit was behind Karatbars International's transition from gold pyramid scheme to crypto shitcoin Ponzi.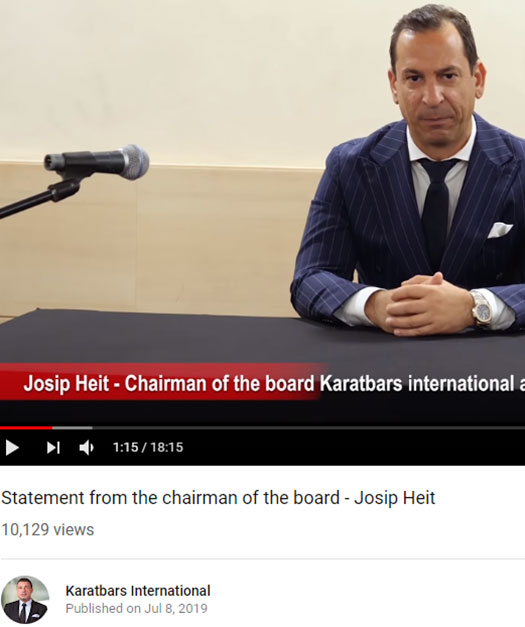 After scamming a bunch of people through a pump and dump launch, Heit split from Karatbars and went off to launch his own MLM crypto Ponzi scheme.
GSPartners is the same shitcoin Ponzi business model. The only difference is instead of Karatbars' V999 token, GSPartners solicits investment into its own G999 token.
Oh and Heit doesn't have to share what's stolen with Karatbars owner Harald Seiz anymore. He's running the show.
Despite offering a passive investment opportunity (invest in G999, number go up and withdraw previously invested funds), GSPartners is not registered to offer securities in any jurisdiction.
Namely Germany, where GSPartners is operated from, and the lawsuit jurisdiction, South Africa.
Karatbars International copped a securities fraud warning from South Africa in November 2019.
The blunt truth is GSPartners isn't big enough to attract the same regulatory attention (note that Karatbars is nowhere near as big as it was in 2019 either).
While awareness of Ponzi schemes certainly can be attributed to their decline, singling out a random South African YouTube channel as the root cause of your scam's demise is ridiculous.
Not in that the channel's videos didn't have an impact on your business, but rather you are running and promoting a Ponzi scheme that will inevitably collapse anyway.
At the time of publication Alexa ranks top sources of traffic to GSPartners as the US (58%), South Africa (15%) and India (4%).
Traffic to GSPartners' website began tanking in late March. The bulk of objected to G-Crypto videos were published well before this period.
In addition to suing YouTubers, GSPartners' latest ploy to keep their Ponzi scheme alive is JONE.
Like G999 (currently trading at $0.006), JONE is another speculative shitcoin that will go nowhere.
That's if it even launches. GSPartners' JONE Ponzi ruse is investing in J ONE Tower floor space.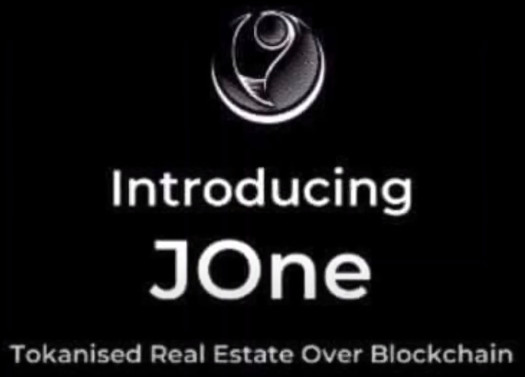 J ONE is an Dubai apartment tower built by RKM Durar Properties.
Since GSPartners began promoting JSONE token earlier this month, RKM Durar Properties has claimed they have no knowledge of GSPartners or Josip Heit.
A timer on GSPartners' website is still counting down to JONE token's launch in five days.
The GSPartners Plaintiffs are represented by the law firm Otto Krause Attorneys.
The defendants are being represented by ENS Africa, who claim to be "Africa's largest law firm".
I have been informed the defendants intend to defend the suit. We'll keep you informed of any further updates.
Update 2nd July 2021 – GSPartners has filed a second YouTube lawsuit in South Africa.