GSPartners' developer sent Movenpick cease and desist

As part of our coverage of GSPartners' XLT Ponzi token launch, BehindMLM got in touch with Accor Group about a week ago.
Accor Group owns the Movenpick brand, and we wanted to know if they were OK with GSPartners using one of their properties in Dubai to promote their XLT Ponzi points scheme.
A few hours ago I received a reply from Accor Group's Investor Relations Team.
Quoted directly from Accor Group's email;
For your information, Mövenpick has not authorized the use of its trademarks in this offer and has required the property developer to immediately cease and desist.

Kind regards,

Investor Relations Team
The "property developer" Accor Group has directed its cease and desist to is not named.
My own research led me to Richreit Real Estate Development, who claim Movenpick
signed a management agreement with Richreit Real Estate Development for one of its most high-profile projects, Mövenpick Hotel Apartments Business Bay, located in Dubai's sought-after Business Bay district.

With a vision to create state-of-the art residential projects that serve as a benchmark, Richreit assigned the renowned Swiss management company Mövenpick Hotels & Resorts to manage the new Hotel Apartments tower in Business Bay.
Photos on Richreit's website match the building featured in GSPartners' marketing videos.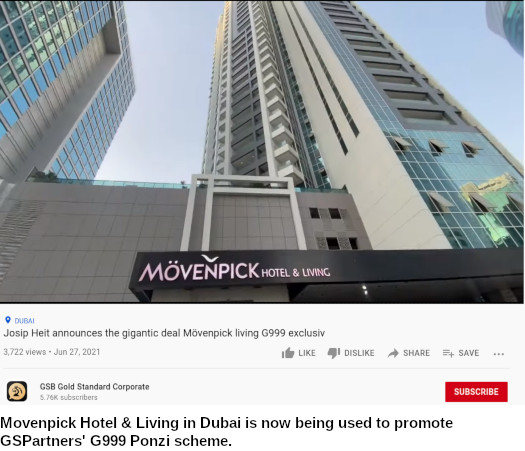 If Richreit has been sent a cease and desist, by extension it should also apply to GSPartners and Driven Properties.
Driven Properties is a property brokerage firm.

The company's Managing Director, Abdullah Alajaji, spoke on stage at a GSPartners' marketing event held in Dubai last month.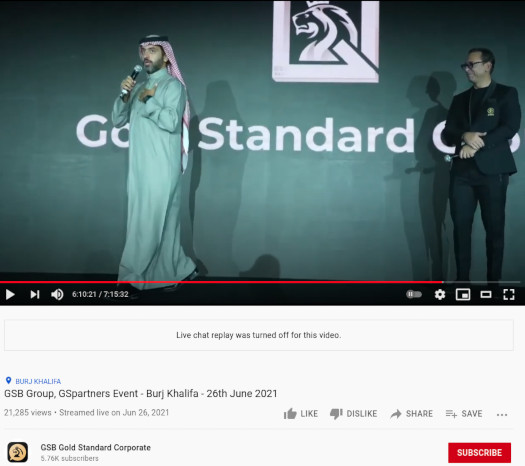 It was represented that Driven Properties brokered a property deal between GSPartners and Movenpick.
Through communication with Accor Group, we have now established that is a completely false representation.
What happens next is unclear. With GSPartners unable to use the Movenpick's apartments to promote their Ponzi token, one would assume the XLT launch is dead in the water.
GSPartners hasn't issued any public statements regarding Movenpick or their XLT token since the July event.
GSPartners' originally intended to launch JONE tokens in conjunction with J ONE Towers.
That launch was abandoned when J ONE Towers' property developers also denied association with GSPartners and Heit.
While there is no mention of XLT or Movenpick's apartments on GSPartners' website, the Dubai marketing videos announcing the partnership are still available.