GSPartners selling Movenpick XLT tokens through JJJ Holdings?

After Accor Group publicly stated GSPartners wasn't authorized to use Movenpick in their branding, it seems GSPartners is pushing the deal through anyway.
GSPartners has been dropped. Instead the deal is being pushed through JJJ Holdings, a shell company owned by Josip Heit.
Our source material is marketing from GSPartners, currently being circulated by affiliates.
I first learned of the latest pitch via a reader comment on our Movenpick cease and desist article.
I was able to independently verify this marketing copy out in the wild: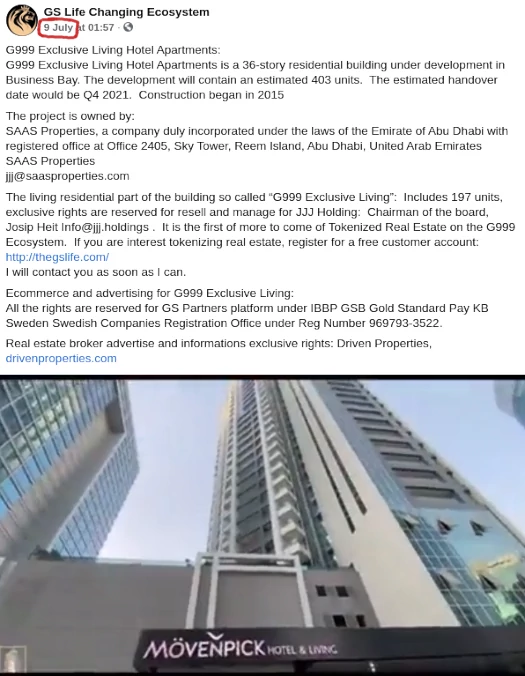 According to the marketing copy, the Movenpick Hotels & Living building is being offered through SAAS Properties.
A visit to SAAS Properties reveals the Movenpick Hotels & Living building is part of their "Reem|Five" offering: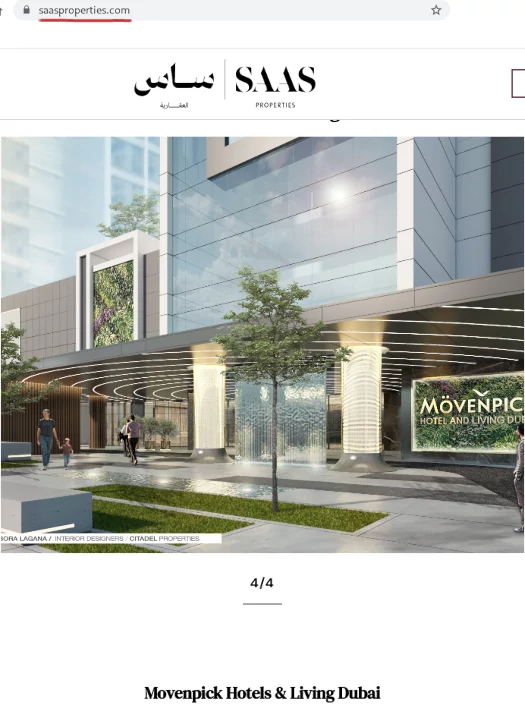 As opposed to the original plan to exploit the Movenpick brand without permission, GSPartners has shortened its XLT investment scheme name to "G999 Exclusive Living".
Instead of GSPartners, GSB Gold Standard Bank, GSB Gold Standard Pay, GSB Gold Standard Corporation or any of Heit's previously known companies, the Movenpick deal is being conducted through "JJJ Holdings".
As of yet there doesn't appear to have been time to throw together a JJJ Holdings website. The JJJ Holdings website domain ("jjj.holdings"), currently redirects to GSB Gold Standard Corporation's website domain ("gsb.gold").
The JJJ Holdings domain was only just registered on July 8th, 2021.
BehindMLM learned Accor Group cease and desist on July 9th.
Presumably the cease and desist was sent out prior to July 8th. This suggests JJJ Holdings was set up to hide GSPartners' involvement in the deal.
JJJ Holdings was pushed out in GSPartners' marketing material from July 9th.
As per the marketing copy, Driven Properties is still the property broker behind the deal.
Abdullah Alajaji, Driven Properties' Managing Director, seems to be bending over backwards to make Josip Heit's XLT token Ponzi scheme happen.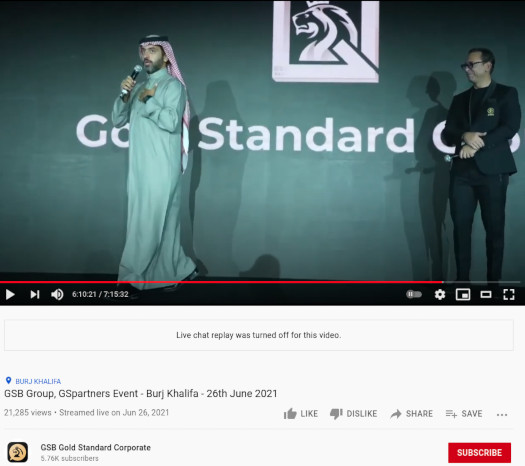 Whether Accor Group takes any further action against JJJ Holdings, SAAS Properties and/or Driven Properties remains to be seen.
In a regulated jurisdiction the actions of Heit and his accomplices might have triggered a regulatory investigation.
With Dubai being the MLM scam capital of the world however, the chances of Dubai authorities getting involved is slim.
BehindMLM has reached out to Accor Group for comment on these latest developments.