GSPartners gets BehindMLM censored in… the Ukraine?

BehindMLM's ongoing coverage of the GSPartners Ponzi scheme is getting under Josip Heit's skin.
So much so that he engaged German legal counsel, to initiate legal action in the Ukraine.
Lol Ukraine. Get your popcorn ready folks…

Earlier today I was going through some emails when I scrolled past the spam folder. I hadn't checked it in a while so clicked through.
As a matter of sheer coincidence, the German law firm Irle Moser sent me a Ukraine court order last Friday.
I have no idea what I'm supposed to do with it (feel intimidated?). The attorney, Sneshana Brendel-Jurk, stated she had sent it to me "for further consideration".
Consider this further consideration then I guess.
According to a translation of what is represented as being a court order from the Kyiv City Pechersky District Court, Gold Standard Banking Corporation AG, one of the many shell companies Josip Heit runs GSPartners through, somehow convinced Ukraine prosecutors that reporting on Ponzi schemes warranted wasting their time.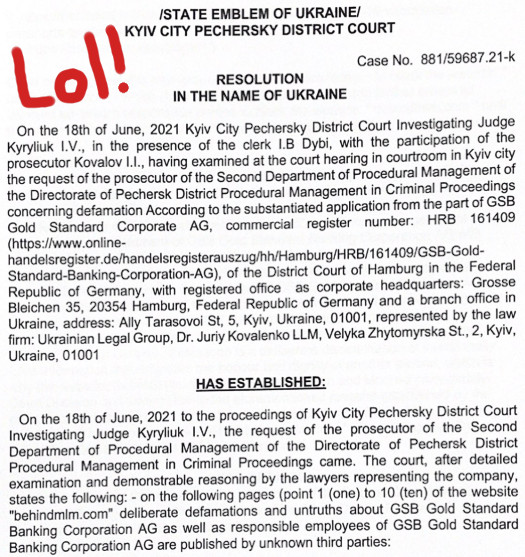 Here's what the document states, sans legal jargon (it's still rather lengthy so I've included a TL;DR below);
On the 18th of June, 2021 Kyiv City Pechersky District Court Investigating Judge Kyryliuk I.V., in the presence of the clerk I.B Dybi, with participation the prosecutor of the Second Department of Procedural Management of the Directorate of Pechersk District Procedural Management in Criminal Proceedings concerning defamation, according to the substantiated application from the part of GSB Gold Standard Corporate AG …

…has established on the 18th of June 2021 to the proceedings of Kyib City Pechersky District Court Investigating Judge Kyryliuk I.V., the request for the prosecutor of the Second Department of Procedural Management of the Directorate of the Pechersk District Procedural Management in Criminal Proceedings came.

The court, after detailed examination and demonstrable reasoning by the lawyers representing the company, state the following:

on the following pages of the website "behindmlm.com" deliberate defamations and untruths about GSB Gold Standard Banking Corporation AG as well as responsible employees of GSB Gold Standard Banking Corporation AG –

(list of BehindMLM URLs covering GSPartners' Ponzi scheme)

Court order Against this background, the court orders today: – to block the website: "behindmlm.com" … and further orders all involved up-stream responsible parties to block the website: "behindmlm.com" until the legal reason, which was stated in the reasoning of this judgment, ceases to apply!
TL;DR: GSPartners and Josip Heit filed a bullshit ex-parte application, which resulted in BehindMLM purportedly getting blocked in the Ukraine.
As per the document, the court relied on "the assurance of the CEO of GSB Gold Standard Banking Corporation, Mr. Josip Heit".
Imagine making decisions in court on the unchallenged representations of Ponzi scammers. Lulz!
If we look at the list of BehindMLM URLs GSPartners and Heit are trying to suppress…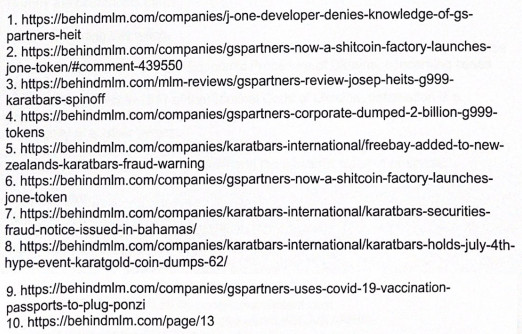 …URLs one and two are of particular interest.
In the lead up to GSPartners' recent Dubai marketing event, BehindMLM blew the lid on the Ponzi scheme's planned JONE shit token launch.
This lead to people reaching out to the developers of the property supposedly tied to JONE, who revealed they had nothing to do with GSPartners or Heit.
Heit, no doubt furious over his plans being ruined, scrambled to find another building to connect his real-estate token Ponzi onto.
That building supposedly belongs to Movenpick Hotels and Resorts, who are owned by Accor Group.
BehindMLM is in the process of finding out whether Accor Group are aware their Movenpick Dubai operations are being used to promote a Ponzi scheme.
The take-away here is that BehindMLM published those two articles on June 8th and June 18th respectively.
On June 18th, the same day BehindMLM published one of the articles in question, Judge Kyryliuk I.V. handed down his order.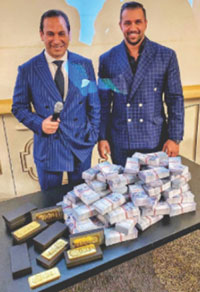 For a few briefcases full of G999, apparently Ukraine courts are corrupt such that Ponzi schemes can shop around for prosecutors and file bullshit ex-parte cases. With a less than 24 hour turnaround no less!
Dear GSPartners' lawyers, that last sentence was a joke. Obviously we know G999 is worthless, so Heit would have had to have filled the briefcases with cash.
Prosecutors rock up to court, bing badda boom, a website gets blocked in the Ukraine.
Out of curiosity I ran a few checks and, at least as far as I can tell, BehindMLM is still accessible in the Ukraine.
Not that it really matters. The only people who read BehindMLM in the Ukraine are Boris CEO Ponzi scammers checking up on whether we've outed their actors yet.
What's far more interesting than GSPartners' bullshit court order is the connection to Ukraine.
Obviously neither GSPartners or Josip Heit has any ties to the Ukraine.
Heit is based out of Germany. He also spends a lot of time in Dubai, as a lot of scammers do these days.
I can't think of any favorable reason to get a court order in Ukraine that only applies to the Ukraine.
What getting a judgment in the Ukraine might reveal (even the judgment is pointless), is ties between GSPartners, Josip Heit and Ukrainian organized crime.
Heit created his GSPartners Ponzi scheme after falling out with Karatbars founder Harald Seiz.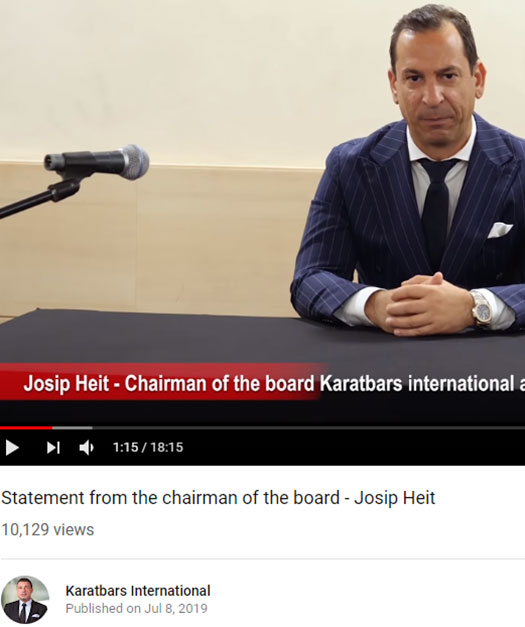 GSPartners is essentially Heit's version of the Karatbars crypto Ponzi scheme.
Before new investment rolled in, primarily from scammed Karatbars victims, someone had to bankroll Heit's business ventures. Maybe that's the tie to the Ukraine?
Or perhaps someone's upset they didn't get any of that sweet, sweet OneCoin money.
Otherwise it's just odd. Obviously I'm going to read this document for what it is, a one-sided judgment in a jurisdiction I don't give a crap about. And presumably Heit knew that?
Or maybe not. Scammers aren't a particularly bright bunch.
Out of curiosity I went and looked up what the status of internet censorship is in the Ukraine.
Turns out that while it's relatively open between civilians, if you can get Ukrainian authorities involved they're above the law.
While there are no government restrictions on access to the Internet, law enforcement bodies are known to monitor the Internet, at times without appropriate legal authority.

There have been occasional agitations of interference by law enforcement agencies with prominent bloggers and online publications.
One last thing I want to point out is this paragraph that struck me as suspicious:

That Ramsar URL appears in both the allegedly original Ukraine court order and the German translation too.
A visit to the Ramsar URL reveals Ramsar is … a Convention on Wetlands in Switzerland?
Why on Earth would that be in there? I sincerely hope Heit and his lawyers haven't doctored legal documents from Ukraine.
That'd just be even more hilarious.
Anyways, the Ukraine order is supposedly in place "until the legal reason … ceases to apply!"
I'm taking that as GSPartners collapsing or being shut down by regulators and/or authorities.
Seeing as GSPartners' primary investor base is the US, I've forwarded the supplied court document to the SEC.
Meanwhile BehindMLM will continue to track and report on Josip Heit's GSPartners Ponzi scheme. Enjoy!