GSPartners and Josip Heit threaten US based YouTuber

GSPartners and owner Josip Heit have engaged a US law firm to intimidate a US based YouTuber.
Chris Saunders runs the Grit, Grind, Gold YouTube channel.
On Grit, Grind, Gold you'll find multiple videos critical of GSPartners and its precursor Karatbars International: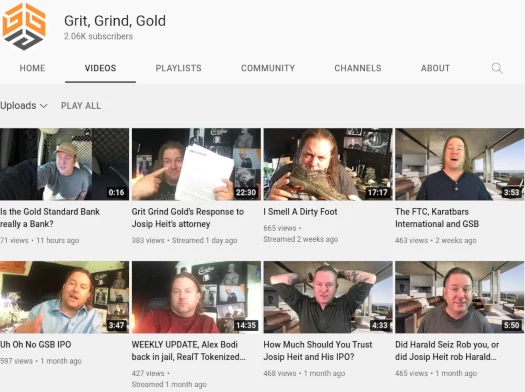 In an attempt to silence Saunders, Heit and GSPartners, dba Gold Standard Banking Corporation, has engaged the US law firm Zuber Lawler.
Zuber Lawler sent Saunders a cease and desist pertaining to statements made regarding Gold Standard Banking Corporation, Josip Heit, Michael Dalcoe and Tony De Gouveia.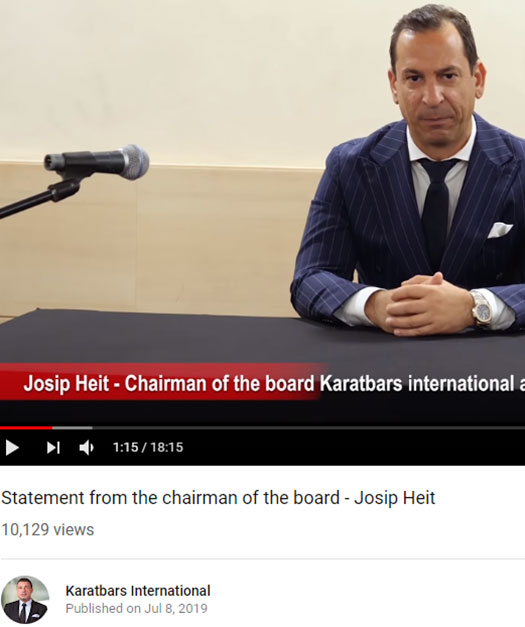 For the sake of simplicity, and because he's likely paying Zuber Lawler's fees, I'm citing Heit as instigator of the notice.
Heit objects to several statements made by Saunders on Grit, Grind, Gold.
These include:
that Karatbars International and GSPartners are materially the same business;
that GSPartners is a Ponzi scheme; and
that GSPartners and Josip Heit are engaged in "criminal activities of moral turpitude".
Zuber Lawler maintain Saunders' statements made in reference to the above points are defamatory.
To explain away Heit's executive involvement in Karatbars, namely as the architect behind its failed transition to cryptocurrency fraud, Zuber Lawler asserts
GSB has no affiliates with Karatbars; it is neither a parent nor subsidiary nor affiliate of Karatbars; and it wholly exists as a separate and independent entity.
All of those statements are true. And they also dodge the fact Heit created GSPartners as his own Karatbars spinoff.
GSPartners' G999 Ponzi token scheme was modeled directly on Karatbars' International's failed GSB Ponzi token scheme.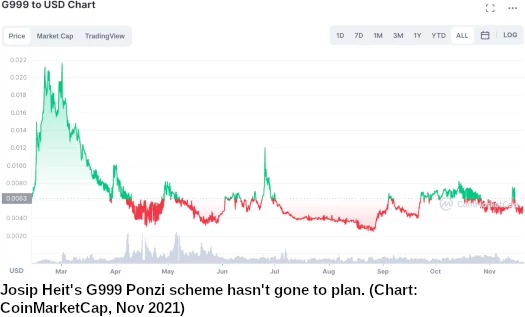 Despite Heit, as a Karatbars executive, likely being on of the primary beneficiaries of Karatbars' failed crypto Ponzi scheme, and using those ill-gotten gains to launch GSPartners, Zuber Lawler puts forth that  Gold Standard Banking Corporation is "a victim".
Painting Gold Standard Banking Corporation and Heit as mere investors, Zuber Lawler claims;
GSB and Mr. Heit did not profit from their relationship with Karatbars; they in fact lost millions of dollars through their investment.
Moving onto GSPartners being a Ponzi scheme, Zuber Lawler asserts it isn't… because law enforcement hasn't caught up with Heit yet.
GSB and its agents and principals have never been charged with or convicted of any crime alleging a Ponzi scheme.

This is because GSB is not engaged in a Ponzi scheme.
This is a variation of the "if it was illegal, it would have been shut down" scam defense.
The argument is flawed because it is based on the premise that criminal activity can't exist until someone is charged.
This creates a "chicken or egg" paradox, whereby nobody can be charged if no criminal activity took place.
One need only look at every criminal case ever filed to see criminal activity took place prior to anyone being held accountable. Notwithstanding criminal activity that takes place regardless of anyone is ever held accountable.
To drive home a point, here's an example of GSPartners' investment scheme;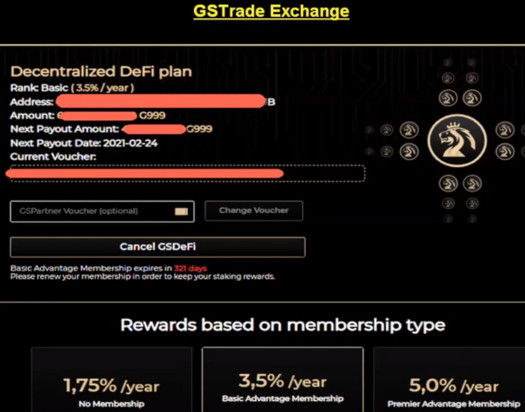 Note that since our initial review, G999 has gone nowhere and so GSPartners has gone on to launch other token investment schemes.
As defined via the Howey Test, an investment contract exists if there's an
investment of money in a common enterprise with a reasonable expectation of profits to be derived from the efforts of others.
Here we have consumers sending money to GSPartners (a common enterprise), solely on the expectation of "profits derived from the efforts of others".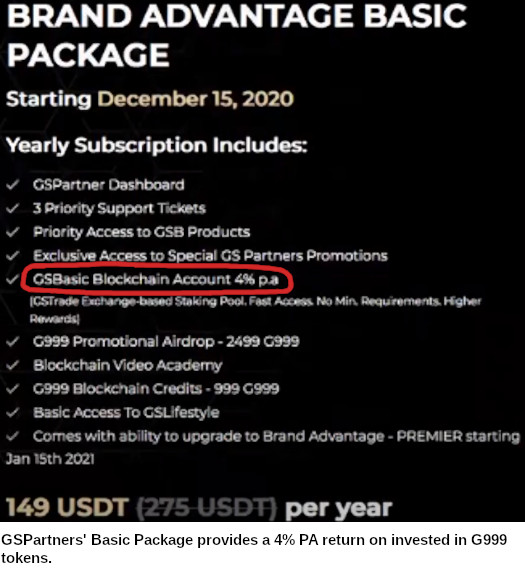 When someone cashes out their G999 tokens, they are paid with subsequently invested funds. It's a closed-loop flow of money with no external revenue source.
More pressing, with respect to Zuber Lawler and Saunders being based in the US, the existence of an investment contract constitutes a securities offering.
Neither GSPartners, Josip Heit or any of the shell companies attached to GSPartners are registered with the SEC.
Michael Dalcoe, who refers to himself as GSPartners' CEO, is believed to be one of GSPartners' top promoters.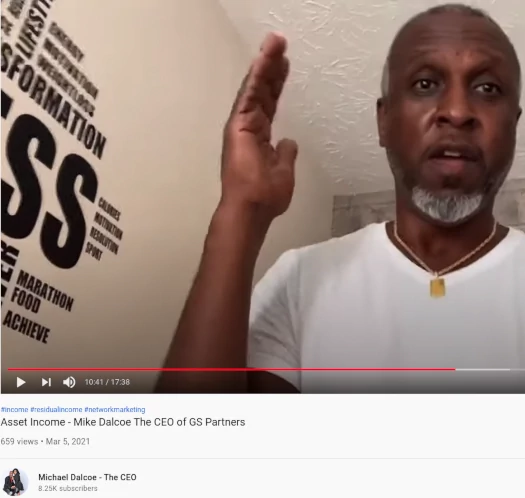 He's also a US citizen and resident, in addition to not being registered with the SEC.
Rather than address any of these facts, which by definition cannot be defamatory, Zuber Lawler hides behind an undisclosed legal opinion.
GSB retained an independent law firm to conduct a comprehensive internal investigation targeting these charges.

This investigation examine the internal mechanics of the organization to determine if there was any evidence of, among other things, money laundering, transaction laundering, BRAM/GBPP violations, licensing and SEC issues, and improper contractual and sales practices.

The investigation concluded there was no wrong-doing, and will be used to demonstrate the falsity of your defamatory statements.
Zeek Rewards, TelexFree, OneCoin… it is common for MLM Ponzi scheme to hide behind paid legal opinions.
To date not one has ever held up in court. They certainly haven't stopped the arrest of executives in the above named companies or subsequent criminal trials.
I've provided evidence of GSPartners' securities fraud above. Any legal opinion to the contrary willfully ignores this evidence.
Because I know someone from Zuber Lawler is going to read this, send me this legal opinion rubber-stamping GSPartners' fraud and I'll be happy to dissect it.
Addressing the third point is trivial. Running a Ponzi scheme is illegal.
By way of having no retail offering, GSPartners also operates as a pyramid scheme.
Anyone running Ponzi and pyramid schemes is by definition "engaged in criminal activities of moral turpitude".
Zuber Lawler closes by declaring Saunders' statements are defamatory.
The law firm threatens to take legal action against Saunders if he doesn't remove Grit, Grind, Gold videos and agree to cease and desist further commentary.
If the foregoing written assurances are not timely provided, a complaint against you will be filed in a Virginia court seeking an injunction, damages (including punitive damages), and other appropriate relief.
In response to the cease and desist, Saunders published a video titled "Grit Grind Gold's Response to Josip Heit's attorney" on November 19th.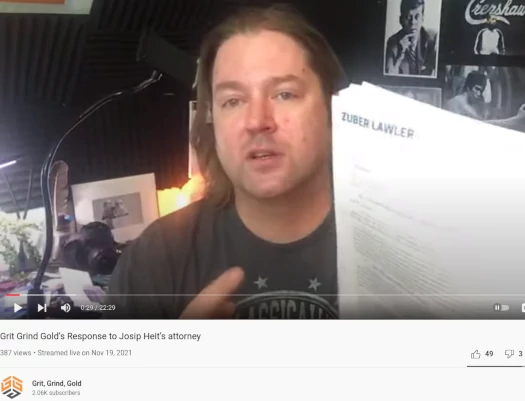 In the video Saunders' states;
[9:06] Josip Heit has accused me of being a part of a crime syndicate, a criminal organization … this is untrue.

[9:42] Not just myself but my colleagues and friends, as far as CryptTalk Nation (goes), is calling us part of a crime syndicate.

That's defamation of character.

So here's my reply to you;

You have ten days to make a public apology, admitting that you were wrong and that you were giving misinformation.

Not only do you have to do that, you have to pull the G999 (scheme) down completely.

Your G999 is dead, because you lied about me, about CryptTalk Nation, about the crime syndicate.

And if you don't wanna do that, that's fine. I will take you to court for defamation.

Did you really think I was going to back down from a fight?
Whether GSPartners, Josip Heit and his cronies make good on their threat of legal action remains to be seen.
At time of publication Alexa estimates reveal a continued decline in traffic to GSPartners' website: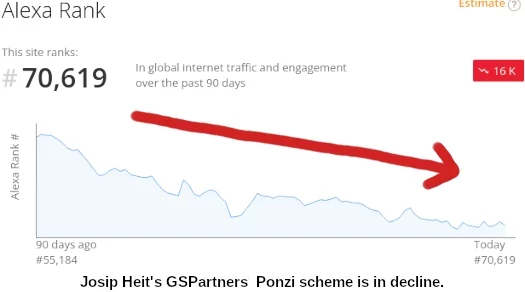 The US is cited as the top source of traffic (29%), followed by South Africa (28%) and India (12%).
Whether US authorities have an open investigation into GSPartners, Josip Heit and/or Michael Dalcoe is unclear.
Update 22nd January 2022 – GSPartners filed suit against Chris Saunders on December 16th.
Update 29th August 2022 – GSPartners has abandoned its lawsuit against Chris Saunders.
Update 4th September 2022 – In what appears to be part of a reached settlement, all of Grit Grind Gold's social media profiles have been made private.
Additionally, all videos on the Grit Grind Gold YouTube channel have also been marked private.