KaratBars holds July 4th hype event, KaratGold Coin dumps 62%

In a desperate bid to prop up its ethereum-based KaratGold Coin shitcoin, Karatbars International held a "Gold Independence" event on July 4th.
Since the event, KaratGold Coin has dumped from a July 3rd 12.6 cent high, down to 4.9 cents.
Karatbars International began hyping its Gold Independence Day event in late 2018.
The event centered on a promise by CEO and founder Harald Seiz, that affiliates would be able to exchange 100 KBC for 1 gram of gold.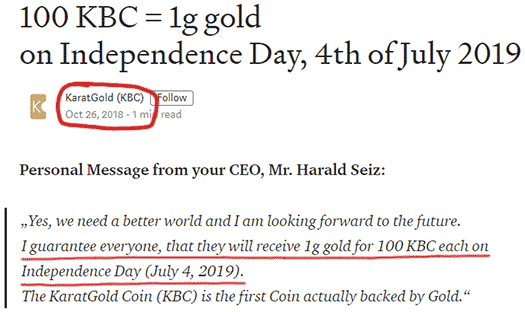 Seiz's promise was quickly picked up and relayed among Karatbars International affiliates.

KaratGold Coin itself began as KaratBank Coin and was announced in early 2018.
KaratBank Coin is a blockchain-based cryptocurrency that is linked to physically deposited gold in the form of the so-called CashGold.

Each 10,000 KaratBank Coins can be exchanged for 0.1g CashGold at any time.
Karatbars' gold-theme pyramid scheme had been winding down for some time, and the company needed a new gimmick to survive.
Cue the cliched jump into cryptocurrency most of the MLM underbelly has embraced.
Although the original "KBC" ticker was retained, somewhere along the line KaratBank Coin became KaratGold Coin.
After the initial Ponzi point phase (wherein Karatbars International made a mint selling KBC to its affiliates), public trading began in July 2018.
Promotional efforts over the months saw KBC hover between 0.4 of a cent and 2 cents.
It was until around April 2019 that Gold Independence hype marketing took off and saw KBC value and trading volume start to climb.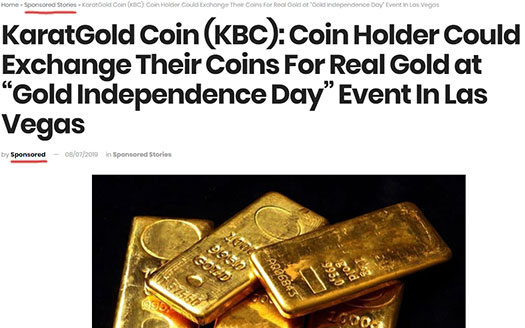 In a May 24th video uploaded to Karatbars International's official YouTube channel, Harald Seiz reaffirmed his exchange promise;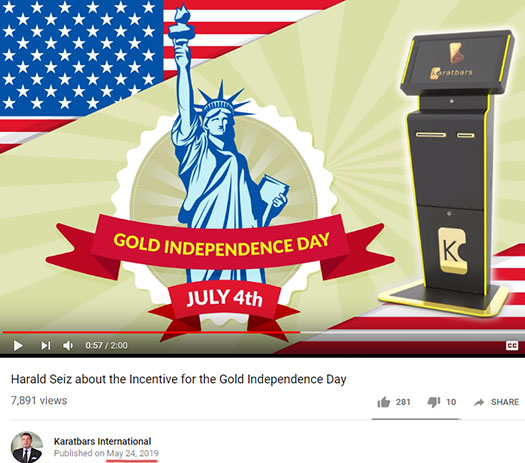 [0:53] Our promotion for the fourth of July, the day comes very soon, 100 coins to one gram (of) gold… um, you will be excited.
On July 4th Karatbars International held its event at Planet Hollywood in Las Vegas.
It was what you'd expect from an MLM company trying to shill an altcoin, topped off by a performance by Gwen Stefani.
Although Stefani is currently on residency at the Zappos Theatre, for which anyone can buy tickets to, Karatbars disingenuously billed Stefani as a "special guest" for their event.
And that wasn't the only thing Karatbars was disingenuous about.
Nobody at the event was able to convert 100 KBC into 1 gram of gold.
How much Karatbars spent marketing their Gold Independence event is unclear, but it paid off.
On June 3rd KBC peaked at 12.6 cents. 24 hour trading volume briefly broke through the $12 million barrier.
And then… well, what you'd expect an MLM shitcoin to do happened.
KBC began to dump hard. Today it's sitting at just under 5 cents.
In an attempt to placate angry investors who felt they'd been duped, on July 8th Karatbars International released a video featuring Chairman of the Board, Josip Heit.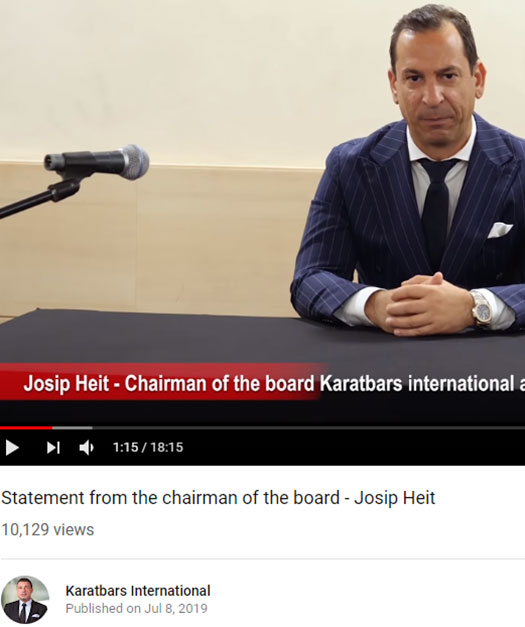 Heit backtracked on Seiz's earlier promise, and claimed that affiliates misunderstood they would only be able to "claim" their gold.
Heit also trotted out MLM crypto excuses greatest hits, including "scammers" and "KYC".
Long story short, Heit postponed Seiz's 1 gram of gold promise to October.
Rightfully so, this went down like a ton of bricks with Karatbars affiliates.
Karatbars disabled comments on the Heit video and have been deleting angry comments from investors on their official Facebook page.
On July 11th Harald Seiz himself attempted to placate Karatbars investors, in a Q&A video uploaded to the company's official YouTube channel.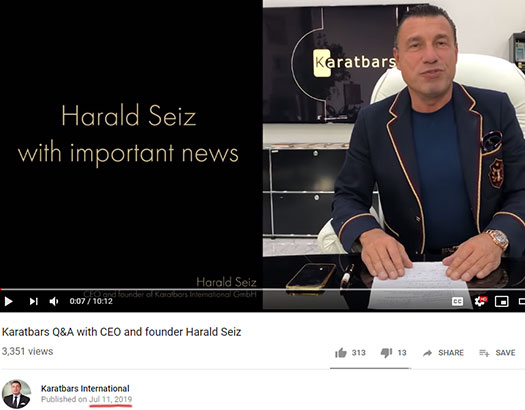 In response to the question "What is happening with our coin", Seiz admits KBC is worthless because there's "no business" attached to it.
Despite KBC first being sold to affiliates back in April 2018, Seiz claims a business won't be attached to KBC until September 2019.
Seiz attributes KBC dumping after the Las Vegas event to supply and demand.
Reading between the lines, that'd be zero demand and oversupply – attributable to Karatbars affiliates realizing they've been had and trying to salvage their losses.
Seiz goes on to implore Karatbars affiliates to "buy the coins and keep the coins".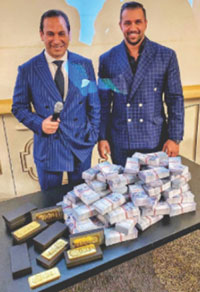 Curiously, in answer to "What is more profitable now: Change KBC for gold or hold the KBC?", Seiz dodges the question and tells affiliates "nobody can see in the future, it's up to you what you doing".
At the time of publication 1 gram of gold is worth around $45.
As per Seiz's promise, Karatbars International affiliates should have been able to exchange 100 KBC @ 12 cents ($12) for $45 worth of gold.
Today it's an even better deal at $4.90 for a gram of gold. Seems like a no-brainer to me.
More pertinently though, it also explains why Karatbars will never honor Seiz's promise.
It was all marketing bullshit to placate Karatbars affiliate investors, who collectively have lost millions investing in KBC.
At the time of publication Alexa pegs the US as the largest source of traffic to Karatbars International's website (32%).
Neither Karatbars International, any of their shell companies, Harald Seiz or Josip Heit are registered to offer securities in the US.
Despite this, to date US regulators have not taken any action against the company.
Somebody made a ton of money selling KaratGold Coin "profit packages" and pumping KBC in the lead up to the July 4th event…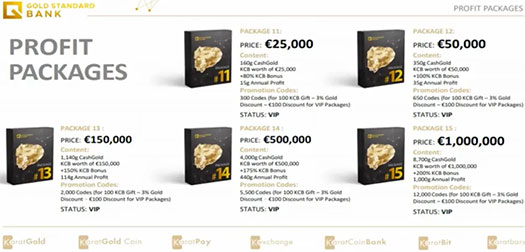 …and it wasn't Karatbars International affiliates.
Update 30th March 2020 – Since publication of this article, Karatbars has removed all three references videos from its YouTube channel.