BitConnect's Glenn Arcaro out on $500,000 bond release

Following the entering of a guilty plea to one count of conspiracy to commit wire fraud, Glenn Arcaro has been released on a $500,000 secured bond.
As per Arcaro's filed September 1st plea agreement, he's waived the need for an indictment.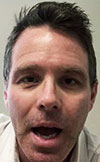 The plea agreement itself was signed by Arcaro (right) personally on August 23rd.
In exchange for Arcaro pleading guilty, the DOJ has agreed to not file any additional BitConnect related charges against him.
The plea agreement sees Arcaro admit that the allegations put forth by the DOJ, namely that BitConnect was a $2 billion plus Ponzi scheme he helped run and profited from, are "true and undisputed".
From Arcaro's plea agreement;
BitConnect was a textbook Ponzi scheme and paid earlier BitConnect investors with money from later BitConnect investors.

BitConnect also operated a global pyramid scheme … through which BitConnect paid additional income to a network of international and U.S.-based promoters to lure unsuspecting investors to invest in BitConnect.

Thousands of investors from all over the world … lost their money by investing in BitConnect.

BitConnect obtained more than $2 billion from retail investors worldwide.

Acracro reported no less than $24 million in income from his participation in the BitConnect fraud in his 2017 U.S. individual income tax return.
Arcaro, like most MLM crypto scammers, believed he was outsmarting regulators through carefully laid plans.
In the fall of 2017, Arcaro contacted Firm 1.

At this time, Arcaro began to make plans to transmit the BitConnect proceeds that he earned to offshore bank accounts, transform some of the proceeds into precious metals storage, and obtain foreign passports.

Arcaro described himself to Firm 1 as the "number one promoter" of BitConnect and stated that he wanted to avoid becoming "too big of a target as known as the guy with all the bitcoin."

Arcaro further stated to Firm 1 that his, "U.S. citizenship, the tax rates, the – just the kind of the – you know, this all seeing eye of Uncle Sam, just kind of physically weighs on my shoulders."

Arcaro's stated goal, "was to stack as much bitcoin as I could because I see that really benefiting in the future along with gold and silver."

In sum, Arcaro's goal was to avoid paying federal and state income taxes on his income earned from BitConnect and to shield his assets from collection by the Internal Revenue Service.
Arcaro's guilty plea sees him facing a maximum 20 years in prison and $48 million fine. That's on top of the SEC's parallel civil proceedings against him.
After appearing in court to plead guilty on September 1st, Arcaro bond was set at $500,000.
Court documents reveal Arcaro's mother co-signed a $50,000 cash deposit surety.
Arcaro's release conditions see him restricted to travel within California.
He has surrendered his passport and is permitted to spend up to $3500 a month on living expenses.
Arcaro is currently scheduled to be sentenced on November 15th.
Update 25th September 2021 – Glenn Arcaro's guilty plea was accepted by the court on September 17th.
Update 7th October 2021 – Arcaro's sentencing is likely to be pushed back.
A joint-motion was filed on October 6th, requesting Arcaro's sentencing be rescheduled for January 7th, 2022.
I'll put together a separate article once the motion is granted.
Update 11th October 2021 – The court has approved rescheduling of Arcaro's sentencing hearing.