Glenn Arcaro pleads guilty to BitConnect criminal charges

Glenn Arcaro has plead guilty to BitConnect related criminal charges.
BitConnect was a $2 billion dollar MLM crypto Ponzi scheme that collapsed in January 2017.
Glenn Arcaro promoted BitConnect and served on the executive team as its US National Promoter.
As per the DOJ's September 1st press-release, Arcaro has admitted he
conspired with others to exploit investor interest in cryptocurrency by fraudulently marketing BitConnect's proprietary coin offering and digital currency exchange as a lucrative investment.

Arcaro further admitted that he and others conspired to mislead investors about BitConnect's purported proprietary technology, known as the "BitConnect Trading Bot" and "Volatility Software," as being able to generate substantial profits and guaranteed returns by using investors' money to trade on the volatility of cryptocurrency exchange markets.

In truth, BitConnect operated a textbook Ponzi scheme by paying earlier BitConnect investors with money from later investors.
BehindMLM reviewed BitConnect and correctly identified it as a Ponzi scheme in April 2017.
During the scheme, Arcaro posted videos that mocked those who questioned whether BitConnect had a Trading Bot and Volatility Software, doubted the true identity of BitConnect's owner, and complained about losing their money in BitConnect.
Arcaro disappeared days before BitConnect collapsed in early 2017.
Parallel civil proceedings filed by the SEC reveal Arcaro received around $24 million through BitConnect.
The DOJ's press-release states
BitConnect is believed to be the largest cryptocurrency fraud ever charged criminally.
Arcaro is believed to be in custody. He is scheduled to be sentenced on November 15th.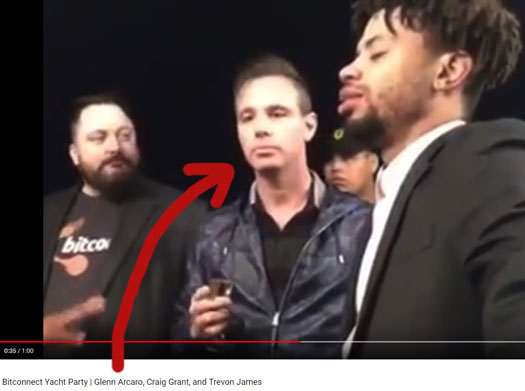 I checked Pacer for the criminal case and nothing came up. This could be a twenty-four hour delay, or the case could be sealed pending Satish Kumbhani's extradition to the US.
Kumbhani is the founder of BitConnect. He is a named defendant in the SEC's parallel proceedings.
FBI agents traveled to India to interrogate Kumbhani in 2019. Since then there have been no updates.
I'll have another check tomorrow but if it's still not up then this is likely the reason.
Whether the DOJ has or intends to indict any other BitConnect executives and/or promoters is unclear.
The SEC filed suit against BitConnect's top US promoters in May.
Update 3rd September 2021 – Glenn Arcaro's criminal case has been made public.
Satish Kumbhani's legal status remains a mystery.
Update 25th September 2021 – Glenn Arcaro's guilty plea was accepted by the court on September 17th.
Update 11th October 2021 – Glen Arcaro's sentencing has been pushed back to January 2022.
Update 17th September 2022 – Glenn Arcaro has been sentenced to 38 months in prison.