Glenn Arcaro's BitConnect sentencing pushed to 2022

Glenn Arcaro's BitConnect sentencing has been pushed to 2022.
As per a joint motion filed on October 6th, the DOJ and still working through "matters affecting sentencing".
Additionally, the parties are working on forfeiture and restitution issues that will take additional time to complete.
On October 7th the motion was granted, postponing Arcaro's sentencing to January 7th, 2022.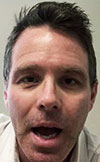 Arcaro (right) pled guilty to charges related to his involvement in BitConnect last month.
A separate lawsuit filed by the SEC alleges Arcaro, as BitConnect's US National Promoter, received $24 million.
BitConnect itself was a $2 billion dollar Ponzi scheme, the largest criminal crypto case the DOJ has filed to date.
Update 24th December 2021 – Glenn Arcaro's sentencing has been continued to May 2022.
Update 17th September 2022 – Glenn Arcaro has been sentenced to 38 months in prison.