Beurax securities fraud warning issued in South Africa

Beurax has received a securities fraud warning from South Africa's Financial Sector Conduct Authority.
As per the FSCA's 19th February warning;
The Financial Sector Conduct Authority (FSCA) warns the public against doing any financial services business with Beurax Trading which is not authorised to give any financial advice or render any intermediary services in terms of the Financial Advisory and Intermediary Services Act, 2002 (FAIS Act).

The entity is … conducting financial services business and requires a South African financial services provider licence from the FSCA, to conduct business with South African citizens.

It is therefore highly likely that they are conducting unregistered business, which is a criminal offence.
This is the equivalent of a securities fraud warning in other jurisdictions.
The FSCA's goes on to note Beurax pretending to operate from Australia, stating they 'will confirm this with our Australian counterparts.'
Of importance however is that Beurax still requires a South African licence to operate locally.
Securities fraud aside, the legitimacy of Beurax's business model is also questioned.
It is the FSCA's view that Beurax is luring South African citizens to do business with it with promises of unrealistic returns.

The claim on the website of a return of 28% per month is simply not realistic and raises a major concern about the legitimacy of the business.

The FSCA reminds the public of the many recent crypto scams where the operators of the schemes were in effect conducting a Ponzi scheme.
BehindMLM reviewed Beurax on November 4th, 2020. Based on its business model, we concluded Beurax was a Ponzi scheme.
Initially the scammers behind Beurax hired Boris CEO "Brandon Watts" as the face of the company.
A month or so in Watts was replaced by "Susan Pope", another actor playing Beurax's CMO.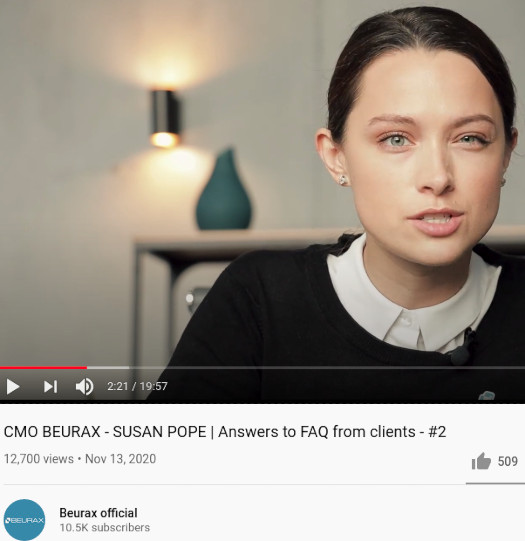 Beurax marketing material featuring Watts has since been deleted.
Both the actors playing Brandon Watts and Susan Pope have distinct eastern European accents.
As per Alexa's current estimates, South Africa (11.4%), the US (11%) and Canada (9%) are top sources of traffic to Beurax's website.
Update 28th February 2021 – Beurax's Susan Pope has been outed as a Russian actor from Moscow.
Update 2nd March 2021 – Beurax has collapsed.