Rodrigues protests Brazilian warrant arrest (Interpol)

Not too happy with being detained after posting bail in the visa fraud case against him, Sann Rodrigues has requested the court order his release.
As we covered yesterday, after posting $200,000 bail in the visa fraud case, Rodrigues was arrested again on a separate Brazilian warrant.
The case has yet to play out, with Rodrigues remaining in custody despite bail conditions set in the visa fraud case.
To that end Rodrigues has filed a "Motion For Release From Custody" yesterday, asking the court to adhere to the visa fraud bail conditions.
The Motion lays out Rodrigues current predicament;
On June 26, 2015 Magistrate Judge Marianne B. Bowler ordered the Defendant released on secured bond and conditions. Defendant was held to June 29, 2015 for release.

On June 26, 2015 the Defendant posted a bond in the amount of $200,000.00 by certified check.

On June 29, 2015 the Defendant was not released by the United States Marshalls.

US Marshalls have detained the Defendant on the Brazil Warrant which had been revealed to the court in New Jersey and Massachusetts in prior hearings.

At all times relevant this Honorable Court and the United States Attorney's Office were aware of a warrant in Brazil.
Whether or not the court and DOJ being aware of the Brazilian warrant will see him released is unclear. I'm not exactly sure what the legal argument is there, but Rodrigues is arguing that because he 'has complied with all terms of his release' in the visa fraud case, that he should be released.
The Brazilian warrant was issued after Rodrigues was ordered not to leave the country following a raid on an iFreeX event Rodrigues spoke at. Instead of complying with the directive, Rodrigues fled Brazil for the US.
This prompted the issuing of an Interpol Red Notice, which I believe is what Rodrigues is currently being held on.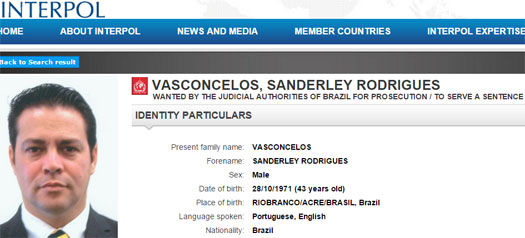 In Brazil, Rodrigues is wanted for tax evasion and not obeying a judicial order. The Interpol notice cites Rodrigues as wanted for prosecution.
As to what happens next, we'll have to wait and see. I don't believe Rodrigues will be released, but with two separate criminal cases against him now, there might be some issues proceeding.
After being sentenced in the US, will Rodrigues serve time there and then be deported to Brazil for trial? Or will he be sentenced in the US, sent to Brazil for trial, sent back to serve his US sentence and then sent to Brazil once more to serve out a sentence there?
Meanwhile the parallels between Rodrigues current situation and the whole TelexFree SEC / bankruptcy fracas hasn't gone unnoticed.
Stay tuned…
Footnote: Our thanks to Don@ASDUpdates for a copy of Rodrigues "Motion For Release", and Joaldro Dalla Costa for a heads up on the Rodrigues' Interpol Red Notice.
Update 10th July 2015 – A hearing on this matter has been scheduled for the 10th of July at 2:30pm. Depending on what issues are brought up in court, could be a very interesting hearing.