Did OneCoin just lose their Deutsche Bank account?

Over the last 24 hours reports have emerged that suggest OneCoin may have lost their Deutsche Bank account late last week.
OneCoin affiliates have confirmed that Deutsche Bank has been removed as a deposit option from the OneCoin backoffice: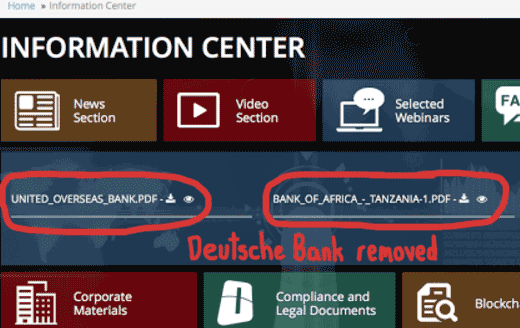 The two remaining banks OneCoin affiliates are advised to deposit investment funds with are United Overseas Bank and Bank of Africa in Tanzania.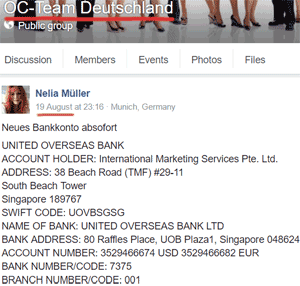 Whereas German OneCoin affiliates were previously directed to deposit funds with Deutsche Bank, German OneCoin groups are now advising affiliates to deposit with United Overseas Bank in Singapore.
Possibly in an attempt to avoid regulators and/or trip money laundering filters, OneCoin are banking under the inconspicuous account name "International Marketing Services Pte. Ltd.".
Other than quietly removing Deutsche Bank as an investment deposit option for affiliates, OneCoin have yet to publicly confirm whether or not their account at the bank was terminated.
Deutsche Bank purportedly dropping OneCoin comes less than a week after a well-respected German consumer organization issued a warning against investment in the scheme.