Hearing transcript confirms OneCoin's ties to European organized crime

Rumors of OneCoin's ties to organized crime have persisted ever since authorities around the world began cracking down on the scheme.
No alternative explanation has surfaced as to why to date Bulgarian authorities have failed to shut OneCoin down. Or how the company's executives and top promoters were able to travel the world with impunity.
Turns out where there's smoke there's fire.
As part of Konstantin Ignatov's Californian detention hearing back in March, the DOJ revealed their investigation uncovered ties between OneCoin and European organized crime.
Following a rejected assertion by Ignatov's attorney that the DOJ was not entitled to a detention hearing, the DOJ proceeded with its opening argument.
Addressing "the danger" Ignatov posed to the community if released, the DOJ's attorney revealed;
According to our investigation, we do believe that the defendant is directly associated with significant players in Eastern European organized crime.

The head of security at OneCoin is a large-scale international drug trafficker, and it's actually that same head of security that was involved in the disappearance of the defendant's sister when she absconded from the filed charges in her case and we know he knows and talks to the head of security because his — that phone number was recovered from the phone of defendant.
On the surface it seems that having been able to continue to operate the OneCoin Ponzi scheme across Europe without consequence, OneCoin's head of security believed the US also wouldn't take action.
It bears noting that the Government's investigation has revealed a pattern of regular corrupt payments to government officials around the world in order to facilitate the OneCoin fraud scheme.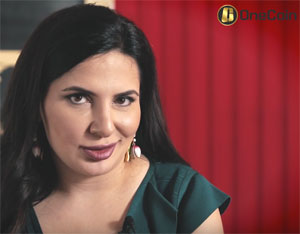 That miscalculation lead to Konstantin Ignatov's arrest and unsealing of a criminal case against Ruja Ignatova (right).
The DOJ don't mention OneCoin's head of security by name, but that he's a drug trafficker doesn't come as a surprise.
OneCoin has had ties to the drug trade dating back to 2016, when one of their merchants was arrested in the UK on charges of laundering funds tied to a £24 million drug ring.
The DOJ also revealed in a filing yesterday that Konstantin Ignatov himself is a former user of alcohol, cocaine, methamphetamine and "other drugs".
Ignatov ultimately lost his bid for release in California.
The Court — based on the arguments of counsel, does find that the defendant at this time is both by clear-and-convincing evidence an economic danger to the community and by preponderance that no condition or combination of conditions would adequately assure his attendance at further proceedings either here or in … New York.
The Californian Judge hearing the case additionally told Ignatov's attorney she had "a very uphill battle".
This also arises out of another district that has a whole lot more information.
That district is the Southern District of New York, wherein later today Ignatov will once again square off against the DOJ in a bid for release.
Update 29th June 2019 – Konstantin Ignatov has been denied pre-trial release.