OneCoin Mastercard merchant part of a drug gang

A few days ago we reported on OneCoin's abrupt suspension of Mastercard processing and card loading.
In effect, cards issued to OneCoin affiliates are currently useless "until further notice".
Seemingly out of the blue, the suspension raised a few eyebrows and prompted further research.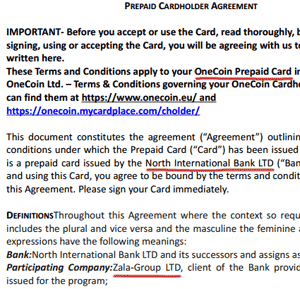 That research lead to a copy of OneCoin's Mastercard service agreement.
Among other things, the two-page document reveals North International Bank LTD as the bank attached to the card issuing merchant.
The issuing merchant is identified as Zala-Group LTD, a "client" of North International Bank.
Zala-Group LTD is a private company, registered in the UK with a rented mailbox address.
Corporate records list Martin Henry Beckett as the sole Director of the company.
Yesterday, Martin Henry Beckett was convicted for his role in a £24 million drug ring.
Martin Henry Beckett, 42, of Dukes Avenue, Theydon Bois, Essex, was charged with conspiracy to import cannabis and conspiracy to supply cannabis in the United Kingdom.

He admitted the second charge and was found guilty of the first following a trial at Wood Green Crown Court.
Beckett was arrested late last year, following police interception of
a lorry containing 350kg of skunk cannabis, with a street value of more than £2 million, which had arrived in the UK from Holland.

Detectives found a company called 'Mogafish Flooring' had been set up to purchase and transport the carpets across the continent using legitimate transport companies, and over a period of six months, approximately 2.5 tonnes of high grade cannabis was imported into the UK.

The drugs were taken to a warehouse in North Weald, Essex, rented by Beckett and were distributed to larger dealers.
To what extent Zala-Group LTD may or may not have been intertwined with the drug gang's activities is unclear. What we do know though is that at least one of the drug gang members was arrested for money laundering.
Stuart Openshaw, 28, of Wooley Square, Andover, Hampshire, admitted to money laundering, supply of cannabis and supply of cocaine.

Further investigations later uncovered Stuart Openshaw had paid cash into the bank account of Mogafish.
Of note is that Beckett's trial began on the 1st of March, the same day OneCoin, without prior warning, announced it was suspending affiliate withdrawals for two weeks.
Co-incidence?
Furthermore, questions now arise as to the nature of the relationship between Zala-Group LTD, Beckett and OneCoin.
DS Tom Mallinson, from Waltham Forest CID, said:

"This gang created a complex conspiracy to conceal their criminal activity and the impact on the people of London and the Home Counties was severe.

The investigation identified a sophisticated network across the United Kingdom and my team worked across Europe with our partners to secure this conviction. I am grateful to everyone involved."
How did OneCoin wind up working with a Mastercard merchant run by a member of a drug gang?
Was Martin Henry Beckett a OneCoin investor?
Did Zala-Group LTD provide any additional merchant banking services (through North International Bank or otherwise) to OneCoin?
Are any of the laundering channels Beckett and his cohorts used to launder drug money through, perhaps the same channels OneCoin is using to launder invested Ponzi funds through?
Perhaps that's what attracted to Beckett's financial services merchant in the first place. Who knows…
For now OneCoin are without a Mastercard issuer. The current nature of their banking structure in Europe is a mystery.
With UK law enforcement working with their international counter-parts in Europe however, that Beckett's Zala-Group LTD was investigated is all but certain.
That would include Zala-Group LTD's bank account(s) with North International Bank, which in turn impacted OneCoin's banking operations.
Any potential fallout with respect to OneCoin remains to be seen, but the shuffling of large sums of invested money within Zala-Group LTD's accounts is not likely to have gone unnoticed.
Stay tuned…