OneCoin's Ruja Ignatova indicted by New York grand jury

Two weeks ago BehindMLM ran a story regarding Mark Scott attempting to hide evidence from a grand jury.
The grand jury proceedings themselves were believed to pertain to other individuals related to OneCoin.
We can now cross Ruja Ignatova off that list, following the revelation she was indicted back in February.
Ignatova's indictment was filed under seal on February 6th and only unsealed today, hence we've only learnt of it now.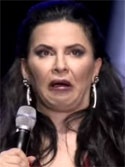 As per her Southern District of New York indictment, Ignatova (right, also credited as "CryptoQueen") has been charged with
conspiracy to commit wire fraud;
wire fraud;
conspiracy to commit money laundering;
conspiracy to commit securities fraud; and
securities fraud
The criminal charges stem from Ignatova's operation of OneCoin, a global Ponzi scheme believed to have bilked victims out of over $4 billion.
The indictment specifically pertains to over $1 billion laundered through "OneCoin related bank accounts".
The indictment includes a forfeiture clause, requiring Ignatova to to turn over
any and all property, real and personal, that constitutes or is derived from proceeds traceable to the commission of said offenses, including but not limited to a sum of money in United States currency representing the amount of proceeds traceable to the commission of said offenses that (Ignatova) personally obtained.
In the likely event Ignatova's assets have been squirreled away overseas, the US has stated intent to seek alternative recovery.
How much money Ruja Ignatova pocketed from OneCoin victims is unknown.
Based on our coverage of Ignatova's public facing assets, we believe at a minimum the amount runs into the upper tens of millions, if not hundreds of millions.
News of Ignatova's indictment coincides with the arrest of her brother, Konstantin Ignatov.
New York prosecutors have filed a separate criminal complaint against Ignatov.