Zukul Review: Recruitment & soon to be ad-credit Ponzi?

Zukul launched in 2014 and is headed up by founders Jeremy Rush and Michael Bloom.
On his Facebook profile, Rush lists his location as London in the UK. I did find a LinkedIn profile for a Michael Bloom involved in "YouTube Video Production" also in the UK, however I'm not 100% sure this is Zukul's Michael Bloom.
In any event, despite Zukul appearing to be run out of the UK, Zukul's provided corporate address is a PO Box in British Anguilla.
Anguilla is a known tax-haven, offering little consumer protection via a lack of local regulation and strong corporate privacy.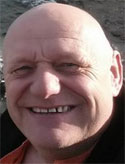 Of the two Zukul founders, Jeremy Rush (right) is far more prominent in Zukul marketing material.
Rush operates a YouTube channel, with videos uploaded prior to Zukul's launch marketing MMO Cashout ($10 to $99 a month recruitment scheme), Penny Matrix ($7 a month recruitment scheme), DS Domination (dropshipping), AdExperts ($400 recruitment scheme), AdHitProfits (125% ROI Ponzi scheme) and Banners Broker (Canadian Ponzi scheme).
Read on for a full review of the Zukul MLM business opportunity.
The Zukul Product Line
On the Zukul website there is a link labeled "IF YOU WOULD LIKE TO JOIN AS AN AFFILIATE ONLY — CLICK HERE".
Upon clicking the link a visitor is provided with details of Zukul's compensation plan.
The only way to join Zukul would appear to be through the purchase of a monthly product subscription:
Beginner – $19.60 a month
Intermediate – $54.50 a month
Advanced – $272.50 a month
This indicates Zukul has no retailable products or services, with this further supported by certain components of the Zukul compensation plan only made available with an Intermediate or Advanced subscription.
Bundled with Zukul's subscriptions is access to a library of online marketing tools.
The Zukul Compensation Plan
The Zukul compensation plan pays a commission on monthly subscription fees, with commissions paid out via a unilevel compensation structure.
A unilevel compensation structure places an affiliate at the top of a unilevel team, with every personally recruited affiliate placed directly under them (level 1):

If any level 1 affiliates recruit new affiliates, they are placed on level 2 of the original affiliate's unilevel team.
If any level 2 affiliates recruit new affiliates, they are placed on level 3 and so on and so forth down a theoretical infinite number of levels.
How much of a commission is paid out is determined by how much affiliates in a unilevel team pay in monthly fees:
Beginner – $10 on level 1, $5 on level 2 and $4 on level 3
Intermediate – $13 on level 1, $5 on level 2 and $4 on level 3
Advanced – $55 on level 1, $25 on level 2, $10 on level 3
In addition to the above commission payouts, Zukul affiliates also receive a 50% matching bonus on earnings by personally recruited affiliates.
Finally the Zukul compensation plan material mentions a 'Multilayered Passive 10 Level High Funnel available for Intermediate and Advanced levels only'. No further specifics are provided.
Joining Zukul
Zukul affiliate membership appears to be tied to the purchase of one of three offered monthly subscriptions:
Beginner – $19.60
Intermediate – $54.50
Advanced – $272.50
Only Intermediate and Advanced subscriptions are provided access to the full Zukul income opportunity.
Conclusion
Jeremy Rush's MLM history speaks for itself, with Zukul appearing to offer up more of the same.
Absent a retail offering, Zukul's bundled marketing tools are irrelevant, with the opportunity paying out on the recruitment of new affiliates.
In effect, Zukul's marketing tools wind up used to market the Zukul opportunity, with there being little to no external use.
Legitimacy could be professed via separation of the business opportunity, however this would have to be more than just a token "free affiliate membership" offering.
As it stands, affiliates pump $19.60 to $272.50 into Zukul, on the expectation they'll be paid when they recruit others who do the same.
Profits are reoccurring every month based upon the total number of  Members in your funnel.
The higher subscriptions are incentivized with access to the "10 level funnel", mixing in an additional "pay to play" element.
The lack of information available regarding Michael Bloom is somewhat suspicious, but perhaps the most alarming aspect of the business is the upcoming release of the "Zukul Ad Network".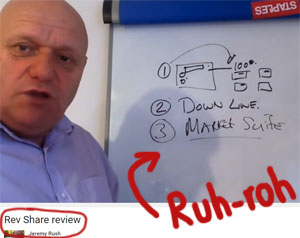 As far as I can see there's no mention of the network on the Zukul website yet. I myself only became aware of it after I clicked on a Jeremy Rush YouTube video titled "Rev Share" (uploaded January 12th, 2016).
"Rev share" being code for a Ponzi scheme in the MLM underbelly, naturally my interest was piqued.
Some of you looking at this video will probably know that I'm talking about revshares.

If you do know what I'm talking about, you're actually fed up with this industry because the companies keep moving the goalposts.

One minute they're trading in the states and then they can only trade in Europe. One minute they're using Paypal to pay you and the next minute they're not.

And if you're fed up with all that rubbish and you want something different … well, stay watching because I'm going to do you a little presentation.

I want to introduce you to the Zukul Ad Network.
Rush's presentation goes on to detail an opportunity that sounds suspiciously like what Banners Broker offered:
You can actually place your banners on our website and our network of websites.

Most marketers today fail because they can't do one thing, and that is recruit.

Well, we've eliminated that because you can also buy your downline.
Rush claims the Zukul Ad Network is currently in prelaunch, and stops short of explaining how participating affiliate's will be paid.
On a Zukul webinar also uploaded on January 16th, Drew Burton reveals a bit more about the Zukul Ad Network business model:
I don't like the word "revshare" or y'know what other people call it and stuff like that, but… we're putting together something that is very, very, very similar to a revshare … because it does deal with packs and yknow, you buy packs and make money and all that same stuff that we all love.
The ad-credit model is one of the most prevalent online Ponzi scheme ruses today, with Zukul appearing to be gearing up to launch their own.
Any recycling of funds invested by affiliates and then paid out to affiliates based on how much they themselves have invested, will see Zukul join the plethora of ad-credit schemes out there.
From recruitment to what now looks to be a Zukul-branded Ponzi scheme, mark my words: This isn't going to end well.