Zukul Trader Review: Zukul to reboot as crypto trading scheme

Zukul launched in 2014 and is headed up by co-founders Jeremy Rush and Michael Bloom.
BehindMLM first reviewed Zukul in 2016, finding its business model to be that of a subscription-based pyramid scheme.
When that flopped Zukul reinvented itself as an adcredit "revenue sharing" Ponzi scheme.
When that flopped Zukul reinvented itself as Zukul Gold, which fed Zukul affiliates into Jeremy Rush's Eagle Aurum Team cycler Ponzi downline.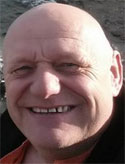 Zukul Gold was short-lived and also eventually collapsed.
As Zukul affiliate losses mounted, Jeremy Rush (right) threatened to sue anyone who publicly criticized him or the company.
Things were pretty quiet over at Zukul throughout 2017.
No doubt watching the rest of the MLM underbelly embrace cryptocurrency fraud, it seems now Rush and Bloom want their share of the pie.
Rumblings of Zukul Trader began about a month ago…
Read on for a full review of the Zukul Trader MLM opportunity.
Zukul Trader Products
Zukul Trader has no retailable products or services, with affiliates only able to market Zukul Trader affiliate membership itself.
The Zukul Trader Compensation Plan
Zukul Trader affiliates invest funds on the expectation of a passive ROI, which Zukuk Trader represents is generated through cryptocurrency trading.
Zukul Trader track affiliate investment through "units".
Starter Units are $10, capped at 300 active units
Beginner Units are $35, capped at 1500 active units
Intermediate Units are $85, capped at 3000 units
Advanced Units are $185, capped at 6000 units
Zukul Trader pay referral commissions on invested funds down three levels of recruitment (unilevel):
level 1 (personally recruited affiliates) – 25%
level 2 – 10%
level 3 – 5%
Residual Commissions
Zukul Trader pay residual commissions via a 3×10 matrix.
A 3×10 matrix places an affiliate at the top of a matrix, with three positions directly under them: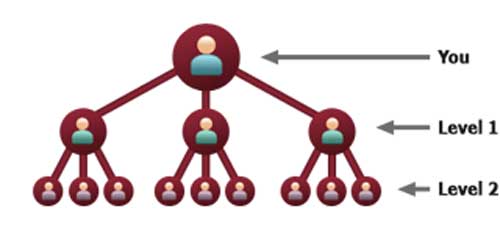 These three positions form the first level of the matrix. The second level of the matrix is generated by splitting each of these three positions into another three positions each (9 positions).
Levels three to ten of the matrix are generated in the same manner, with each new level housing three times as many positions as the previous level.
Each Zukul Trader unit tier corresponds with a separate matrix tier.
A Zukul Trader affiliate is placed at the top of a 3×10 matrix in that tier upon investment in at least one unit at that tier (Starter to Advanced).
Once placed at the top of a 3×10 matrix, positions in the matrix are filled via company-wide recruitment of new affiliates.
These affiliates are placed into the matrix as they buy into that particular tier.
Residual commissions are generated on unit purchases by affiliates placed in the matrix, as a percentage of funds invested as follows:
level 1 – 10% (3 positions)
level 2 – 4% (9 positions)
level 3 – 3.5% (27 positions)
level 4 – 2.5% (81 positions)
levels 5 and 6 – 1.5% (972 positions)
level 7 – 1% (2187 positions)
levels 8 to 10 – 0.5% (85,293 positions)
An additional 50% Matching Bonus is paid on matrix commissions paid to personally recruited affiliates.
Joining Zukul Trader
Zukul Trader affiliate membership costs are not provided on the company website.
The Zukul Trader compensation plan does reference "monthly residual commissions", suggesting there might be a monthly fee charged.
Note that all payments with Zukul Trader are made in bitcoin (both paid and received).
Conclusion
Call my cynical, but Zukul Trader is just their "revenue sharing" Ponzi model rebooted as a cryptocurrency offering.
Zukul Trader claims to generate ROI revenue through a "proprietary software (that) leverages crypto 24/7/365".
While there is some evidence that trading might be taking place (affiliates need an "approved Gdax account"), Zukul provide no information about who developed or maintains their purportedly "proprietary" trading bot.
Considering the company is quite obviously providing affiliates with a passive ROI through alleged use of the bot, at a minimum Zukul Trader fail to provide legally required disclosures pertaining to an obvious securities offering.
Upon consideration of Zukul's past offerings, none of which have been even remotely legitimate, the prospect of Jeremy Rush waking up one day to find a crypto trading bot under his pillow seems unlikely.
Even if we assume the bot isn't just smoke and mirrors, if you had a trading bot capable of generating returns to the point others might consider investing, would you be flogging it for as little at $10 a pop?
I'm certainly not suggesting charging more would legitimize Zukul Trader's offering, but the unit price-points and tier caps certainly seem suspect.
Artificially funneling investors into spending more and more is a calling card of fraudulent schemes. Certainly a legitimate trading opportunity would have no reason to do so.
After all, it shouldn't make any difference to a bot if it's generating a ROI for 300 units belonging to one affiliate or 100 belonging to three separate affiliates.
Another aspect to consider is the significant percentage of invested funds recycled to pay commissions with.
This is money the bot doesn't have access to, meaning it's being expected to perform well and above the competition.
Again, if you had such a bot would you be flogging it to randoms over the internet.
And this being a "proprietary" bot no less.
Without legally required disclosures, one can speculate on Zukul Trader's MLM offering all day.
What we know for sure is that at the time of publication the top two sources of traffic to Zukul Trader's two websites are the UK (78% and 59%) and the US (16%).
Neither Zukul Trader, Jeremy Rush or Michael Bloom are registered to offer securities in either country.
Update 14th June 2021 – Zukul Trader became Zukul Trading sometime after this review was published.
BehindMLM revisited Zukul for an updated 2021 review, only to discover Jeremy Rush pushing other Ponzi schemes on YouTube.