uMatrin Review: uFun Club Plan B?

This isn't going to be your typical BehindMLM review, because researching uMatrin is a task in and of itself.
uMatrin has been set up such that it isn't until layer upon layer of obfuscation has been peeled back, that one gets a sense of what the opportunity is actually about.
With that out of the way, here's everything I've been able to put together on the uMatrin MLM business opportunity.
The Company
Despite claiming on their website to have been "established since 22 September 2011", uMatrin as it exists today was only launched in late 2014: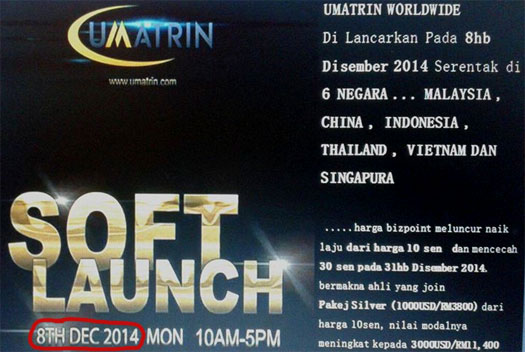 uMatrin is headed up by two uFun Club co-founders, Warren Eu and Liew Kok Hong.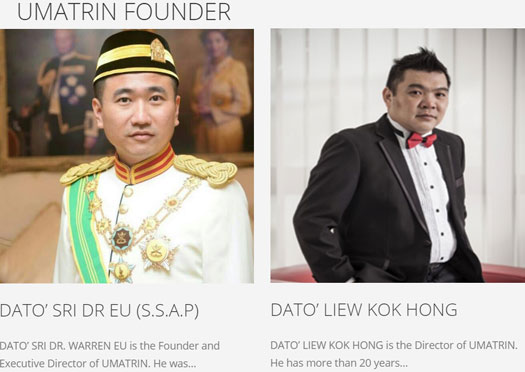 Eu is credited as uMatrin's Founder and Executive Director, with Liew serving as Director.
Below you can see both men credited as co-founders of uFun Club: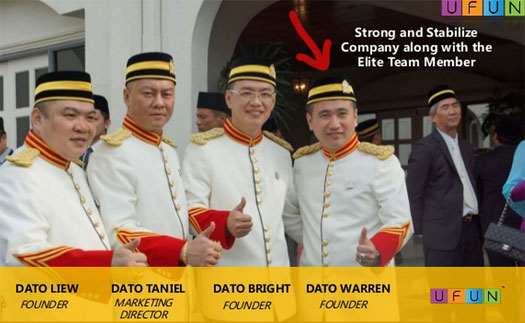 uMatrin also has connections to Malaysian royalty, with Tengku Sulaiman Shah serving as Chairman: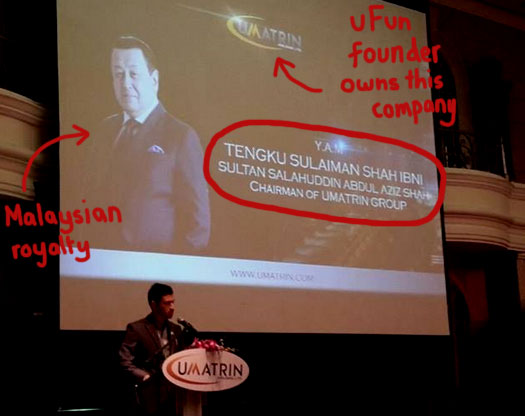 uMatrin affiliate marketing claims the company is partnered with Seri Syed Mohd Yusof bin Turi Syed Nasir: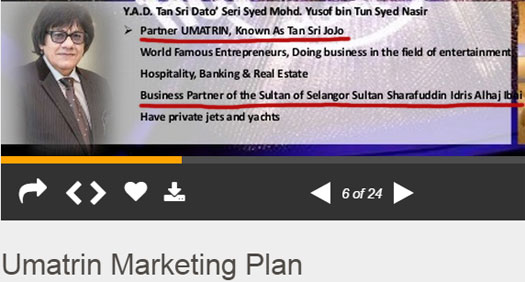 Seri is credited as a "business partner" of the Sultan of Selangor (Tengku Sulaiman Shah's father).
uMatrin has been set up in much the same way uFun Club has, with the opportunity consisting of four primary components.
First you have the uMatrin website, which is mostly used to promote the vanilla side of the opportunity. You'll mostly find promotional information on this site, with there being nothing about uMatrin's business model and MLM business opportunity.
Next we have BzPoints ("bzpoints.com"), where uMatrin affiliates can invest in and trade BizPoints.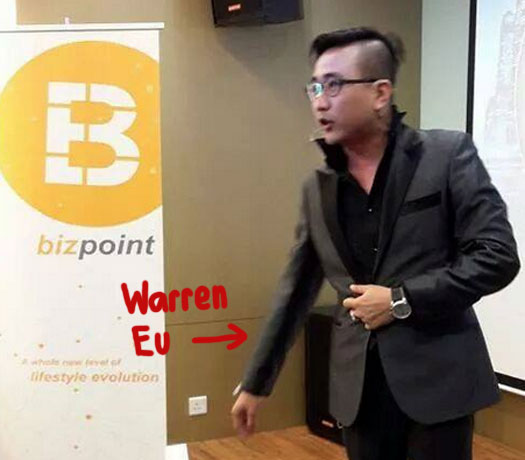 BizPoints are an internal virtual currency used within uMatrin. The company assigns a value to each point, with the idea being that the value of BizPoints increases over time.
Originally uMatrin was used uPaySys (upaysys.com) to handle payments, however a notice on the now defunct uPaySys website reads:
Dear members,

In order to provide you with a better service, we will be conducting system upgrade and maintenance on 02 December 2014, from 12am to 3pm.

For your information, the domain name (upaysys.com) will cease operation. The new domain (bizsyss.com) will be start operating at 3pm.
BizPay (BzSyss) has served as the payment gateway for uMatrin affiliates ever since. The BizPay gateway is believed to be hooked up to UnionPay International, a third-party payment processor operating out of China.
The fourth component of the uMatrin opportunity is iCube Rewards: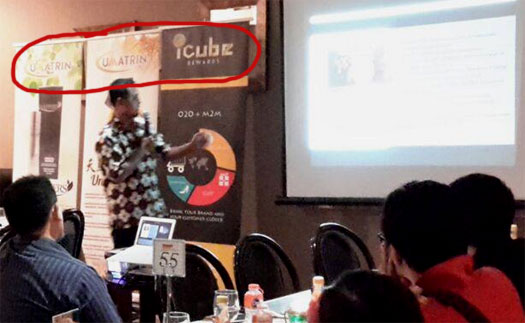 iCube Rewards appears to be some sort of rewards program set up for use by uMatrin affiliates.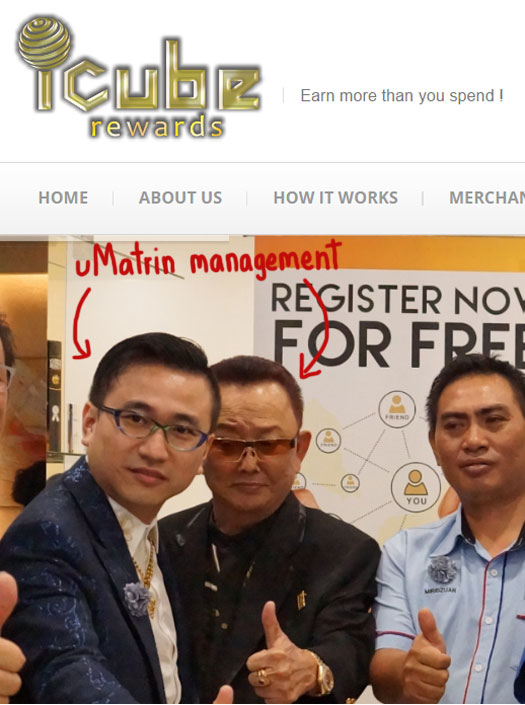 At the time of publication the website is sparsely populated with a handful of merchants. Clicking on the "online shopping" button however returned no results.
Of note is the iCube Rewards domain registration, which lists "UTEAM Registrar" as the owner. A bogus address in the US state of Texas is also provided.
The email address used to register the iCube Rewards website was also used to register the uPaySys website, as well the defunct domain "utokeninfo.com".
uToken is the Ponzi point currency used within uFun Club.
The domain registration details for iCube Rewards and the uToken Info domains are identical (even down to the bogus US-based addresses used). Hardly surprising considering Warren Eu likely owns both domains.
For reasons unknown, involvement in uFun Club is not mentioned on either Warren Eu's or Liew Kok Hong's uMatrin corporate bios.
The uMatrin Compensation Plan
uMatrin do not make their compensation plan available to the general public via their website. This is by design, as the compensation plan further reveals similarities between uFun Club and uMatrin.
Note that the information below was current up until at least March 2015. I was unable to find anything more recent, leading me to believe uMatrin are still using this compensation plan (it hasn't changed since uMatrin was launched).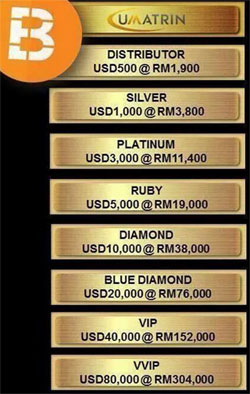 uMatrin permits affiliates to invest between $500 and $80,000 (the image to the right is dated 21st January, 2015):
Distributor ($500) – 250 BizPoints
Silver ($1000) – 500 BizPoints
Platinum ($3000) – 1500 BizPoints
Ruby ($5000) – 2500 BizPoints
Diamond ($10,000) – 5000 BizPoints
Blue Diamond ($20,000) – 10,000 BizPoints
VIP ($40,000) – 20,000 BizPoints
VVIP ($80,000) – 40,000 BizPoints
Residual commissions on funds invested are paid out via a unilevel compensation structure.
A unilevel compensation structure places an affiliate at the top of a unilevel team, with every personally recruited affiliate placed directly under them (level 1):

If any level 1 affiliates recruit new affiliates, they are placed on level 2 of the original affiliate's unilevel team.
If any level 2 affiliates recruit new affiliates, they are placed on level 3 and so on and so forth down a theoretical infinite number of levels.
uMatrin cap payable unilevel levels at nine, with how many levels and the percentage paid out determined by how much a uMatrin affiliate invests:
Distributor – 8% on level 1 and 5% on levels 2 and 3
Silver – 8% on level 1 and 5% on levels 2 to 4
Platinum – 9% on level 1 and 5% on levels 2 to 5
Ruby – 9% on level 1 and 5% on levels 2 to 6
Diamond – 10% on level 1 and 5% on levels 2 to 7
Blue Diamond – 10% on level 1 and 5% on levels 2 to 8
VIP and VVIP – 10% on level 1 and 5% on levels 2 to 9
Note that all withdrawals of uMatrin commissions are split as follows:
60% cash payout
20% must be reinvested back into BizPoints
10% is paid out as iCube Rewards points and
10% is paid out as "e-register points" (not sure what they are)
uMatrin affiliates can also earn a share in 2% of the revenue uMatrin takes in each month:
invest at the VIP level ($40,000) = half a share
invest at the VVIP level ($80,000) = 1 share
invest at the Blue Diamond level ($20,000) or higher and recruit at least 10 investors = half a share
invest at the VIP level ($40,000) or higher and recruit at least 5 investors = half a share
A Management Bonus and Team Bonus are mentioned in uMatrin compensation plan documentation, however how these pay out is not clarified.
I did see a pairing bonus mentioned, which might suggest a binary backend might also be used to pay residual commissions.
Joining uMatrin
Affiliate membership with uMatrin is tied to BizPoint investment ($500 – $80,000).
Conclusion
The basic thrust behind the uMatrin compensation plan is to get people to invest thousands of dollars in BizPoints and then paying them to recruit others who do the same.
This follows on from uFun Club's business model, which was pretty much the same idea but with uTokens.
With Warren Eu founder/co-founder of both schemes, that the business models of both uFun Club and uMatrin are similar should come as no surprise.
BizPoints themselves are worthless, with uMatrin pegging a value to them based on the rate of new investment flowing into the company.
Dollar for dollar, if uMatrin affiliates rushed to convert all of their BizPoints to cash, the scheme would collapse (uMatrin can't pay out more than is invested).
That of course doesn't stop uMatrin affiliates from touting the made-up value of BizPoints to lure new investors in: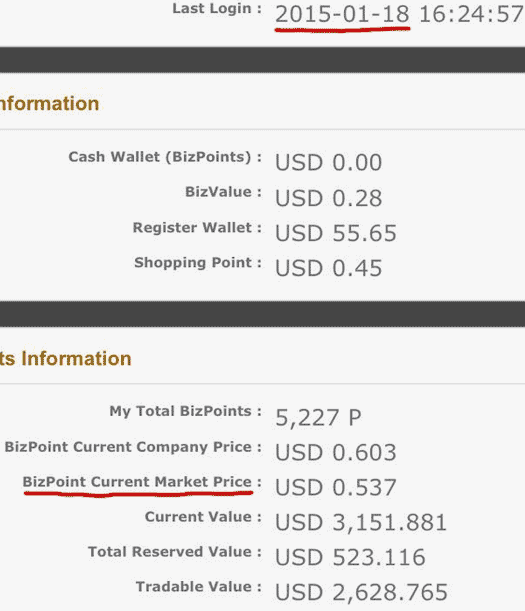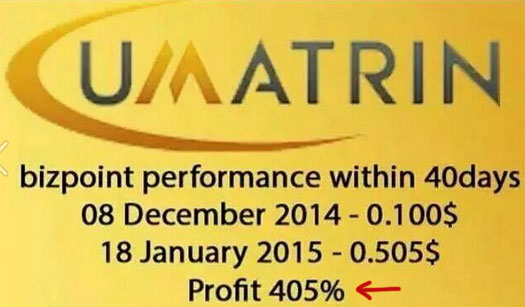 I will mention briefly the products listed on the uMatrin fluff website.
These products do exist but aren't part of the MLM opportunity. The idea to plant the seed that these products are what uMatrin are selling, however that is not the case.
Rather the products listed on the uMatrin website exist only to be bundled with BizPoint investment. The cost of the products has been written off by being factored into the specified investment amounts offered.
uFun Club did the same thing with bottles of water, donations to charity and later fake software licenses.
As with all Ponzi schemes, once new affiliate investment dies down uMatrin will collapse. Being a virtual currency based scheme, affiliates aren't going to realize the scheme has collapsed until enough investors try to cash out points.
The very nature of the scheme sees uMatrin investors hoard BizPoints, under the false pretext of them magically accumulating in value ad infinitum.
This artificial increase in value compounds the rate at which uMatrin will collapse, with each increase also increasing the amount of funds withdrawn with each BizPoints withdrawal.
Eventually the reserve of invested funds will run out and uMatrin will then default on affiliate withdrawals.
When that inevitably happens, anyone who hasn't withdrawn more than they initially invested (statistically the vast majority of participants in Ponzi schemes), loses out.
uFun Club is under heavy investigation across multiple jurisdictions. I initially thought uMatrin had subsequently ground to a halt, but that proved to not be the case.
Perusal of the official uMatrin Facebook profile reveals Warren Eu attended a uMatrin recruitment event in Korea on June 1st: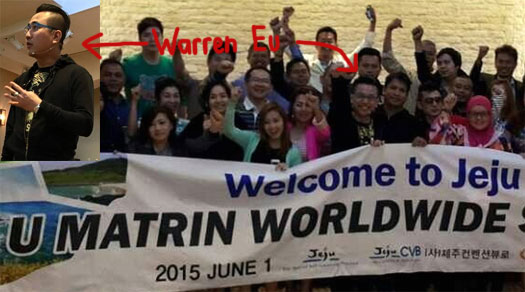 My guess is what with uFun Club all but collapsed (Malaysian police can't refuse to investigate forever), Eu has shifted his focus entirely onto uMatrin.
Alexa currently estimates that 73.9% and 80.6% of traffic to the BizPoints and BzSyss (payment) domains respectively, originates out of Thailand.
Whether or not Thai police are actively investigating uMatrin at this stage however is unclear.