uFun Club's new payment processor is uPayCard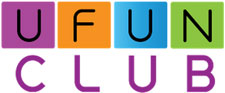 A while back now uFun Club lost their previous payment processor services.
We're not sure who they were using, but we do know the service was abruptly cancelled and affiliates were without a means to withdraw for months.
Last week we then started hearing about a new payment processor, specifically for uFun Club affiliates in western countries.
Initial announcements about the payment processor were pulled from Facebook in less than an hour, with affiliates threatened with their account being frozen if they discussed the processor in public.
Given the information blackout we didn't initially have much to go on, but can now reveal uFun Club's new payment processor is uPayCard.
Despite the name uPayCard appears to be an otherwise legitimate third-party payment processor.
As per their website,
We are partnered with three major companies in the United Kingdom to supply our best-of-breed prepaid payment products and services to our clients and customers.

Our Issuing Bank is a member of MasterCard International and is licensed to issue our MasterCard products.

Our Issuing Processor is licensed by both Visa International and MasterCard International to issue and process our MasterCard products and our card manufacturer, warehouser, personaliser and distributor is also licensed by Visa and MasterCard.
How is then a global $1.17 billion dollar Ponzi scheme has signed on with them then?
We have no idea. But one imagines uFun Club didn't reveal the fraudulent nature of their business model when they signed up.
UPayCard provides businesses with a comprehensive multi-currency payment solution that can be used to pay business and sponsored individuals worldwide.

A business simply needs to contract with UPayCard for a Business Account.

Upon being provided a Business Account, the business can then pay other business or individuals that also have an Account on the UPayCard system.
Whether uFun Club themselves signed up for a uPayCard business account or if they're using someone else's account is unclear.
What we do know though is that affiliates must sign up to uPayCard via a link provided in their uFun Cub backoffice: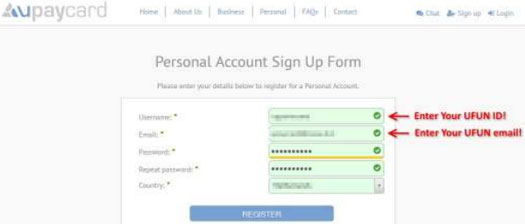 Once signed up, uFun Club affiliates then transfer funds to uFun Club's "business account".
This appears to be a separate bank account again, which uFun Club have hooked up to the uPayCard backend.
And for all the baloney talk about pre-IPO shares, for now it's still very much business as usual. New uFun Club investors invest funds under the guise of purchasing bottles of water, and in exchange are given worthless uToken Ponzi points, which they are lead to believe hold a dollar value.
Even more amusing is that the uFun Club affiliate backoffice is still advising pickup is possible from uFun's Thailand office, which was raided and shutdown last month.
Conveniently affiliates can also opt to donate their purchased water to some Thai charity, which I'm assuming is what everyone new signing up is currently clicking.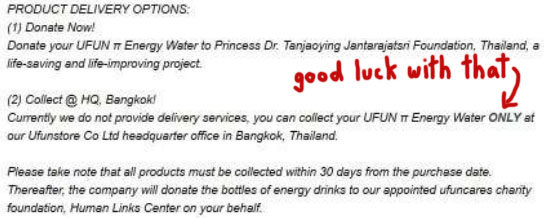 Given the regulatory attention uFun Club is currently getting in Thailand though, it's a given that the bottles of water don't even exist (Ponzi pseudo-compliance at its finest).
Need further proof?
Here's a copy of an invoice uFun Club send affiliates when they sign up: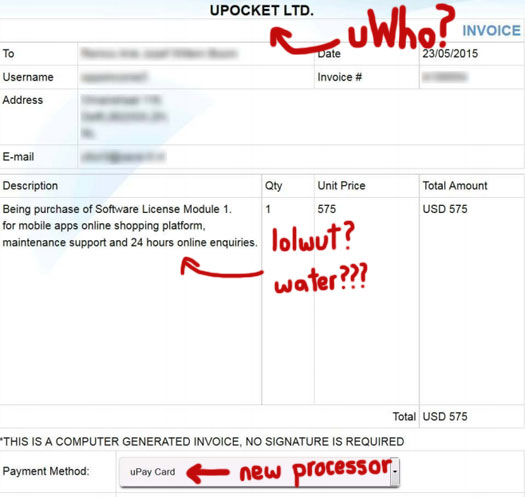 A software license for "mobile apps online shopping platform". Riiiiiiiiiight.
Funny how that wasn't mentioned before.
Note the company name "uPocket LTD.". Perhaps this is the bogus business name uFun Club have signed up to uPayNow with?
Another screenshot from the uFun Club's uPayNow payment processor backoffice certainly seems to suggest so:

Quite obviously uFun Club aren't selling bottles of water, nor are they selling software licenses.
The question is whether or not uPayCard are aware of the true nature of uPocket LTD. uFun Club's business model.
To that end we've reached out to uPayCard for comment, and will publish an update if we hear back from them.
Business and Individual Accounts are provided by UPayCard LTD. UPayCard is licensed by the Financial Conduct Authority of the United Kingdom of Great Britain.

The MasterCard Cards are issued by Optimal Payments Limited pursuant to a license from MasterCard International.
Certainly if uPayCard are interested in maintaining those FCA and Mastercard licenses, doing business with a $1.17 billion dollar Ponzi scheme wouldn't seem to be the smartest of ideas.
Meanwhile why uFun Club aren't offering payment processor services to their Asian investors (who are easily the largest group of uFun Club investors), is unclear.
I couldn't see anything on the uPayCard website barring Asian countries from using the processor services provided, leaving me at a loss to explain why only investors outside of Asia are being given access.
If any Asia-based uFun Club investors reach out to uPayCard and get an answer, feel free to share it with the rest of us in the comments below.