Malaysian royalty threaten BehindMLM with legal action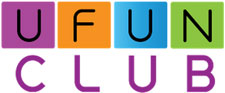 "Oh shit, we done pissed off them royals now…"
In stark contrast to the lack of action Malaysian regulators and police have taken to combat the $1.17 billion dollar Ponzi scheme uFun Club, Malaysian royalty have reacted angrily to being associated with the scheme.
For our part in uncovering the scandal and reporting on what Malaysian media are seemingly unable to, BehindMLM today was threatened by his highness Tengku Sulaiman Shah ibni Sultan Salahuddin Abdul Aziz Shad, with a $1328 fine and maximum three-year prison sentence.
The cease and desist came by way of email earlier this morning, through Tengku's lawyers over at L Y Lu & Co.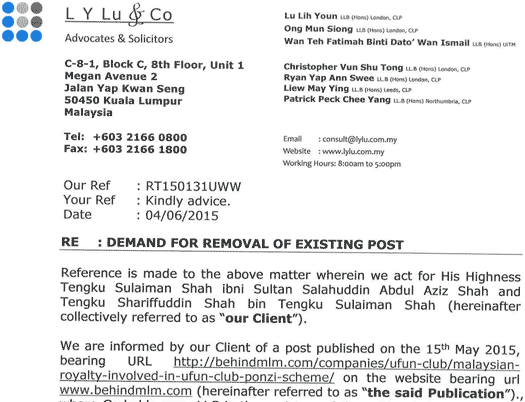 The article in question is BehindMLM's reporting of Tengku Sulaiman Shah being the Chairman of uMatrin.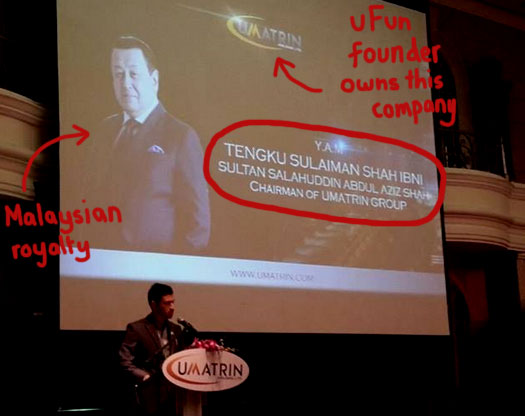 Tengku is the son of Sultan Salahuddin Abdul Aziz Shah and a member of the Malaysian royal family.
uMatrin is owned by Warren Eu, a co-founder of uFun Club: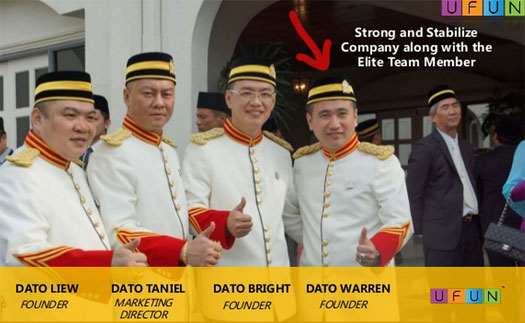 uMatrin is pretty much "uFun Club lite", with investors marketing the scheme as follows:
You've all heard UFUN? Yes UFUN has produced many millionaires who have income above 1 million per month with utoken program !!

The good news .. One UFUN founder, Dato Dr Warren who has created utoken system has created a new program called UMATRIN of course with the experience you have in UFUN, in UMATRIN to be more steady again !!

uMatrin is backed by the construction and property management companies of Dato Sri Jojo, who is a childhood friend and close confidant and business partner of the Sultan of Selangor.
The extent to which uMatrin has been developed is unclear, what with Warren Eu under investigation in multiple countries because of his status within uFun Club.
What a member of the Malaysian royal family was doing as a Chairman of a company run by a Ponzi scammer I have no idea.
But rather than address it and offer up an explanation, the Malaysian royal family is instead threatening anyone who dared write about it with criminal prosecution.
As per the cease and desist received by L Y Lu & Co on June 9th;
Our Client instructs that the said publication alleges, that our Client and his royal family is involved in illegal (sic) syndicate known as U Fun Stor, U Fun Club, u-Token and any other name, whether it is established in Malaysia, Thailand or any other jurisdiction.

The said publication is accessible to the public and has amount (sic) to a criminal offence in Malaysia.

Such sedition wordings/statements has directly/indirectly lowered or adversely affect (sic) or bring into derogation, the status and position of our client and/or other members of the royal family.

Kindly be informed that any person that has published sedition statement shall be guilty of an offence and shall be liable to a fine not exceeding five thousand ringgit or to imprisonment for a term not exceeding three year (sic) or to both upon conviction.

Take notice that we are instructed by our Client which we hereby do, to demand that the said publication to be (sic) removed completely by any means within seven (7) days from the date hereof, failing which we have our Client's instructions to take the necessary legal actions against you.
The letter, dated the 4th of June, also reveals Tengku has filed a police report against BehindMLM on the 21st of May.
The investigation is still ongoing and therefore the police report cannot be reproduced or copied at this stage and hence, we would not attach a copy of it hereof (sic).
Now while I'm not too fussed about winding up in a Malaysian jail, I have to say Tengku's cease and desist provides remarkable insight into Malaysia's regulatory environment.
I'm not a Malaysian citizen, nor do I live there, yet the Malaysian royal family are threatening me with fines and jail time for simply reporting what is fact. That Tengku Sulaiman Shah is the chairman of uMatrin, which in turn is founded by a co-founder of uFun Club.
If you read over the article in question, at no point do I implicate Tengku or his father as having any direct involvement in uFun Club.
So what are the Malaysian royal family so afraid of?
sedition: (to) conduct or speech inciting people to rebel against the authority of a state or monarch.
No idea, but I do know that if this is how they see fit to deal with a publication they have no direct control over, then no wonder we've seen Malaysian media only regurgitate reporting from publications based outside of Malaysia.
What a sorry state of affairs indeed when Malaysian media find themselves unable to investigate and report on a $1.17 billion dollar Ponzi scheme, lest they be thrown in jail.
And the police?
Should Malaysian police officers dare investigate uFun Club themselves and uncover the extent to which the scheme is connected to Malaysia's elite, will they be thrown in jail too?
As it stands Malaysian police have refused to investigate uFun Club. Instead they claim they must wait for Thai police to file a criminal report before they'll do anything.
uFun Club executives, including Warren Eu, thus remain at large and free to operate within Malaysia.
Noticeably absent in L Y Lu's cease and desist is any explanation or refuting that Tengku is Chairman of uMatrin. It would appear that this is not the problem in and of itself, but rather that the Malaysian royal family has objected to it simply being reported on.
With Warren Eu founder of both uFun Club and uMatrin, that funds are being laundered between the two companies is a given. Again, to what extent Tengku is involved is unclear – primarily because Malaysian police and media have thus far failed to further investigate the matter.
Or if they have, seemingly failed to report on it amidst a backdrop of monarchical corruption and the looming threat of incarceration.
Our coverage of one of the most well-connected MLM Ponzi scheme's we've ever seen continues…