Planet Impact Review: The Steinkeller brothers are back…

Planet Impact operates in the educational MLM niche and claims it's "the Netflix of environmental protection".
The company provides a corporate address in Malta on its website.
Our headquarter is in Malta's exclusive Smart City, the new hub for international IT.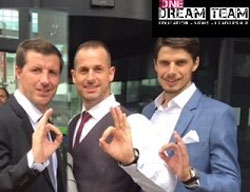 Heading up Planet Imapact are co-founders Aron, Stephan and Christian Steinkeller (right), and Oscar Dalvit. Adrian Szumski serves as CEO.
Collectively known as the Steinkeller brothers, the trio made a name for themselves promoting Organo Gold.
The Steinkeller's reputation took a hit when they left Organo Gold to launch Conligus, an MLM penny auction pyramid scheme.
They then went on to completely trash what was left of their reputations by stealing millions through the OneCoin Ponzi scheme.
Today this is what the Steinkeller brothers are best known for across the MLM industry.
Amid an ongoing investigation by Italian authorities and reported ties to the mafia, the Steinkeller brothers abruptly abandoned their OneCoin downline in May 2017.
As per a press-release issued by OneCoin corporate announcing their departure;
Aron, Christian and Stephan Steinkeller will retire from the network marketing business to go long-term on new exciting, confidential project, outside the MLM business.
At the time the brothers were reported to be stealing around $2.5 million a month from OneCoin victims.
Since OneCoin the Steinkellers have lay low. Planet Impact appears to be their return to the MLM industry.
Oscar Dalvit has experience launching and running MLM companies.
In 2017 Dalvit launched Bilpix, an attempt to combine MLM with pixel billboard advertising.
Possibly due to language barriers, I was unable to put together an MLM history for Adrian Szumski.
Read on for a full review of Planet Impact's MLM opportunity.
Planet Impact Products
Planet Impact sells an app subscription they call "Planet Impact Academy".
According to the company's website, Planet Impact Academy provides access to:
videos and illustrative and informative films … published in digital format, as well as teaching materials – including online courses and webinars – concerning ecological and environmental issues/aspects, as well as the awareness of the Clients towards them and their education to "eco-friendly" behaviors, training videos that solve problems or make everyday life easier, called "Life Hack", always concerning the aforementioned issues.

The platform also provides Customers with an instant messaging service ("chat"), through which it is possible to interact and communicate with other users of the Academy Service.
The content provided through Planet Impact Academy is supposedly put together by Earth Alliance Foundation.
The Earth Alliance Foundation is acquiring the licenses for free from 3rd party trainers that support the foundation by sharing their knowledge, and in exchange, the Foundation provides these contributors with recognition and publicity.

The initial value of the courses contained in the platform will be over 2000€, certified, and such content and value will be expanded each month.
Planet Impact marketing material claims Earth Alliance Foundation is incorporated in Switzerland.
The founder of the EAF Foundation is Robert Bock. President of the foundation is Elia Ponti.

The foundation is … managed by an independent board, subject to all rules and regulations.
A Planet Impact Academy app subscription retails for €60 EUR a month.
The service can be accessed through the mobile app or Planet Impact website.
There's also a "reforestation service" available.
The Service – promoted and managed by the Earth Alliance Foundation, directly or indirectly, through other organizations and institutions – is aimed at favoring the reforestation and reforestation of the lands as mentioned earlier or plots of land.
Retail pricing for reforestation is not provided.
Planet Impact's Compensation Plan
Planet Impact take 40% of subscription fees and use that to fund the company's compensation plan.
Commission Qualification
In order to qualify for commissions, each Planet Impact affiliate must maintain €120 EUR worth of retail subscription volume a month.
If an affiliate maintains a subscription themselves, monthly qualification is reduced €60 EUR retail subscription volume.
Planet Impact Affiliate Ranks
There are seven affiliate ranks within Planet Impact's compensation plan.
Along with their respective qualification criteria, they are as follows:
Affiliate – sign up and meet commission qualification requirements (see above)
Ranger – generate 60 seed points within a year
Protector – generate 120 seed points within a year
Guardian – generate 250 seed points within a year
Champion – generate 500 seed points within a year
Hero – generate 1000 seed points within a year
Legend – generate 2500 seed points within a year
Seed points are generated via subscription services purchased on levels 1 and 2 of the unilevel team.
For each €60 EUR in sales volume generated on these two levels, one seed point is rewarded.
The seed point acquisition timer begins when an affiliate signs up. It restarts each year on an affiliate's sign-up date.
Residual Commissions
Planet Impact pays residual commissions via a unilevel compensation structure.
A unilevel compensation structure places an affiliate at the top of a unilevel team, with every personally recruited affiliate placed directly under them (level 1):

If any level 1 affiliates recruit new affiliates, they are placed on level 2 of the original affiliate's unilevel team.
If any level 2 affiliates recruit new affiliates, they are placed on level 3 and so on and so forth down a theoretical infinite number of levels.
Planet Impact caps payable unilevel team levels at fifteen.
40% of all subscription fees paid by retail customers and recruited affiliates in the unilevel team are paid out as follows:
levels 1 and 2 – 8%
levels 3 and 4 – 5%
levels 5 and 6 – 3%
levels 7 to 14 – 1%
Note the above percentages are not percentages of 40% but rather the full subscription fee paid (together the percentages paid out across fourteen levels add up to 40%).
Note that Planet Impact restricts how many unilevel team levels an affiliate earns residual commissions on.
These restrictions are based on rank:
Affiliates earn on up to two unilevel team levels
Rangers earn on up to four unilevel team levels
Protectors earn on up to six unilevel team levels
Guardians earn on up to eight unilevel team levels
Champions earn on up to ten unilevel team levels
Heroes earn on up to twelve unilevel team levels
Legends earn on all fourteen available unilevel team levels
Planet Impact Club
Planet Impact fund the Planet Impact Club pool with commissions earned by unqualified affiliates.
This includes both affiliates who are not commission qualified, as well as commissions generated on unilevel team levels an affiliate isn't qualified to earn on.
Two thirds of this commission volume is placed into the Planet Impact Club pool.
Ranger and higher ranked affiliates earn a share of the Planet Impact Club pool each month, pro rata based on how many seed points they've acquired.
For more information on seed points refer to "Planet Impact Affiliate Ranks" above.
Joining Planet Impact
Planet Impact affiliate membership is €60 EUR.
Conclusion
With millions stolen from victims and their professional reputation in tatters, Planet Impact feels like the Steinkeller brothers' mea culpa.
The concept of Planet Impact itself is further not allowing any kind of investment and ROIs interpretations by untrained or incompetent affiliates.

In absence of any investment vehicles such as tokens, coins, or trading mechanisms (which are not part of Planet Impact and never will be), it is not possible to promote these often harmful – intended or unintended – business practices.
To redeem themselves, the brothers have turned to the environment.
The only problem is while the intentions behind Planet Impact might be noble, it doesn't undo the past.
That said, whether the Steinkeller's past factors into your decision to join Planet Impact is up to you.
I've brought it up because research into company owners is a vital component of MLM due diligence.
Planet Impact hinges on the viability of its app service, which I feel even without knowing content specifics might be overpriced.
As it stands Planet Impact provide no information about the content Earth Alliance Foundation are preparing.
Indeed other than what's provided in Planet Impact's marketing material, details on Earth Alliance Foundation are sorely lacking.
At the time of publication Earth Alliance Foundation's website is just an image placeholder.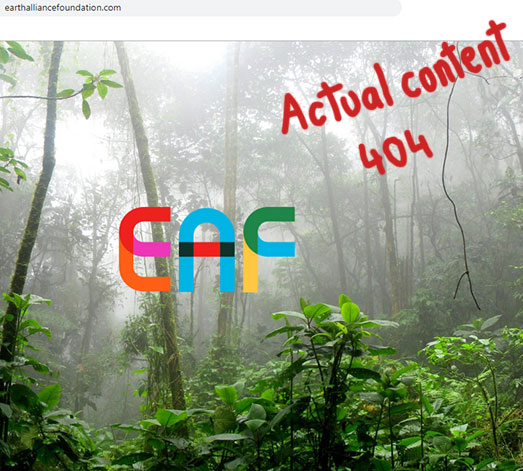 EAF's website domain was registered in April 2019, using the same registrar as Planet Impact's website domain.
In summary, we have a relatively unknown entity that's only existed for a few months. EAF can't put together its own website, yet supposedly they are cranking out environment related content that justifies a €60 EUR a month price tag.
Right.
I wouldn't touch it with a barge pole as a retail customer. You might feel differently but given what we know, I'd have to ask why?
Typically in these situations we see affiliates as the only purchasers. What they're actually buying into the business opportunity, making whatever its attached to irrelevant.
Planet Impact however requires each affiliate to sell at least one subscription, or two if they themselves aren't a subscriber.
With at least 1:1 parity between affiliate spend and retail, Planet Impact does balance out retail requirements. This steers it clear of pyramid scheme territory, assuming retail sales are actually able to be made.
Oh and in case you're wondering, for now the deforestation stuff doesn't have anything to do with the business opportunity.
The license includes a service of reforestation that is provided from our Earth Alliance Foundation partner, more informations where the reforestation service is provided will be available on the EAF foundation site starting from 1st november 2019.
All in all it's hard to overlook the Steinkeller's past. This is pure speculation on my part but the cynic in me can't help but question if the EAF angle isn't a front for some type of money laundering.
The Steinkellers stole millions through OneCoin, and what better way to move some of that around than a Swiss environmental foundation.
Again, pure speculation on my part.
Objectively there's no reason not to participate in Planet Impact, granted you find value in the app service subscription.
Planet Impact is a committed, serious, and legitimate new MLM opportunity, with the power to unite people through a pure, good and safe business community; with a higher purpose at its core.

We hope that through this process, we also fundamentally changing the ethics of the MLM industry, and with that its reputation and impact in our world.

Planet Impact will lead by example; with hopefully many to follow.
If only for the Steinkeller's involvement, proceed with caution.
Update 12th October 2019 – Since we published this review the Earth Alliance Website website has been updated with actual content.
Planet Impact CEO Adrian Szumski has reached out to us with the following statement:
The Earth Alliance Foundation is an independent public entity with its own foundation statutes, entirely separate from Planet Impact International Ltd.

All information about the Earth Alliance Foundation is publicly available on www.earthalliancefoundation.com/documents including statutes, documents and regular financial audit updates.

The Earth Alliance Foundation is a public, fully transparent foundation regulated according to Swiss laws.

The foundation is not privately held, in fact the foundation, after its inception, is not owned by anyone and has no scope for profit in accordance with Swiss Law and is fully accountable and transparent according to its statutes.

The sole scope of the Earth Alliance Foundation is to contribute to and protect Planet Earth and its environment by using its resources to protect, save & restore environment and habitats across the globe.

All the resources of the foundation are made publicly available on a regular basis in order to be fully transparent and compliant.
With respect to self-funded commission qualification, Szumski writes;
As for now until the affiliate learned to understand the system the very first purchase of each affiliate for him/herself qualifies him/herself for this first month.

After that initial order any future personal purchase of the affiliates does not count or qualify for active status, neither for the affiliate directly or for his/her upline sponsor.
I initially read this as an affiliate's own purchase doesn't count after the first month towards qualification.
Upon closer inspection of the language however it appears to just exclude additional purchases (i.e. if the affiliate bumps up their spend to €120 EUR a month, only the initial €60 EUR is counted).
This is on par with what we noted in our review conclusion.
Finally, here's a bit more information on the €60 EUR a month membership fee:
Of each 60 EUR purchase 40% goes directly towards contribution of saving the planet via the Earth Alliance Foundation.

For each purchase customers will receive a certificate detailing out the area / land / parcel they have been contributing to save, protect and reforest.

Furthermore, for customers the purchase of the product becomes even more attractive because aside helping the planet the customer can get other benefits immediately: Each purchase will receive a direct added value of a specially designed hospitality voucher for members to create added benefits for our members.

This means that every 60 EUR directly translates into 75 EUR worth of hospitality vouchers which can be accessed via an exclusive member portal and are redeemable for hotel bookings at greatly discounted rates (in comparison to standard rates accessible via any hotel booking website).
Still having trouble seeing Planet Impact as something other than the Steinkeller brothers using the environment as a PR tool.
If you want to launch new ventures with the aim of having "positive influence on the entire MLM community, possibly even a catalyst for change", fine.
But until you make amends with your OneCoin victims and the millions you stole from them, I think you're overestimating people just conveniently forgetting the past few years.