World Consumer Alliance Comp Plan v2.0 Review

Initially touted as a Zeek Rewards investment reload sheme, Wealth Creation Alliance was launched by Paul Skulitz and "Coach" Blaine Williams in September of 2012.
The original Wealth Creation Alliance compensation plan saw the company accept $2 investments from affiliates and guaranteed a $3.25 (162%) ROI on each investment, sourced from new affiliate investments.
Roughly a week after launching, Wealth Creation Alliance announced, somewhat ironically, that it was changing its name due to "scam reports" surfacing.
Turns out some guy called "Chuck Hughes" had launched his own "World Consumer Alliance" financial scam prior to Blaine and Skulitz and, not happy with the reputation the name had, decided to change WCA's name to World Creation Alliance.
The $2 "micro-Ponzi" scheme business model was retained however in addition to it William's also promised affiliates an upcoming business directory, an online shopping mall, something called "WCA University" and daily coupon details.
I'm not sure exactly when but WCA seems to have brought these new components online sometime in the first quarter of 2013. Along with the new components came a new compensation plan and that's where this review comes in.
Along with the added components to the business, read on for a full review of the World Consumer Alliance compensation plan v2.0.
The World Consumer Alliance Product Line
Through their various online subsidiary ventures, World Consumer Alliance claims to market the following products and services:
online advertising
advertising directories
promotional coupons
"coaching and tools for small businesses"
e-commerce mall products
"Life Mastery University Educational Modules"
Lifestyle Leisure and Travel Network subscription
"online entertainment and products"
Some of these services and products are available at a retail level and some of them are bundled with World Consumer Alliance affiliate membership.
The World Consumer Alliance Compensation Plan
World Consumer Alliance seem to have ditched the micro-Ponzi they were running and have opted for a combination of Business Volume (BV) commissions and a daily revenue-share.
Commission Qualification
In order to qualify for commissions, a WCA affiliate must generate 10 "Activity Units" (AU) each month.
AU can be generated by an affiliate as follows:
view one 20 second ad – .1 AU points
review and evaluate an ad – .25 AU points
send (spam) ad to three people – .25 AU points
create free ad in the basic (business) directory – .5 AU points
make a retail sale – 1 AU point
give a marketing DVD or affiliate link to a prospect (material is verified as watched) – .5 AU points
Note that a minimum of 4 of the 10 required AU points each month must be generated from methods 4, 5 or 6.
Affiliate Membership Ranks
There are 6 affiliate membership ranks within the World Consumer Alliance compensation plan and along with their respective qualification criteria, they are as follows:
Basic Affiliate – sign up as an affiliate (only able to earn retail commissions)
Active Affiliate – generate at least 20 Business Volume (BV) a month
Junior Executive – generate at least 20 BV and 50 Subscription Volume (SV) a month
Senior Executive – generate at least 20 BV and 100 SV a month
Presidential Executive – generate at least 20 BV and 200 SV a month (must have at least one non-affiliate subscription)
Platinum Executive – generate at least 20 BV and 200 SV a month, have recruited at least 3 WCA affiliates (any level) and have at least 10 retail customers
Retail Commissions
World Consumer Alliance who sell the company's products and services to non-affiliate are able to earn a 10-30% commissions, depending on what is sold.
Revenue-Sharing
World Consumer Alliance claim to offer revenue-sharing to their affiliates, with shares in the pool allocated based on an affiliate's generated Business Volume (revenue generated either by affiliate purchases or retail customers).
The revenue-sharing commission is a daily pay out.
Subscription Commissions
If affiliates purchase an "optional monthly subscription", they can earn commissions on their recruited affiliates "optional" monthly subscription fees.
World Consumer Alliance is a 2×8 matrix, with an affiliate being placed at the structure with two positions directly under them (level 1). In turn, these two positions branch out into another two positions (level 2) and so on and so forth down 8 levels of recruitment.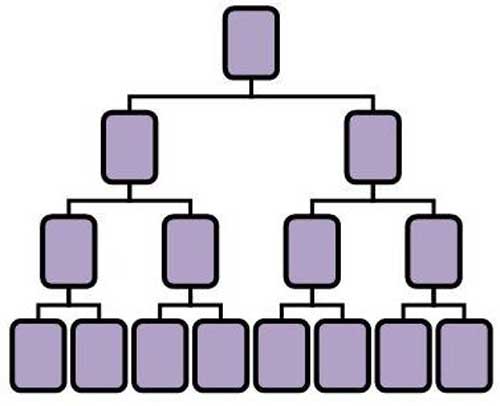 For each recruited paid subscriber affiliate an affiliate (who also must be a paid subscriber) has in their matrix, the company pays out a monthly commission as follows:
Junior Executive – $1.50 per subscribed affiliate
Senior Executive – $1.50 on a Junior Executive subscription and $3 on all other subscriptions
Presidential and Platinum Executives – $1.50 on a Junior Executive subscription, $3.00 on a Senior Executive and $7 on a Presidential or Platinum Executive
Upon filling their matrix, a World Consumer Alliance affiliate is able to generate additional matrix positions to generate more commissions. Note that each position has its own unique qualification criteria (that must be met by the affiliate creating the position).
A 10% matching bonus is available to Platinum Executives, paid out on the Subscription Commissions earnt by their personally recruited affiliates.
Builder's Garden Bonus
If a World Consumer affiliate recruits affiliates who in turn qualify for Subscription Commissions (by generating subscription volume), they qualify an affiliate to earn the Builder's Garden Bonus.
The Builder's Garden Bonus is paid out on up to eight levels of recruitment and includes all recruited affiliates who qualify for Subscription Commissions:
Junior Executive (able to earn on 3 levels) – $1
Senior Executive (able to earn on 6 levels) – $2
Presidential Executive (able to earn on 8 levels) – $3
A 10% matching bonus is offered to all Platinum Executives, paid out on the Builder's Garden Bonus paid out to any affiliates they personally recruit.
Team Builder Bonus
This appears to be a daily residual commission, paid out on all sales that are not subscription based.
The Team Builder Bonus is paid as a percentage of generate Business Volume (non-subscription), paid out down three levels of recruitment:
3.5% to 7% on level 1
2.5% to 5% on level 2
1.5% to 3% on level 3
Joining World Consumer Alliance
Affiliate membership to World Consumer Alliance is free.
Conclusion
World Consumer Alliance's second compensation plan is a welcome departure from the blatant $2 micro-Ponzi the company initially launched with. That said, it's not without its red flags.
First and foremost is the whole subscription commission section of the compensation plan. Affiliates can make this volume via selling subscriptions (to what I have no idea) to retail customers, but also to affiliates or if they just buy them themselves.
It is this latter option that pretty much turns them into the defacto monthly autoship option for WCA affiliates ($50, $100 or $200 respectively).
When you consider that this money is merely a subscription to something (which presumably provides access to something else), in and of itself it should not be commissionable if affiliates are able to purchase it themselves (non-retail).
The revenue-sharing pool is also problematic in that it's based on BV generated by an affiliate. This sounds great on the surface, except that World Consumer Alliance consider BV to be
products used for personal consumption, products
marketed to non-affiliate customers and products used for promotions and demonstrations.
Products used for "promotions and demonstrations" is just another word for affiliate's purchasing them and giving the products away, which effectively uses the typical "buy x, give it away to generate points and earn a daily ROI".
If all or most WCA affiliates are doing this then what you end up is an affiliate-funded daily ROI, paid out of affiliate generate revenue for the day.
Revenue wise, there is no difference between affiliates paying money for personal consumption or to give away as samples.
It is noted that retail is possible and that a majority stream of revenue from non-affiliate retail customers in both the subscription volume and business volume, however I think attracting retail customers to WCA and generating this needed revenue is going to be problematic (even with the retail requirements built into the upper levels of the compensation plan).
Primarily it appears as if WCA are mostly using outdated and unattractive scripts to power their various ventures. For example, here's their online business directory: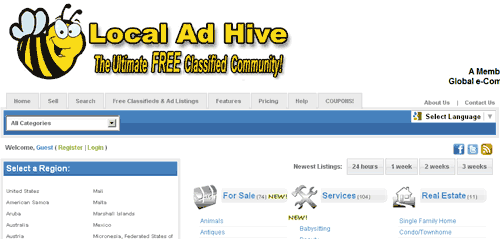 And here's their shopping mall: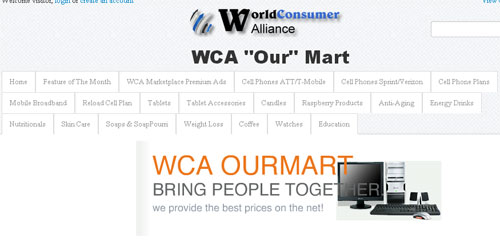 In this competitive day and age, I honestly find it hard to believe anyone not involved in the WCA income opportunity is going to use these sites.
I'd strongly recommend that prospective WCA affiliates enquire as to the retail/affiliate revenue ratio of their potential uplines, as well as that of their uplines.
An affiliate revenue orientated imbalance would suggest that both the SV and BV commissions generated in WCA are largely affiliate-funded, which would then reduce the opportunity to that of a hybrid Ponzi (BV) and pyramid (SV) scheme.
With subscription based commissions and revenue-sharing on the offer retail revenue is key to the legitimacy of World Consumer Alliance's compensation plan revision. Given what the company has on offer at a retail level, quite frankly I'm just not seeing it.