OneCoin's Steinkellers linked to mafia violence, threats & murder

The Steinkeller brothers are currently the second biggest earners in the OneCoin Ponzi scheme.
Second only to Juha Parhiala, the brothers head up "One Dream Team" and are routinely trotted out at OneCoin events.
Hailing from South Tyrol, a province in northern Italy, the Steinkeller brothers are purportedly well-known to local authorities.
According to the Gerlach Report, one agency investigating the brothers is Italy's Direzione Investigativa Antimafia.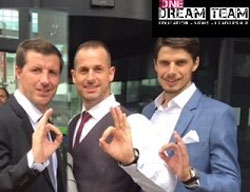 Direzione Investigativa Antimafia are a specialized nation-wide agency that investigates mafia related crimes.
Speaking with a Direzione Investigativa Antimafia, the Gerlach Report learned the brothers (right) work with an accomplice in South Tyrol.
We know the perpetrators and their methods, and so anti-Mafia specialists are working to take care of the OneCoin fraud.
Citing "unconfirmed reports", the Gerlach Report state the Public Prosecutor in Bolzano (capital of South Tyrol) previously brought criminal charges against the Steinkeller brothers.
Legal representatives working with or for the Steinkeller brothers gained access to the file, and shortly thereafter witnesses were threatened and a car "demolished".
The Gerlach Report state murders took place but don't go into specific details.
Anyone who lives in Bolzano who dares dissent against the Steinkeller brothers and OneCoin is purportedly added to a "death list", managed by Hansjörg Oberrauch.
In the mafia-like structure of the Steinkeller Brothers' organization he is something like a Capo, the vice-chief.

In and around Bolzano he does the dirty work for the criminal brothers . Oberrauch is observed around the clock.
The free-reign the Steinkeller brothers have in Bolzano has led to rumours that the Prosecutors Office in Bolzano are "on the take".
This has impeded the progress of the Direzione Investigativa Antimafia investigation.
The problem is that people are afraid to open their mouths and deliver the criminals to justice.

We also investigate against our own officials. You have to make it clear to the people that they can trust the anti-Mafia unit.
OneCoin's association with organized crime is of course nothing new.
Investigators from Germany's top financial regulator BaFin have disclosed the regulator believes OneCoin is a collaboration between the Bulgarian and Russian mafia.
Among a series of bombastic (and to be honest at times unbelievable) claims, Angelina Lazar claimed late last year Interpol were investigating ties between OneCoin and organized crime.
Just a few days ago, the Bank of Thailand's Governor is reported to have stated OneCoin is run by a "gang of criminals".
The company also recently began contacting independent publishers in Germany writing about OneCoin and demanding payment.
As tidbits of information continue to leak out from all around the world, those of us following OneCoin are meanwhile left to wonder just how deep does the OneCoin rabbit hole go?
Sounds like when the dust clears there's going to be one hell of a criminal case brought forward. The question remains however, by who?