Money Bags 775 Pro Review: $775 cash gifting

There is no information on the Money Bags 775 Pro (MB775Pro) website indicating who owns or runs the business.
The Money Bags 775 Pro website domain ("realwealthsolution.com/mb") was registered on the 9th of April 2011. Lorna Thurston is listed as the domain owner, along with an address in the US state of Idaho.
Presumably this is where MMB775Pro is being run out of.
A promotional video on the Money Bags 775 website is hosted on the YouTube account "ultrawealth".
Other videos published on the account, which bears the name "Lorna Thurston", promote GooBets ($310-$1350 Ponzi scheme), Silver4u2 (recruitment), Total Life Changes (diet tea), MyNyloxin (revenue-sharing), AndThanks2U (cash gifting) and KingUni ($100-$1999 Ponzi scheme).
Marketing for Qbule also exists on the "realwealthsolution.com" domain, suggesting Thurston was an affiliate in that opportunity too.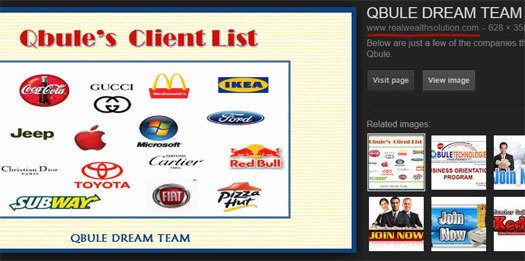 Qbule launched in 2014 and was based on the survey-based Speak Asia Ponzi model. The scheme has since collapsed.
Thurston also appears on a list of US net-winners who made more than $1000 in Zeek Rewards: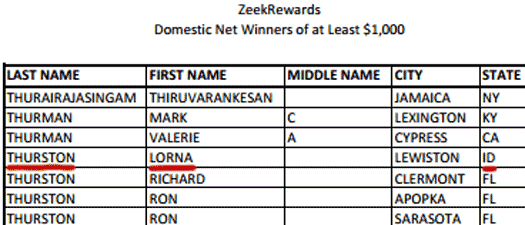 Zeek Rewards was an $850 million dollar Ponzi scheme, shut down by the SEC in 2012. How much Thurston stole from Zeek victims is unclear.
Read on for a full review of the Money Bags 775 Pro MLM business opportunity.
The Money Bags 775 Pro Product Line
Money Bags 775 Pro has no retailable products or services, with affiliates only able to market affiliate membership with the opportunity itself.
The Money Bags 775 Pro Compensation Plan
The Money Bags 775 Pro compensation plan sees affiliates purchase $75 positions in a three-tier matrix cycler.
Money Bags 775 Pro use 2×2 matrices in their cycler, with each matrix having six positions in total to fill: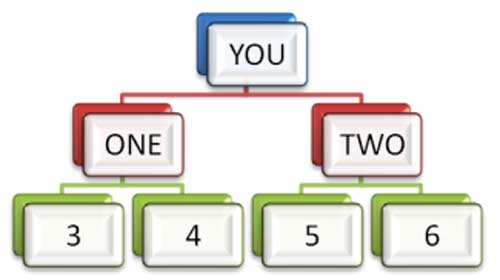 Commissions are paid once all positions in the matrix are filled, with how much of a commission is paid out determined by what matrix tier a position is purchased in:
Matrix 1 (positions cost $75) – pays out
Matrix 2 (positions cost $200) – pays out $600
Matrix 3 (positions cost $500) – pays out $1500
Note that in addition to receiving the above commission amounts, an affiliate is also re-entered into a new matrix at the same tier level.
Joining Money Bags 775 Pro
Affiliate membership with Money Bags 775 Pro is free, however affiliates must purchase at least one matrix position in order to participate in the MLM income opportunity.
As such the defacto minimum cost of Money Bags 775 Pro affiliate membership is $75.
Conclusion
If you hadn't already guessed, the number "775" in the name Money Bags 775 Pro refers to the amount of funds an affiliate pays to participate in all three offered matrix tiers.
Meanwhile the maths behind Money Bags 775 Pro is simple;
Affiliates buy in for between $75 and $500 and get paid the funds to purchase three of the four positions in the second level of their matrix.
The first position is used to fund a new position at the same tier, which is awarded once the entire matrix is filled.
In layman's terms, all that's happening is new affiliate funds are being gifting to existing participants.
At a rate of 4 payments per matrix filled, each cycled position multiplies Money Bags 775 Pro's advertised gifting payment liability by four.
Those four positions do the same and it doesn't take long before the entire system is bogged down.
Recruiters of new gifting participants will make the most money here, literally taking the funds those recruited pay into the system.
As with all cash gifting schemes, once recruitment of new participants dies down so too do the gifting payments made.
Being a matrix-based scheme, this will manifest itself by way of the matrices slowing down across all three tiers, before eventually collapsing altogether.
At that point every unfilled matrix is free money for Lorna Thurston.
Looking at Thurston's MLM history, after Zeek Rewards she continued to chase Ponzi riches for a while.
That obviously didn't work out and so now she's trying her luck on the admin side of things. Likely after in the scheme she participated in, she observed that it was usually only the admin who walked away with a sizable sum of money.