MineBase Review: Harald Seiz flogs a dead horse

MineBase is the latest brainchild from Harald Seiz.
Seiz, a German national, is best known in the MLM industry for ripping off a ton of people through Karatbars International.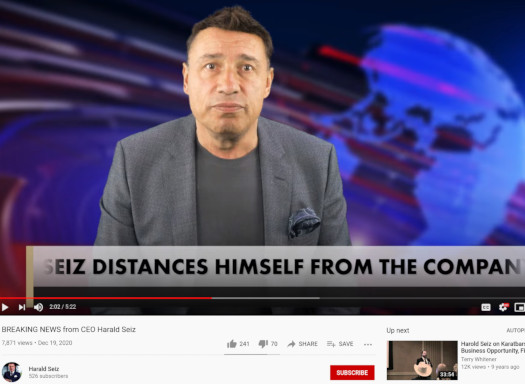 Karatbars International began in 2011 as a gold-themed pyramid scheme.
Circa 2017-2018, Seiz partnered up Gold Standard Bank and owner Josip Heit.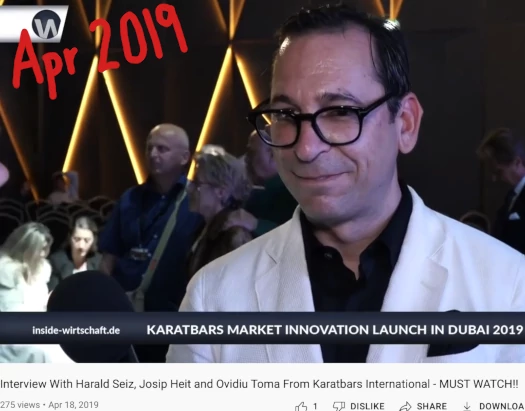 This partnership saw Karatbars transition into cryptocurrency fraud.
Karatbars International's first documented instance of crypto fraud was the KaratBank ICO in early 2018.
KaratBank flopped but eventually Seiz and Heit got KaratGold Coin (KBC) off the ground.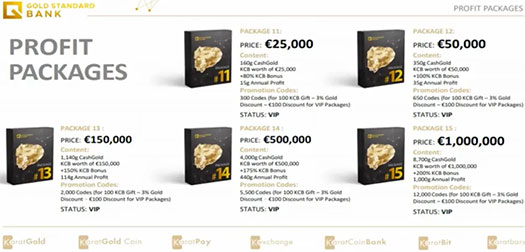 After months of hyping Karatbars International investors on the promise 100 KBC would be redeemable for 1 gram of gold, KBC publicly launched on July 4th, 2019.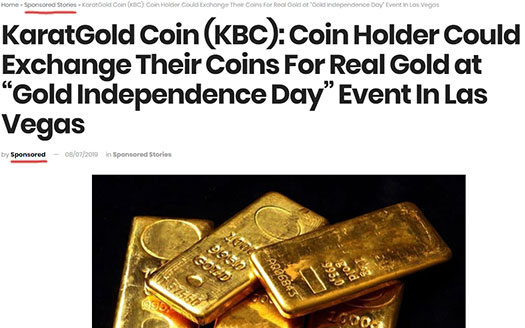 KBC's launch was a disaster. Seiz's 1 gram of gold promise wasn't honored and KBC dumped 62% in a few days.
Sitting on funds they'd milked investors out of, Seiz and Heit laid low for most of 2019 and 2020.
Sometime in 2020 "Gold Standard" was launched, and along with it yet another token reboot. This time it was G999.
By September these plans had fallen through. Harald Seiz began promoting Freebay and V999, a spinoff of the G999 token.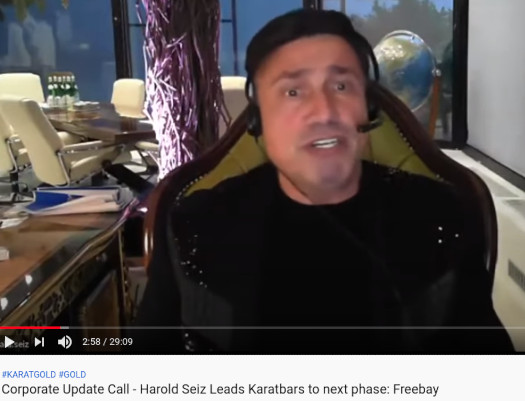 Sometime between Gold Standard being announced and Freebay (mid 2020 or so), Harald Seiz and Josip Heit had a falling out.
Heit split from Karatbars and went on to launch a GSPartners with the G999 token towards the end of 2020.
By the end of 2020 Freebay collapsed, prompting Seiz to have a very public meltdown.
What followed was six months of radio silence. Seiz eventually resurfaced with Lifebase in June 2021.
Lifebase collapsed after a few months. In December 2021 Seiz sent out an email to his victims, promising a proper Karatbars International reboot.
That never happened.
Instead in April 2022, Karatbars International victims were contacted by Acua Wellington.
The specifics of Acua Wellington remain murky. BehindMLM wrote it off as an obvious recovery scam, likely able to target Karatbars victims because Seiz sold the affiliate database.
Finally in August 2022 MineBase emerged.

The original launch was so comically bad that I thought I was looking at another recovery scam.
While Seiz appears to be in charge of MineBase, the initial recovery scam nature of the its launch suggests he is working with Russian scammers.
MineBase operates from two known website domains:
"minebase.io" (primary) – privately registered on May 1st, 2022
"minebase.com" – first registered in 2014, private registration last updated April 28th, 2023
Fast forward to mid 2023 and MineBase is still chugging along. The MLM side of the business is more fleshed out, prompting requests for an official BehindMLM review.
It should be noted that in the lead up to MineBase, Harald Seiz's various schemes have attracted the following regulatory attention:
Seiz, originally from Germany, fled the country for Thailand at some point. This became known following a German court issuing a warrant for Seiz's arrest a few months ago.
There haven't been any further updates so presumably Seiz is still wanted by German authorities.
BehindMLM can't confirm Seiz's current status as going on the run coincided with his abandoning of social media (FaceBook in 2021 and Instagram last year).
Read on for a full review of MineBase's MLM opportunity.
MineBase's Products
MineBase's marketing details several product categories: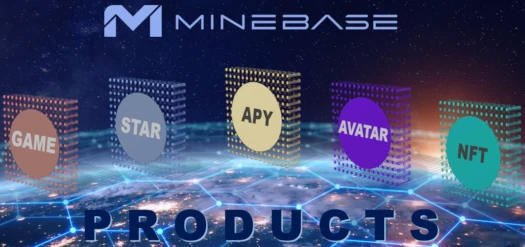 None of these have anything to do with MineBase's MLM opportunity.
MineBase's Compensation Plan
MineBase affiliates invest tether (USDT) into MBASE tokens. This is done on the promise of a 500% ROI paid after 18 months.
1 Star Package – invest 100 USDT, receive 250 MBASE tokens and receive 500 USDT after 18 months
2 Star Package – invest 500 USDT, receive 1250 MBASE tokens and receive 2500 USDT after 18 months
3 Star Package – invest 1000 USDT, receive 2500 MBASE tokens and collect 5000 USDT after 18 months
4 Star Package – invest 3000 USDT, receive 7500 MBASE tokens and collect 1500 USDT after 18 months
5 Star Package – invest 5000 USDT, receive 12,500 MBASE tokens and collect 25,000 USDT after 18 months
The MLM side of MineBase pays on recruitment of affiliate investors.
MineBase Affiliate Ranks
There are five affiliate ranks within MineBase's compensation plan.
Along with their respective qualification criteria, they are as follows:
Diamond – "you need points to get a commission" (???)
Black Pearl – recruit ten affiliates who together have invested in at least 10,000 MBASE tokens
Generation – recruit at least twenty affiliates
Royal Crown – generate a downline who together have invested in at least 10 million MBASE tokens
Royal Crown President – "you must reach the highest level in each business center" (note this doesn't make any sense)
Referral Commissions
MineBase affiliates earn 10% of funds invested into MBASE tokens by personally recruited affiliates.
Residual Commissions
MineBase pays residual commissions via a unilevel compensation structure.
A unilevel compensation structure places an affiliate at the top of a unilevel team, with every personally recruited affiliate placed directly under them (level 1):

If any level 1 affiliates recruit new affiliates, they are placed on level 2 of the original affiliate's unilevel team.
If any level 2 affiliates recruit new affiliates, they are placed on level 3 and so on and so forth down a theoretical infinite number of levels.
To qualify for residual commissions, a MineBase affiliate must recruit at least two affiliates who have invested in MBASE tokens.
Residual commissions are paid as a percentage of total downline MBASE token investment each week.
have twenty affiliates in your downline and receive a 1.8% residual commission rate
generate accumulated downline investment of at least 10 million MBASE tokens and receive an additional 2% residual commission rate
Note that up to 70% of required downline affiliates can be counted from any one recruitment leg.
Diamond Commissions
MineBase pays a tiered commission based on downline MBASE token investment activity.
Base Diamond Commissions are calculated weekly, based on the following criteria:
Diamond (generate downline investment of at least 500 MBASE tokens) – 2% Diamond Commission rate
Double Diamond (generate downline investment of at least 12,000 MBASE tokens) – 2.2% Diamond Commission rate
Triple Diamond (generate downline investment of at least 150,000 MBASE tokens) – 2.4% Diamond Commission rate
Note that only up to 70% of MBASE token investment can be counted from any one recruitment leg.
Diamond Commissions qualification criteria are calculated weekly. I believe percentages paid out are on the qualifying amount generated each week.
Additional Diamond Commission rates can be earned based on the following qualification criteria:
Diamond affiliates receive an additional 2% if they have recruited ten affiliates who have each invested in at least 8000 MBASE tokens
Double Diamond affiliates receive an additional 2% if they have recruited five affiliates who have each invested in at least 90,000 MBASE tokens
Triple Diamond affiliates receive an additional 2% if they have recruited three affiliates who have each invested in at least 1,500,000 MBASE tokens
an additional 3% Diamond Commission is paid once a MineBase affiliate generates an accumulated 5 million MBASE token downline investment
Royal Crown President Bonus
If a MineBase affiliates earns in all of the commissions and bonuses detailed above, they qualify for a share in 1% of MineBase's company-wide investment.
Joining MineBase
MineBase affiliate membership is tied to tether investment in MBASE tokens:
1 Star Package – 100 USDT
2 Star Package – 500 USDT
3 Star Package – 1000 USDT
4 Star Package – 3000 USDT
5 Star Package – 5000 USDT
MineBase Conclusion
MineBase as an MLM opportunity is a terribly confusing mess. And that's before we get into the attached 500% ROI Ponzi scheme.
I've done my best to present as accurate a breakdown of MineBase's compensation plan as I can above. MineBase's compensation plan didn't pass the headache test, and I'm still not sure it's 100% accurate.
MineBase go out of their way to complicate commissions and bonuses. This starts by referring to individual commissions and bonuses as "business centers".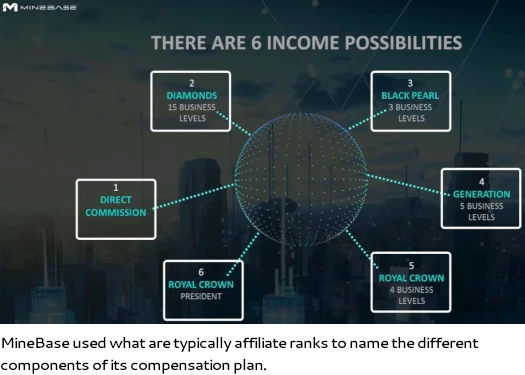 Traditionally in MLM a "business center" is an income position. That's not the case in MineBase.
Then there's the seemingly pointless tiers in each commission and bonus.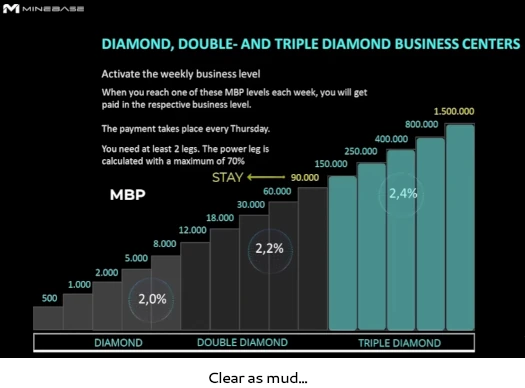 I think the idea is that the commission and bonus percentages are paid company-wide, but then that makes no sense because commissions and bonuses are tied to an individual affiliate's downline. So what purpose do the tiers have?
Typically in MLM we see tiers for bonuses. These can be ranks or whatever, the point is a percentage is kept aside and everyone who qualifies for that tier receives a share.
MineBase appear to apply this to their entire compensation plan. What this creates honestly isn't worth bothering with. And good luck trying to explain this nonsense to anyone.
I want to make clear that this isn't someone complaining about a lack of familiarity. I have no problem with MLM companies trying new things or putting their twist on traditional compensation structures.
But that's not what's happening here.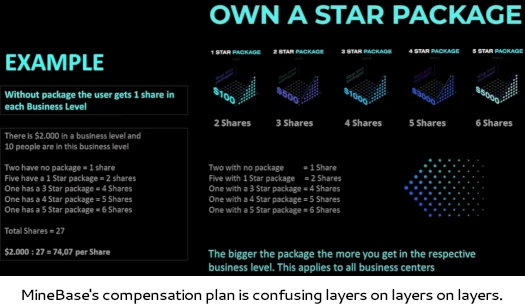 I lost count how many times I caught myself thinking "why?", or "that doesn't even make sense" while trying to dissect MineBase's compensation documentation. It's that bad.
And then we have MineBase's 500% ROI Ponzi scheme. Affiliates invest tether, receive MBASE and collect a 500% ROI on MBASE after 18 months. They then hope to cash out that MBASE for tether.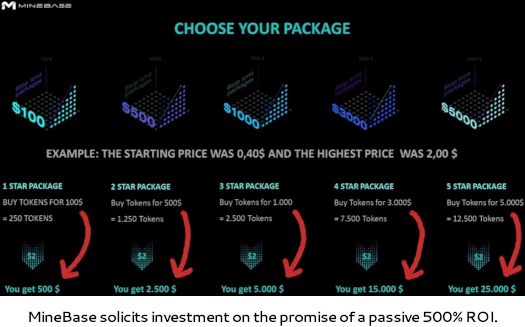 Although staking isn't mentioned, I believe that's the Ponzi model MBASE is using.
It's pretty similar to what Seiz's former partner in crime is doing with his Swiss Valorem Bank Ponzi scheme (formerly GSPartners).
Same 18 month maturity period, but Heit is only offering 300% over Seiz's 500%.
Anyway, finer points aside, here's how MBASE is going since launch:
(CMC)
MineBase affiliates might get 500% in worthless MBASE tokens after 18 months, but they're sure as hell not getting 500% on the tether they invested.
MBASE is already down 70% since it launched in late 2022. 18 months? MBASE will probably be well into 'fractions of a cent" territory by then.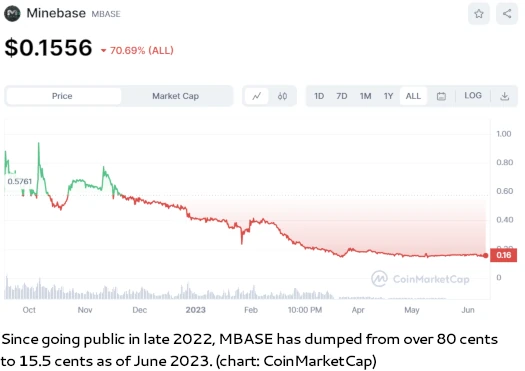 To summarize, MineBase is another crypto Ponzi scheme from a serial creator of MLM Ponzi and pyramid schemes.
While Seiz is wanted by German courts, unfortunately it's not because of his MLM pyramid and Ponzi scamming. German authorities have been completely asleep at the wheel when it comes to MLM crypto related securities fraud.
And as a result of that, Seiz continues to fleece new victims – with no doubt a healthy dose of Karatbars victims hoping to recoup existing losses tossed into the mix.
SimilarWeb tracked just under 800,000 visits to MineBase's .IO website in May 2023. The majority of that traffic originated from Venezuela (17%), the US (16%), Germany (10%), Switzerland (10%) and Ukraine (8%).
MineBase isn't registered to offer securities in any of these jurisdictions. MLM companies commit securities fraud because they are running Ponzi schemes.
As with all MLM Ponzi schemes, once affiliate recruitment dries up so too will new investment.
This will starve MineBase of ROI revenue, eventually prompting a collapse.
The math behind Ponzi schemes guarantees that when they collapse, the majority of participants lose money.