Karatbars International imploding, Harald Seiz has meltdown

Karatbars International appears to be imploding due to infighting.
Founder and CEO Harald Seiz has also had a video meltdown.
I'll be upfront in stating we're not really sure what exactly has gone down with Karatbars, but the beef appears to be between Seiz and Josip Heit.
Harald Seiz took to YouTube with a video titled "BREAKING NEWS from CEO Harald Seiz". The video was uploaded to Seiz's new YouTube channel on December 19th.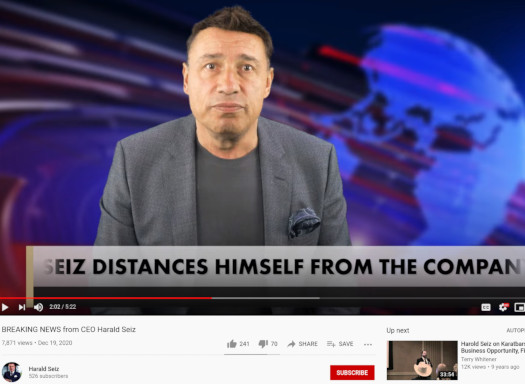 Karatbars International previously had its own official YouTube channel, however that appears to have been entirely deleted sometime over the past few days.
Karatbars' official Facebook page is still up, so we're assuming Seiz didn't have access to the YouTube channel. Seiz only created his YouTube channel on December 18th.
I'll be honest, the first minute or so of Seiz's meltdown is unintelligible rambling. Then things get interesting.
[0:56] In the past there were often enough little hints and signs about what was going on in the background.

Which you noticed but didn't really register.

Only gradually did it becomes [sic] clear to you that something had to change.

I had to realize that in some things we were far from perfect.

All our trust, my trust, was abused.

In my name and in the name of Karatbars family things were done for which I knew nothing and which I had not wanted.
I'm going out on a limb here and suggesting Seiz is referring to events post his KaratGold Coin 1 gram of gold broken promise disaster (July 2019).
That means Seiz could be referring to:
Since July 2019 Karatbars has also received regulatory attention in Namibia, New Zealand, Canada, Germany and South Africa.
Seiz continues;
[1:37] I have faced the consequence. I have separated myself from all those who misused my name and the name of the Karatbars family, for great profit, empty promises and plain nonsense.

I have parted company with those who claim to be a part of the leadership, uh when they never were.

And I have parted ways with those who simply stole my ideas and vision, used them for their own profit, an d have used and are using the entire team's developments and work for personally profiling of covering up unserious [sic] businesses.
That sounds like Freebay but Seiz doesn't go into specifics. After babbling on about fraud, Seiz does promise that "nothing like this will ever happen again".
[2:58] What we do, we do for the people, for our families, for our children, for freedom and independent.

Together, we will make it. Together we are powerful.
Keep in mind Karatbars started off as a pyramid scheme. It then morphed into various crypto Ponzis and that's it. That's the entire history of the company.
And keep in mind the primary financial benefactor of Karatbars' various fraudulent business models is and always has been Harald Seiz.
But uh yeah, Karatbars is "for the children". No worries champ.
Seiz closes out with a bunch of marketing promises, including opening of the "V999 platform" before Christmas. That sounds like the Freebay Ponzi reboot plans are going ahead.
Existing KGC and KBC bagholders are to be given some newly created shit token, created alongside V999 oN tHe BlOcKcHaIn!
[3:44] KBC will be transformed into KBC and each KBC will be zero point five cents ($0.005) for the new utility token.

This means that all the KBCs and KCBs will be replaced.
KBC currently has a public trading value of $0.003 with negligible daily trading volume. That's been pretty constant for most of 2020.
The V999 reboot of KBC will apparently not be purchasable. So any assigned value is meaningless (can't purchase, can't sell).
Not that anyone is buying failed Karatbars International Ponzi tokens anyway, but I digress.
According to Seiz more details are coming this week.
In the meantime last night I received an email from an "editorial team" looking to get stuck into Seiz and Josip Heit.
Karatbars International has parted ways with Josip Heit after independent accountants established that Heit embezzled more than 120 million.

All criminal prosecution against Heit and his criminal network is activated.
Apparently there's a website going live with more information, also next week.
German authorities could of course put a swift end to the long-running Karatbars International scam but… *crickets*
Update 21st February 2021 – Sometime in the last week Harald Seiz has deleted all videos from his YouTube channel.