KaratBars International to launch KaratBank Coin ICO

The latest MLM company to jump on the pointless altcoin launch is Karatbars International.
For those unfamiliar with the company, Karatbars International combines pyramid recruitment with a token gold offering.
While gold is available for purchase through the company, the focus of the compensation plan is getting people to sign up with affiliate packages.
You wouldn't know that from visiting the Karatbars International website though, as the company is notoriously secretive about its MLM business opportunity.
In any event, Karatbars International recently released a KaratBank Coin ICO whitepaper.
According to the whitepaper;
KaratBank Coin is a blockchain-based cryptocurrency that is linked to physically deposited gold in the form of the so-called CashGold.

Each 10,000 KaratBank Coins can be exchanged for 0.1g CashGold at any time.
The KaratBank Coin website states that
the idea behind CashGold is to implement small gold bars on a specific paper which partially looks like a bank note.

However, instead of mentioning a specific currency amount, the weight of the implemented gold bar is displayed.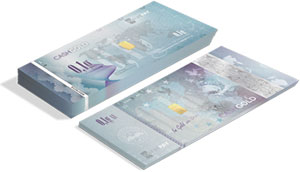 An image accompanying the description depicts CashGold as bits of paper with a square of gold stuck onto them.
Each coin represents an imaginary certain weight of gold whereby a quantity of 10,000 KaratBank Coins can be exchanged for physical gold in the form of 0.1g CashGold.
Other than that, KaratBank Coin is your typical "we're better than bitcoin" ethereum token.
As far as the ICO goes, KaratBank Coin (KBC) is being sold for 1 cent to 5 cents. There are a total of 12 billion KBC tokens that will be generated.
Karatbars International affiliates are required to purchase 1000 KBC at a time.
Not surprisingly,  CashGold isn't an accepted form of payment. Karatbars International stat they hope the KBC ICO will raise $72 million in bitcoin, ethereum and fiat currency.
More on CashGold later.
In addition to being attached to a pyramid scheme, your first major red-flag with the KaratBank Coin ICO is the list of restricted countries.
United States of America citizens, residents (tax or otherwise) or green card holders as well as residents of Canada, the Peoples Republic of China or the Republic of Singapore are not eligible to participate in the KaratBank ICO.

The United States of America include Puerto Rico, the U.S. Virgin Islands, and any other possessions of the United States.
ICOs are not illegal in the US or Canada. In the US though ICOs are typically considered securities and require registration with the SEC.
Why Karatbars International want nothing to do with US regulators should be obvious.
Meanwhile up in Canada, Karatbars International was banned for being a pyramid scheme in 2016.
As for China, they have pretty strict ICO regulation too.
Singapore hasn't banned ICOs but it is one of the countries Karatbars International operates in through the shell companies KaratPay and Karatbars Singapore.
Singapore regulators shutting those companies down would cripple Karatbars International. Management probably figure it's best not to take any chances.
That goes for KaratBank Coin in general, for which Karatbars International has specially set up a shell company in Belize to sell it through.
 The KaratBank Foundation, which issues the KaratBank Coin and is based in Belize, is unregulated.
There's no legitimate reason for an MLM company to set up shell companies for the sole purpose of being "unregulated".
And that's just the tip of the iceberg.
The one premise KaratBank Coin has going for it is that it's backed by CashGold.
The KaratBank Coins are linked to the CashGold. Everybody who has bought KaratBank Coins can exchange them into CashGold at any time; however, one should note that 10,000 KaratBank Coins or a multiple of it are required for an exchange.

Each quantity of 10,000 KaratBank Coins entitle to the delivery of 0.1g of CashGold. Therefore, they are similarly as stable as a direct investment in CashGold.
Except they're not…
The KaratBank Coin is a speculative coin. Although the proceeds from the sale of the KaratBank Coin shall mainly be used for the purchase of CashGold, the KaratBank Coin is not pegged to the purchased CashGold.

A total loss of the money invested in the KaratBank Coin cannot be excluded.
So um, KaratBank Coin can be converted into CashGold vouchers at any time… but CashGold isn't pegged to KaratBank Coin and somehow you can still lose all of your money.
If KaratBank Coin isn't the equivalent of a "direct investment in CashGold", why are Karatbars International representing it is?
And what exactly is CashGold anyway?
According to the KaratBank Coin whitepaper, 'CashGold is designed like a bank note'.
Therefore, it can easily be used in day-to-day payment transactions and, furthermore, the acceptance of the CashGold as a payment means is naturally increased.
The same whitepaper then goes on to state "one should notice that CashGold is not a currency".
I suppose the bottom line is CashGold is something Karatbars International came up with that nobody outside of Karatbars International takes seriously.
Try walk into your local cafe and buy a cup of coffee with your gold vouchers. Let us know how it goes.
In line with Karatbars International's pyramid business model, KaratBank Coin investment is attached to a single-tier 5% referral commission.
With the KaratBank Referral Payment System, people are rewarded who refer other potential investors to buy KaratBank Coins.
Offered KaratBank Coin investment packages top out at €10,000 EUR:
invest €1000 EUR and get 100,000 KBC
invest €5000 EUR and get 500,000 KBC or
invest €10,000 EUR and get 1,000,000 KBC
These package purchases appear tied to Karatbars International affiliate membership. The KaratBank Coin whitepaper states the €1000 EUR investment comes with 1 year "initial free membership length".
The €5000 EUR investment level comes with two years and the €10,000 EUR level five years.
A legitimate ICO doesn't have annual membership fees, further differentiating KaratBank Coin from a legitimate cryptocurrency.
The bottom line is KaratBank Coin is an attempt by KaratBars International to get in on the cryptocurrency hype train.
Outside of Karatbars International KaratBank Coin is useless. And, as per the company's conflicting information, backed by nothing more than newly invested funds.
The whole CashGold voucher exchange thing exists for no other reason than to create the illusion that KBC has something to do with the value of gold.
To that end Karatbars International provide a whole section in the KaratBank Coin whitepaper covering annual returns in gold.
This marketing clearly identifies KaratBank Coin as a security, despite the company claiming otherwise.
The KaratBank Coin is a utility token. It is not intended to constitute securities or financial instruments in any jurisdiction.
The whole marketing strategy is tied to the value of gold going up in time, and pretending that KaratBank Coin is attached to made-up CashGold vouchers.
To operate legally in any jurisdiction, Karatbars International would have to register itself with the appropriate securities regulator in that jurisdiction.
The plan however seems to be to avoid countries with strict securities laws, which again isn't something a legitimate MLM company would do.
On a broader note, how Karatbars International intends to deal with its US affiliates in relation to KaratBank Coin might be interesting to watch unfold.
Karatbars International obviously plan to get current and former affiliates to invest in KaratBank Coin.
Currently, more than 480,000 customers from more than 120 countries have already bought smallest gold bars from Karatbars GmbH, Stuttgart, Germany.

The total investment of these customers amounts to nearly EUR 120 million.

It is therefore obvious that with this customer basis, the KaratBank Coin will achieve a high market capitalization: it will write a success story.
As I write this Alexa peg the US as the largest source of traffic to the Karatbars International website (41%).
How many of Karatbars International's past and present 480,000 affiliates are from the US though is unclear.
What is clear though is that a company that primarily counts US residents as the bulk of visitors to its MLM opportunity website, are trying to run circles around regulation to cash in on an ICO launch.
Does the MLM industry really need another ethereum token ICO that crashes to zero after gullible affiliates have been duped out of their money?
I'm tipping no.
Update June 8th 2018 – Karatbars have renamed their coin KaratGold Coin and are currently trying to get it listed on the HitBTC exchange.
Between Bitcoiin and KaratGold Coin (neither of which are actually tradeable as I write this), HitBTC is emerging as a go to for public trading of scam MLM altcoins.