Enviralizer Review: $20 pass-ups, no retail

There is no information on the Enviralizer website indicating who owns or runs the business.
The Enviralizer website domain ("enviralizer.com") was registered on the 5th of January 2014 and lists "Enrique Alberro" as the domain owner. An address in the US state of Georgia is also provided.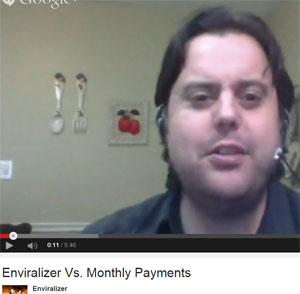 Alberro (right) appears in a promotional video on the Enviralizer YouTube channel, in which he confirms he is "the owner and founder" of the company.
Alberro's Facebook profile contains marketing material for Internet Lifestyle Network (April 2014), Xplocial (mid-2013), Rippln (mid-2013), Talk Fusion (late 2012), Royalty7 (7% daily/110% weekly ROI Ponzi scheme, early 2012) and Empower Network (late 2011).
2011 would appear to be about the time Aberro got involved in MLM.
Domain wise Alberro has also owned domains used to market Uneeqlee and YouGetPaidFast ($28 cash gifting).
After joining no less than eight companies over the past few years, now it seems Alberro has decided to launch his own.
Read on for a full review of the Enviralizer MLM business opportunity.
The Enviralizer Product Line
Enviralizer has no retailable products or services, with affiliates only able to market affiliate membership to the company itself ($25).
Bundled with Enviralizer affiliate membership is access to a series of internet marketing tools.
The Enviralizer Compensation Plan
The Enviralizer compensation plan pays affiliates $20 to recruit new affiliates into the scheme.
The company uses a 1-up compensation plan, which requires all affiliates to "pass up" their first recruitment commission to the affiliate who recruited them (their upline).
Once this initial commission has been passed up, an affiliate receives $20 per new affiliate recruited.
In turn, the first affiliate their recruited affiliates recruit is passed up to them ($20). So are the first affiliates these affiliates recruit and so on down an infinite number of levels.
The Enviralizer affiliate fee is a one-time payment, so all of these commissions are paid out once upon the recruitment of a new affiliate.
Joining Enviralizer
Affiliate membership with Enviralizer is $25.
The payment of this fee and recruitment of one new affiliate qualifies an Enviralizer affiliate to earn via the company's compensation plan.
Conclusion
Having joined a series of questionable MLM opportunities over the years, it's no surprise that Enrique Alberro's own scheme falls far short of legitimacy.
With nothing being sold to retail customers, all revenue derived from affiliates and commissions paid upon the recruitment of new affiliates, Enviralizer fits the definition of a recruitment-driven pyramid scheme.
Enviralizer affiliates sign up for $25 and then set about recruiting new affiliates. The first affiliate they recruit is passed up to the affiliate who recruited them, which in turn qualifies them to earn $20 on the recruitment of subsequent affiliates.
The first affiliates their downline recruits are also passed up, adding a residual recruitment incentive to the scheme.
As with all pyramid schemes, once recruitment slows down so too will the commissions paid.
At $25 one-time Enviralizer falls on the lighter side of the pyramid scheme spectrum, but that doesn't take anything away from the illegitimacy of the opportunity.
We have a no refund policy in place. All sales are final.
When Enviralizer does inevitably collapse, those at the bottom of the recruitment-chain will lose their money.