Xplocial Review: $29 – $100 a month cash gifting

Xplocial are based out of New York in the US and appear to have initially launched mid 2012 as some sort of "viral" Facebook marketing campaign opportunity. Affiliates paid $49.95 a month and were paid commissions based on how many affiliates they recruited who also paid monthly membership fees.
Roughly a year later in May 2013 the company relaunched itself with a new compensation plan and product lineup.
Heading up Xplocial is Lawrence B. Marcus (also known as Larry Marcus). On his personal website ("lawrencemarcus.com"), Marcus provides an executive bio which states:
A professional speaker, trainer and consultant for more than 20 years, Larry Marcus has been helping companies build customers, relationships, and their bottom-line.

Larry is one of the world's leading authorities on "referral based sales and marketing systems and strategies." People quickly relate to his down-to-earth, charismatic and interactive presentation style.

Larry is a highly requested speaker and has shared the stage with other notable leaders such as President Ronald Reagan, President George Bush Sr., U.S. Senator Orin Hatch, Rev. Robert Schuller, Dr. Denis Waitley, Brian Tracey and many others.

He's been invited to the White House as a special guest to discuss small business trends in America and has worked closely with a special liaison on small business affairs under two Presidents.
Marcus lists the following companies as "clients" on his website: Amway, Pre-paid Legal, Mannatech, Usana and Melaleuca. Additionally on the Xplocial website, Marcus' corporate bio states he's
consulted for more than 55 different network marketing companies and held numerous Corporate and Board of Director Positions.

Larry has been asked to act as an industry expert on Network Marketing by numerous State Attorney Generals.
The only other additional executive position I found Marcus involved in was as the President and CEO of Provantage Legal, which seems to be some sort of affiliate opportunity: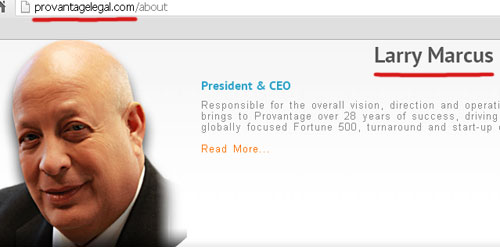 The Provantage Legal website domain ("provantagelegal.com") provides the same New York based office suite address as Xplocial in its domain registration. A Google search reveals multiple unrelated businesses operating out of this same suite number, indicating that it's shared virtual office space.
Stephen Marcus also appears on the Provantage Legal website, credited as being the company's Director of Support Services.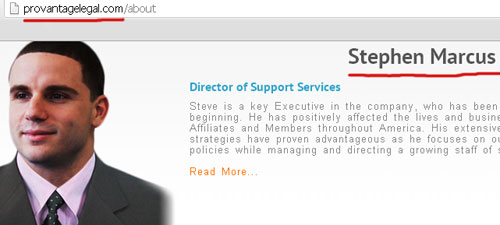 A badly photoshopped version of Marcus' image also appears on the Xplocial website, where he is also credited as being Xplocial's Director of Support Services: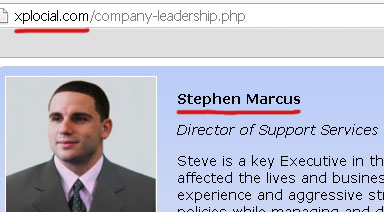 It's worth noting that the third exective listed on the Xplocial website, a Scott Michaels who is credited as Vice-President of Operations is just a stock image from iStockPhoto: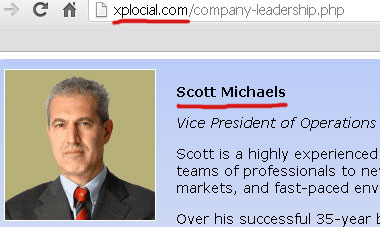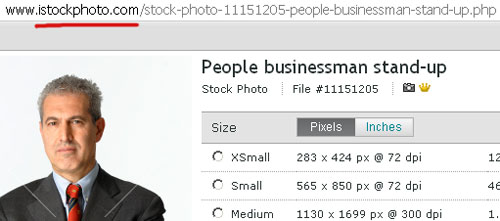 Not sure what's going on there but between badly photoshopped images and stock photos used to represent a company's executive management, things certainly smell fishy.
Read on for a full review of the Xplocial MLM business opportunity.
The Xplocial Product Line
Xplocial has no retailable products or services, with Xplocial affiliates only able to market affiliate membership to the company itself.
Bundled with Xplocial affiliate membership is access to a series of vouchers offering discounts on third-party products and services. Xplocial do not disclose on their website which companies they have affiliate agreements with to provide these discounts.
The Xplocial Compensation Plan
The Xplocial compensation plan revolves around affiliate paying a monthly membership fee and a passing up some of these commissions to the affiliate who recruited them.
Membership fees are either $29 or $100 a month, with an affiliate passing up their 1st, 3rd and 6th recruited affiliate's membership fees to their upline (the affiliate who recruited them).
In turn, any recruited affiliates must then also pass up the membership fee payments of the 1st 3rd and 6th affiliates they recruit too.
All other recruited affiliate's monthly membership fees ("minus credit card processing fees") are kept by the recruiting affiliate each month – as long as they continue to pay their Xplocial affiliate monthly membership fees.
In order to qualify to participate in the above scheme, Xplocial charges participants an additional $19.95 a month.
Joining Xplocial
Affiliate membership to Xplocial is $19.95, with affiliates having to pay an additional $29 or $100 a month to participate in the company's compensation plan.
Conclusion
To start earning money in the "Get Paid Now Plan," you refer the Xplocial Membership Program to others, who like you, are also interested in earning more income on either a full-time or part-time basis.

YOU are paid 100% of the commissions and profits available from both the $29 Gold and $100 Platinum Monthly Membership Programs.

Just one referral can easily multiply to dozens of people in no time with each of them paying you $29 or $100 EVERY month!
With no retailable products or services and affiliates paying eachother 100% of their monthly membership fees, Xplocial can be reduced to a simple two level gifting scheme.
You sign up to the company, pay them $19.95 a month (how Lawrence Marcus makes his money) and then gift the person who recruited you either $29 or $100 a month.
If you recruit new affiliates who do the same, they in turn will gift you the same amounts – as long as you keep paying Xplocial $19.95 a month to participate.
In an attempt to add legitimacy to the gifting scheme they have running, Xplocial have signed on with a bunch of affiliate offers in order to offer discounts to their members. In MLM however, discounts are not a product in and of themselves.
Xplocial themselves offer no products or services with their discount vouchers serving only as a front for the membership gifting scheme, and having nothing to do with the Xplocial compensation plan or how their affiliates are paid.
Between the fishy looking corporate bios provided on the Xplocial website, the virtual office mailing address in New York and blatant gifting scheme they have running, Xplocial is probably an opportunity you're going to want to approach with extreme caution.