Rippln Review: Mobile app + recruitment
The Rippln website contains no information about who owns or runs the business and only provides visitors with the following message: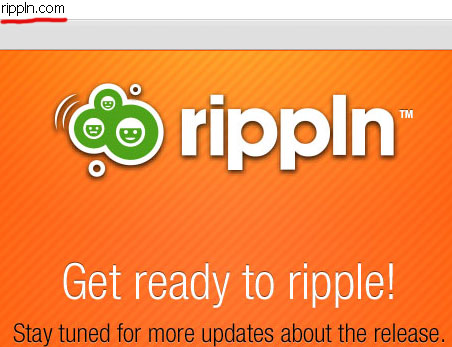 Stay tuned for more updates about the release.
The Rippln website domain ("rippln.com") was registered on the 23rd of September 2012, however the domain registration information is set to private.
On the Rippln Facebook page, a "Brian Underwood" is named as company CEO: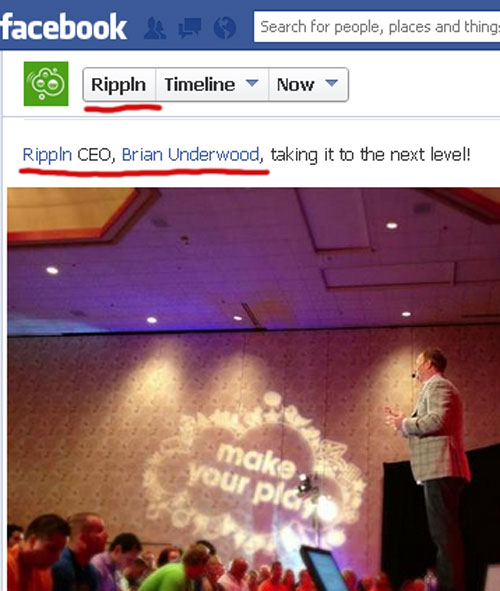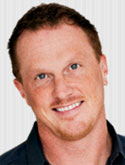 Underwood (photo right) describes himself as a "serial entrepreneur" and "global innovator" on his personal blog and claims to have been "building companies over 20 years".
Underwood's previous endeavours in the MLM industry include the creation of iZigg, which he served as CEO of.
iZigg was an opportunity that launched in 2010 and revolved around SMS and advertising. Here's what fellow MLM blogger Ty Tribble over at MLM Blog had to say about iZigg shortly after launch:
iZigg Scam: Will The FTC Step In And File A Lawsuit To Shut This Down?

iZigg is a new MLM company that promises wealth based on text message advertising. This is a classic "lots of hype" money game that will not last.
Tribble names Underwood as having previously been involved in BurnLounge as a master-distributor and the National Sales Director of LocalAdLink.
BurnLounge was launched in April 2007 and by June the same year the FTC had filed a lawsuit alleging the company to be a pyramid scheme. The case concluded in January 2012 with a judge declaring BurnLounge to indeed be an illegal pyramid scheme.
Tribble claims Local Ad Link was also a "scam" and that it 'had people paying a bunch of money to get listed on Google'.
Read on for a full review of the Rippln MLM business opportunity.
The Rippln Product Line
Rippln market what they call the "Rippln App". It's an application for mobile devices with which users can communicate with eachother, interact with advertising and buy third-party affiliate offers and other apps through.
The Rippln Compensation Plan
Referred to as the "core strategy" of the Rippln compensation plan, Rippln affiliates recruit free affiliates (referred to as "fans") and then get them to do the same.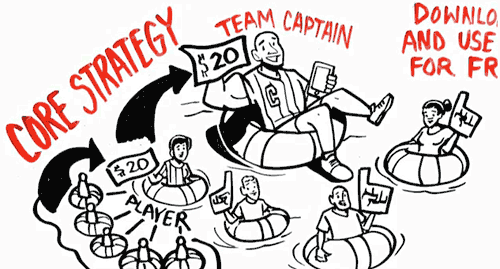 For every 5 fans a Rippln affiliate recruits, they are paid $20. For each one of their directly recruited affiliates who also recruits 5 new affiliates, they are again paid $20.
Coaching Bonuses
Rippln affiliates can earn domestic and global bonuses (referred to as a "coaching bonus") every time one of their directly recruited affiliates upgrade or qualify (Rippln do not clarify which) to either Domestic or Global affiliate status.
The Coaching Bonus is paid out using a perpetual 1-up compensation plan structure up to 10 recruited affiliates, and one in every 5 after that.
Rippln affiliates keep the Coaching Bonus earnt on the odd-numbered affiliates they recruit (within their first 10 recruited affiliates).
Every second recruited affiliate (again, within their first 10 recruited affiliates) is paid to their upline).
After the first ten recruited affiliates every 5th recruited affiliate that generates Coaching Bonus by upgrading or qualifying for Domestic or Global affiliate status is then passed up.
The Domestic Affiliate Coaching Bonus is $80 and the Global Affiliate Coaching Bonus is $240.
Matching Coaching Bonus
For every odd recruited affiliate who upgrades or qualifies as a Domestic or Global affiliate, Rippln pay out a 25% matching bonus on their Coaching Bonus earnings.
For every even recruited affiliate, the Matching Coaching Bonus is a 50% match.
Rippln App Commissions
Rippln App commissions are paid out using a unilevel compensation structure. A unilevel compensation structure places an affiliate at the top of the structure with every personally recruited affiliate placed directly under them (level 1).

If any of these level 1 affiliates recruit new affiliates of their own, they are placed on level 2, if any level 2 affiliates recruit new affiliates they are placed on level 3 and so on and so forth.
Using the above unilevel compensation structure, Rippln pay out a commission on the revenue generate by an affiliate's downline via use of the Rippln App, paid down a maximum of 10 levels:
recruit 2 Domestic or Global qualified or upgraded affiliates and have 10 free affiliates in your downline = 10% on the app revenue generated by 2 levels
recruit 4 Domestic or Global qualified or upgraded affiliates and have 50 free affiliates in your downline = 10% on the app revenue generated by 4 levels
recruit 6 Domestic or Global qualified or upgraded affiliates and have 150 free affiliates in your downline = 10% on the app revenue generated by 6 levels
recruit 10 Domestic or Global qualified or upgraded affiliates and have 1000 free affiliates in your downline = 10% on the app revenue generated by 8 levels
recruit 15 Domestic or Global qualified or upgraded affiliates and have 2500 free affiliates in your downline = 10% on the app revenue generated by 10 levels
All-Star Bonuses
In their compensation plan material Rippln mention "AllStar Bonuses" where affiliates can collect commissions generated by their downlines that they don't yet qualify for.
No qualification criteria for All-Star Bonuses are provided.
Joining Rippln
Affiliate membership to Rippln is free. Free affiliates must recruit 5 new free affiliates in order to qualify as a "Player Affiliate".
Player Affiliate's can then opt in to become either Domestic Affiliates (earn on downline who are in the same country as the Domestic Affiliate) or Global Affiliates (earn on a global downline).
Rippln do not currently provide information on what it costs or how affiliates qualify as either as Domestic or Global Affiliate.
Conclusion
I've seen Rippln being marketed as a mobile app social network, which I'm assuming is based on Rippln affiliates being able to communicate with eachother via the app.
Social networks and MLM are nothing new and as usual Rippln marketing material focuses heavily on Facebook, Twitter, Angry Birds and other succesful internet properties, asking the question "why aren't users paid to promote them?"
The key ingredient with each internet property mentioned however is the idea behind it. A key ingredient Rippln is missing.
Facebook, Twitter et al. were all heavily promoted and shared by users because of the idea and service they provided. Rippln ditch the ideas that made all of those companies succesful and simply seek to pay people to promote Rippln itself.
Let's face it, in the year 2013 a social app that displays advertising and affiliate deals is hardly something to write home about.
Without an idea or service however, all that's left is affiliates promoting the opportunity itself. And naturally, the Rippln compensation plan leads into that.
Recruit free affiliates and earn commissions and become a "Player". Then, somehow become either a Global or Domestic affiliate.
Recruit enough free affiliates who then also opt to upgrade or qualify as Global or Domestic affiliates and this "core strategy", Rippln tell you in their marketing videos, is all that's required to be a succesful with the company.
The key piece of information left out of the puzzle is exactly what it costs or what is required to become a Domestic or Global affiliate.
Looking at the $80 and $240 commissions paid out, along with matching bonuses I'm going to guess there's a monthly or one-time fee involved.
The fact that Rippln do not disclose this key information is a serious red flag that should not be ignored.
Most likely the reason this key information isn't disclosed is that Rippln are attempting to run a "stealth" viral campaign to attract as many people to the opportunity as possible. They've apparently even gone so far as to have everyone in the Rippln "inner-circle" sign an NDA.
At the time of publication of this review, Rippln has threatened to terminate any affiliate caught discussing or promoting Rippln using the information from their inner-circle (specifics about the compensation plan, including Domestic and Global affiliate qualification), until CEO Brian Underwood gives the go-ahead.
One can only assume given the lengths Rippln have gone to keep this information under wraps, that it isn't going to be all that attractive to the end-user.
Best case scenario I imagine that if affiliates have to buy Domestic or Global affiliate status you'd be looking at something just over $80 for Domestic and around $250 for Global (I can't see it being much higher than that).
If it's a qualification process then expect to have to recruit a boat load of Player affiliates (free affiliates who have recruited at least 5 new free affiliates).
That $240 and $80 Coaching Bonus has to come from somewhere and it's not via use of the Rippln app.
Naturally requiring affiliates to buy into the compensation plan would be a red flag as Rippln's app could simply be ignored, leaving affiliates generating commissions solely on the recruitment of new affiliates.
That said, even if they didn't have to pay a fee of some sort, with the app being given away for free and Rippln themselves seeming to offer nothing at a retail level (giving something away is not retail), there's still a question mark over the legitimacy of the program, at least from an MLM business opportunity standpoint.
CEO Brian Underwood's involvement in various MLM schemes of dubious reputation and legal status certainly don't inspire any confidence on the subject. Nor do Rippln themselves when they constantly refer to their MLM opportunity as a "game" which affiliates "play" in their official marketing material.
At the end of the day this isn't the first time we've seen a social concept paired with MLM and to date every single one of them has failed to gain any traction. The last social network MLM that went high-profile (and also pulled a silly viral pre-launch campaign) was Wazzub.
Last I heard Wazzub (who pre-launched in 2011), were still trying to convince people to invest in shares in the company so they can finally get the opportunity off the ground.
Make of that what you will.