Talk Fusion Review: $1499 video communication packages?

Talk Fusion launched in 2007 and operate in the digital communication MLM niche.
The company is based out of Florida and headed up by Founder and CEO, Bob Reina (right).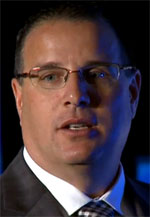 According to Reina's corporate bio, the idea behind Talk Fusion came from
a simple desire to put video in an email.

America Online said "that's impossible!" but Talk Fusion Founder & CEO Bob Reina didn't believe that for a second. Enlisting an expert IT mastermind, Bob set out to prove AOL wrong.

He did. Impossible achieved; video email sent! That was just the beginning of Talk Fusion's legendary story.
Prior to Talk Fusion Reina launched Travel Reaction (2001) and Cash Card Worldwide (~2005).
Travel Reaction are still in business and operate in the travel MLM niche. The company charges affiliates $249 to access third-party travel discounts, and pays out commissions when those who have purchased membership book travel.
Cash Card Worldwide was a similar venture, providing affiliates access to third-party travel discounts for $499.
Taken from a Cash Card International affiliate presentation:
You will receive up to a 50% commission split on every cruise, vacation package, hotel accommodation, car rental, airline ticket and travel insurance policy that you refer to us, and in which Cash Card Worldwide receives a commission.

You'll also receive commissions every time you refer a friend or business colleague that also enrolls in the program and purchases our independent travel agent program.
When exactly Cash Card International shutdown I'm not sure, but today the company is no longer in business.
On the legal front, Talk Fusion sued some iWowWe affiliates back in 2011. The complaint against J.J. Ulrich and Joe Read alleged that they had left Talk Fusion and were using trade secrets to encourage Talk Fusion affiliates to join iWowWe.
iWowWe also operate in the online communication MLM niche.
Talk Fusion won a requested injunction against Ulrich and Read, which prohibited them from raiding Talk Fusion's affiliate-base.
The company also went after popular Russian social network VKontakte in March of 2013.
Seeking $290,980 in damages, Talk Fusion claimed
that some posts on the VKontakte site are untrue and damaging to Talk Fusion's business reputation.

According to Talk Fusion, certain posts on the VKontakte site refer to it as a "covert financial pyramid" and say that any information promoting it on the social network will be blocked.
The case was dismissed in June of the same year after one of the defendants alleged his VKontakte account 'was hacked and damaging information was placed on it by unidentified individuals'.
As for VKontakte themselves,
a representative of VKontakte told the court in May that they did not publish any defamatory information regarding Talk Fusion, but only replied to users who asked why Talk Fusion ads were blocked.

During the June 4 hearing, a VKontakte representative said these technical letters pointed to "elements of a financial pyramid" in the operations of Talk Fusion, but did not describe it as a Ponzi scheme.
That was apparently enough to get Talk Fusion's complaint against them dismissed too.
Read on for a full review of the Talk Fusion MLM business opportunity.
The Talk Fusion Product Line
Talk Fusion's product lineup revolves around the insertion of videos into electronic communication platforms.
These include
web conferencing (Connect)
video email
mobile video messaging (Fusion On the Go)
video newsletters
lead capture pages
a "video-centric social networking site" (Fusion Wall)
Talk Fusion's video communication services are sold in bundles, starting at $125 upfront and $20 a month for video emails (Starter Package).
The other services are bundled together over three packages, ranging in price from $250 to $1499 (plus $35 a month).
These three packages offer access to all of Talk Fusion's video communication services, with the primary difference being usability (more viewers and customization options).
The Talk Fusion Compensation Plan
The Talk Fusion compensation plan makes no differentiation between affiliate package purchases and those made by retail customers. Commissions on both are paid out directly and residually via a binary compensation structure.
Various affiliate rank and performance-based bonuses are also available.
Commission Caps
All Talk Fusion affiliates are subject to a weekly commission earnings cap, determined by how much they paid when they joined the company:
Starter Package ($125) – $500 a week
Executive Package ($250) – $1000 a week
Elite ($750) – $25,000 a week
Pro Package ($1499) – $50,000 a week
Note that the binary matching bonus, Leadership Pool and Fast Start Bonus are exempt from this cap.
Talk Fusion Affiliate Membership Ranks
There are sixteen affiliate membership ranks within the Talk Fusion compensation plan.
Along with their respective qualification criteria, they are as follows:
Bronze – 1 binary cycle
Silver – 5 binary cycles
Gold – 10 binary cycles
1 Star – 20 binary cycles
2 Star – 30 binary cycles
3 Star – 50 binary cycles
Diamond – 100 binary cycles
Double Diamond – 150 binary cycles
Triple Diamond – 200 binary cycles
Diamond Elite – 250 binary cycles
Blue Diamond – 500 binary cycles
Grand Blue Diamond – 1000 binary cycles
Royal Blue Diamond – 1500 binary cycles
Presidential Blue Diamond – 2500 binary cycles
Ambassador Blue Diamond – 5000 binary cycles
Imperial Blue Diamond – 7500 binary cycles and must have at least 1 personally recruited Grand Blue Diamond ranked affiliate in both binary teams
Fast Start Bonus
Talk Fusion's Fast Start Bonus pays out on a product package purchase made by either an affiliate or retail customer.
The bonus is paid out on the initial fee paid for the package as follows:
Starter Package ($125) – $10
Executive Package ($250) – $20
Elite ($750) – $60
Pro Package ($1499) – $120
Recruitment Commissions
A Talk Fusion affiliate achieves "Bronze" rank status when they recruit their first two affiliates.
Once this has occurred, a "Bronze Maker Bonus" can be earned whenever a newly recruited affiliate recruits two new affiliates (achieves Bronze rank), within 30 days of joining the company.
The Bronze Maker Bonus pays out $20, and requires affiliates who are recruited to purchase or sell at least $100 worth of Talk Fusion products (packages).
Residual Commissions
Residual commissions in Talk Fusion are paid out using a binary compensation structure.
A binary compensation structure places an affiliate at the top of two binary teams, left and right: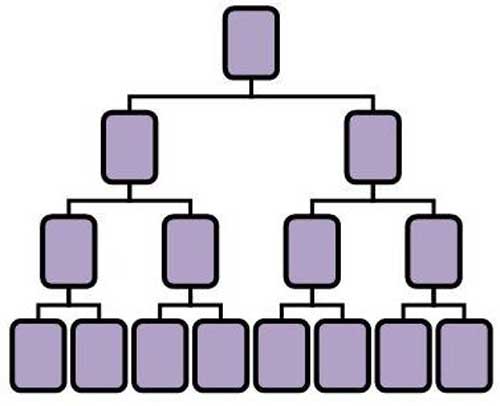 Positions in these two teams are filled via recruitment of affiliates (directly or indirectly).
Sales volume is tracked within these two teams (the sale of packages to recruited affiliates or retail customers), with 100 PV matched on both sides of the binary resulting in a $25 commission payout.
Each $25 payout is referred to as a binary "cycle".
PV generated on the sale of product packages is determined by how much an affiliate themselves spent on their product subscription:
Starter Package affiliates ($125) generate 50 PV on all product package sales.
Executive Package affiliates ($250) generate 50 PV on the sale of a Starter Package and 100 PV on any other product package sale.
Elite Package affiliates ($750) generate 50 PV on the sale of a Starter Package, 100 PV on the sale of an Executive Package and 300 PV on the sale of an Elite or Pro Package.
Pro Package affiliates ($1499) generate 50 PV on the sale of a Starter Package, 100 PV on the sale of an Executive Package, 300 PV on the sale of an Elite Package and 600 PV on the sale of a Pro Package.
Note that once sales volume has been matched, it is discarded.
Subscription fees paid on any of the product packages generate new volume that can be matched each month:
$20 monthly fee = (not specified in the Talk Fusion compensation plan)
$35 monthly fee = 20 PV
Note that the Talk Fusion compensation plan mentions monthly fees of up to $215, yet the products page only lists $20 for the Starter Package and $35 for the other three packages offered.
I'm not sure what the story is there (or why the $20 a month fee to PV conversion is absent in the compensation plan).
Finally, a 10% matching bonus on binary commissions earnt by personally recruited affiliates is also offered.
Additional Binary Positions
When a Talk Fusion affiliate qualifies as a Diamond for the first time, the company awards them two additional positions in their own binary (one on either team).
This effectively permits an affiliate to double-up on the residual commissions earnt off of their binary teams.
Rank Advancement Bonus
Talk Fusion reward their affiliates for qualifying at certain affiliate ranks and maintaining it for two weeks:
Double Diamond – $2000
Triple Diamond – a Dream Getaway ("luxury trip for two to the Grand Wailea Resort in Maui, Hawaii")
Diamond Elite – $5000
Leadership Pool
The Leadership Pool is available to Blue Diamond or higher ranked Talk Fusion affiliates. It is described as a "revenue-sharing bonus pool" that is  made up of 'a percentage of the total Sales Volume generated through Talk Fusion worldwide'.
Several individual pools come under the Leadership Pool bonus, with shares in each allocated equally to all affiliates who qualify at the required rank:
Blue Diamond pool – 1%
Grand Blue Diamond pool – 1.25%
Royal Blue Diamond pool – 1.5%
Presidential Blue Diamond pool – 1.75%
Ambassador Blue Diamond pool – 2%
Imperial Blue Diamond pool – 2.25%
Car Bonus
Talk Fusion affiliates who reach the 3 Star affiliate rank and maintain it for four consecutive weeks qualify for a $600 a month "Silver C Class or higher Mercedes" car bonus.
Should an affiliate not wish to purchase or lease a car, they can opt for a $300 a month cash bonus.
Joining Talk Fusion
Basic affiliate membership to Talk Fusion is $30. This however does not permit an affiliate to participate in the MLM component of the company's compensation plan.
Given that residual commissions in the company are tied to the purchase of a package however (binary PV is tied to an affiliate product purchase), it is reasonable to suggest that a package purchase will be mandatory for anyone joining the Talk Fusion MLM opportunity as an affiliate.
As such, defacto Talk Fusion affiliate membership costs are as follows:
Starter affiliate – $155 + $20 a month
Executive Package – $280 + $35 a month
Elite – $780 + $35 a month
Pro Package –  $1529 + $35 a month
Conclusion
Back in 2007, when Bob Reina launched Talk Fusion, YouTube was making a name for itself, having only just recently been bought out by Google in 2006.
Today YouTube is a household name and the third-most visited website on the internet.
Before we go any further, I'm just going to go ahead and say it: paid video communication services today are entirely redundant.
I mean really, $125 plus $20 a month ($365 annually) for video email? Is this some kind of joke?
How hard is it to copy and paste a YouTube embed code into an email, or just link to it directly (which Gmail will then automatically embed at the bottom of the message anyway)? Not to mention the plethora of other applications hosting a video on YouTube enables.
For free…
Talk Fusions' promotional videos on their own website are powered by "Projekktor": 'an open source, self-hosted media player for the Web, absolutely free for everyone to use'.
Looking at Talk Fusion's product lineup, the only thing you can't use YouTube for would be their auto-responder.
To put that into perspective though, the top-tier Talk Fusion product package will set you back $1919 annually. This Pro Package is what Talk Fusion refer to as being the "best value" on their website.
Seriously?
The package they claim is the "most popular", the Elite, will set you back $1170.
Quite obviously, nobody is paying Talk Fusion thousands of dollars for video communication services. Considering what's available today for free in this niche, not even by a long shot.
So what's going on here?
A quick check over at Alexa reveals that an estimated 67% of website traffic to Talk Fusion's website originates from China (21.1%), Germany (20.8%), Japan (13.9%) and Russia (10.4%).
The United States comes in at fourth and makes up 11.6%.
In any event, why on Earth would people in China be paying thousands of dollars for video communication services? Sure they don't have YouTube, but there's an abundance of local clones filling the void.
Youku for example is ranked 141st in the world for website traffic… and is free.
Furthermore, according to the Economist,
China's online-video market is the largest and most innovative in the world. It is also the most competitive.

Around the world online video is becoming a bigger and more sophisticated business, but nowhere is that truer than in China. The country has the largest number of online-video viewers: around 450m, or nearly 80% of the internet-connected population.
Yet we're expected to believe people in China are shelling out thousands of dollars for Talk Fusion's video communication services?
Ditto Germany, Russia and Japan – where YouTube is not banned.
Something's not adding up here, and that brings us to Talk Fusion's compensation plan.
In a wonderful example of pseudo-compliance, Talk Fusion declare in their compensation plan that
A Product purchase is not necessary to become an Independent Associate and participate in the Compensation Plan.
Yet binary sales volume is directly tied into an affiliate purchasing a product pack.
Just how relevant is this? Talk Fusion state that their binary commissions are an 'important aspect of the Talk Fusion Compensation Plan', and that affiliates 'can maximize the Compensation Plan by being a Pro Associate' ($1499).
Yeah, so every affiliate is going to be purchasing a product pack. Especially when as per the lack of PV cited for affiliates who don't purchase a pack indicates that without the purchase of a pack no PV is generated in the binary (leaving only non-MLM commissions available).
Claiming an affiliate doesn't have to purchase a product to participate, but then castrating the comp plan without a product purchase is pseudo-compliance at it's finest.
Oh and did I mention affiliates are also weekly capped in earnings directly based on which pack they purchase?
When one considers that a commission is also paid out on the purchase of said product pack, we start to enter murky pyramid scheme territory.
Talk Fusion affiliates buy in for $30 and then decide what percentage of commissions they wish to earn, as determined by how much they want to spend on a package.
They pay their monthly fee and generate volume for their upline, and in turn set about recruiting affiliates under them who do the same. Said affiliates are also paid directly if they encourage their new recruits to recruit two more affiliates within 30 days.
Retail can be safely ignored (does anybody really think people in China, or anywhere really, are paying over a thousand annually for video communication?), meaning Talk Fusion is likely an affiliate-heavy opportunity.
Not surprisingly, residual commissions are tied into binary cycles, which are in turn generated primarily via monthly affiliate (package) fees and the signing up of new affiliates. The more they spend, the more volume and cycles are generated in everybody's binary.
Retail? What retail?
How the hell do you market a $1499 video communication suite in 2014 with a straight face?
Quite clearly, over the last seven years Talk Fusion should have by rights seen a massive drop in demand for their product. That the company is still in business might indicate otherwise, save for the compensation plan – which is really what is being marketed here.
Join, pay your product fee (pay more = earn more (pay to play)), and recruit others who do the same.
The more affiliates recruited, who also buy in, the more you earn.
This can be combined with anything, toenail clippings, used toilet-paper, punctured condoms… but the fact that Talk Fusion's compensation plan is combined with video communications makes it all the more laughable.
The average monthly wage in China for 2012 was 3897 yuan ($630 USD).
That very same year, Talk Fusion launched an official Traditional Chinese language business presentation, citing "exploding demand":
Congratulations to all of our Associates who have been growing their teams and creating Massive Momentum in China!

Due to their growing success, we have now translated our one-of-a-kind Talk Fusion Business Opportunity Presentation slides into Traditional Chinese!
Even if you doubled China's average monthly wage, it'd still fall short of Talk Fusion's $1499 product package. Oh and it seems nobody over at corporate did their homework either – China uses simplified Chinese, not traditional.
But really, does anybody truly think people in China are shelling out thousands for video communication? If I had to guess, I'd peg retail revenue there at less than 1%.
And that's being generous.
As for the other countries Talk Fusion are active in – YouTube destroys any viability video communication as a retail product offering might have once had. Hands down.
What you can do with free video services these days has put anyone invested in paid video communication services out of business, or forced them to come up with alternative product and service offerings.
Prospective Talk Fusion affiliates are wholly encouraged to check with their potential upline as to how many retail customers they have paying monthly fees versus recruited affiliates.
The results really shouldn't surprise you but if you're still not convinced, ask if there's anything you can do with Talk Fusion that you can't with YouTube or a similar video hosting platform?
Then ask yourself whether or not you'd pay thousands of dollars for it, without said purchase also qualifying you to earn commissions on others who purchase the same…