Internet Lifestyle Network Review: GRN feeder

The Internet Lifestyle Network appears to have launched around mid 2013. The company's website domain ("internetlifestylenetwork.com") is registered to Vincent Ortega Jr. (one of the Internet Lifestyle Networks' co-founders). A corporate address for "Vincent Ortega Jr LLC" in the US state of Missouri is also provided.
Despite being named a co-founder of the company, Ortega's Internet Lifestyle Network blog bio paints the picture he stumbled across an opportunity that simply "came along".
I was living in my parent's home, working on the top of a plastic garage sale table…and the money just kept going down and down every month.

…and then Mark Hoverson

…and the Internet Lifestyle Network came along…

My business went from failing around 2k/month, to Booming… making upwards of 50,000/month!
Mark Hoverson is another Internet Lifestyle Network co-founder, and appears to have been Ortega's direct upline in several MLM opportunities over the years.
I started my online journey about 3 years ago from when I am typing this blog post. I was a college baseball pitcher for many years and was supposed to get drafted.

The problem was… I honestly didn't care.

I didn't care that I was blessed with all that talent and I jacked around as I was going through college. I partied to much,
I drank to much…

I basically threw away any chance I ever had at becoming a professional athlete because I simply didn't have enough passion for the game.

You could say… I was an idiot.

The first job I got making decent money was DJing. I made about $250 a night and that got me some funds to get going a bit. I mostly jacked around with that money and spent it on stupid things at first… But then I quickly realized that I was 24 years old living in my parents house still with no life.

So where did I turn you ask?

I turned to the internet thank God!

I saw Jonathan Budd and Mark Hoverson popping up all over the place. I saw how they were "making a killing" online and they were the first people that I actually trusted.
Ortega met Hoverson through Jonathan Budd. Specifically, through one of Budd's internet marketing launches, "Futuristic Marketing". Futurstic Marketing appears to be some sort of internet marketing training, with an attached single-level affiliate plan.
The business appears to have focused around signing people up for the company's launch, after which the opportunity went into decline.
According to Ortega, that's when Hoverson recruited him into Global Resorts Network:
Mark Goes… "Hey Vince… why don't you just roll your earnings into my GRN product and turn around
and make more money?"

I WAS LIKE… UH… UH….

So internally I said no…

But externally I almost had to say yes because he was just showing me the way I needed to go. So I rolled all of that commission into Global Resorts Network and got the platinum package.
More recently, and through Internet Lifestyle Network (which appears to have origins as a feeder for MLM opportunities Ortega has been involved in, with Hoverson getting on board mid 2013), Ortega was pushing Rippln.
Below is a Rippln marketing video of Ortega's featuring Mark Hoverson and Jonathan Budd: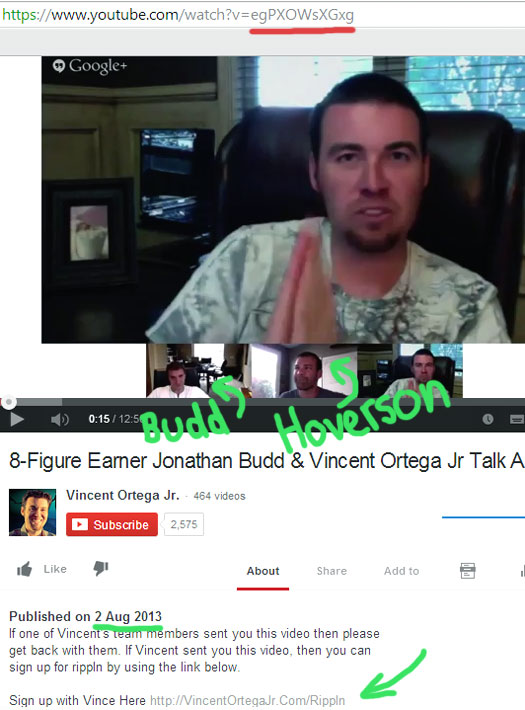 Rippln was initially going to launch as a pyramid scheme (Ortega talks about having 20,000 affiliates under him in the video above), but after scrapping the plan, then never really went anywhere.
By January 2014 Rippln was officially "dead in the water", and that seems to be about the time the Internet LifeStyle Network rebranded itself as a stand-alone business opportunity.
Clifton & Ashley Hatfield together are named as the third co-founders on the Internet Lifestyle Network website. They appear to have originated from Hoverson's Global Resorts Network opportunity, and have presumably been in his downline over various other opportunities since.
Global Resorts Network itself appears to still be around, but is little more than a shadow of the thriving recruitment-driven travel club it once was.
Read on for a full review of the Ineternet Lifestyle Network MLM busines opportunity.
The Internet Lifestyle Network Product Line
Aside from affiliate membership, which costs either $37 or $95 a month, the Internet Lifestyle Network markets two "high-ticket" training courses:
Solomon CEO – $1000
Solomon Ten Million Plus – $5000
There is no mention of either of these products on the Internet Lifestyle Network website. Also note that neither of these products appear to be available at a retail level, meaning Internet Lifestyle Network appears to have no retail offering.
Mark Hoverson's Global Resorts Network (GRN) appears to have also been bundled with Internet Lifestyle Network, having been re-branded as a "Private Vacation Club".
I couldn't find any specific details on the Private Vacation Club (again, none are provided on the Internet Lifestyle Network website), other than affiliates are able to buy membership "packages" (similar to GRN, costing $4000, $8000 and $12,000), which are commissionable.
The Internet Lifestyle Network Product Line
The Internet Lifestyle Network compensation plan revolves around the recruitment of Apprenticeship ($37 a month) and Inner-Circle ($95 a month) affiliates, and getting them to spend money within the opportunity.
Recruitment Commissions
Internet Lifestyle Network affiliates receive $20 per Apprenticeship affiliate and $47.50 per Inner-Circle affiliate they recruit into the business.
Referral commissions are only available to Inner-Circle affiliates, paying out 10% on recruited affiliate membership fees down an additional three levels of recruitment.
Solomon Product Commissions
Both the Solomon training products are commissionable within the Internet Lifestyle Network.
If an affiliate has spent either $1000 or $5000 on Solomon CEO and the Ten Million Plus course respectively, they qualify for a 50% commission on the sale of either product.
If an affiliate has not purchased the product, they qualify for only 10%.
A 10% referral commission is available, following the same format as the affiliate recruitment commissions (only available to Inner-Circle affiliates, and paying out 10% down an additional three levels of recruitment).
Private Vacation Club Commissions
If an Internet Lifestyle Network affiliate buys a Personal Vacation Club Package, the same commission structure for Solomon Products and affiliate recruitment is used.
If an affiliate has paid for the package, they earn 50%, if not a 10% commission is paid.
If an affiliate is paying $95 a month for Inner-Circle affiliate membership, they earn an additional 10% paid down three levels of recruitment.
From what I've been able to work out, there are three packages under the Private Vacation Club, costing $4000, $8000 and $12,000. This equates to commissions of $2000, $4000 and $6000 at the 50% rate, and $400, $800 and $1200 at the 10% rate.
Joining Internet Lifestyle Network
Affiliate membership to Internet Lifestyle network is available at two levels:
Apprenticeship – $37 a month
Inner-Circle – $95 a month
The primary difference between the two levels is commission eligibility. Inner-Circle affiliates are paid out down four levels of recruitment, versus the single-level available to Apprenticeship affiliates.
Conclusion
The first thing I noticed about the Internet Lifestyle Network is the abysmal lack of information provided on their company website.
There's no details about affiliate membership costs, the Solomon training products or anything specific on the Private Vacation Club. Even the most basic of required information, such as that of the compensation plan, is missing in action.
That alone should probably set off alarm bells in most prospective affiliate's minds, as the impression left strongly evokes the "but what is it you actually do?" shortfalls of secretive MLM marketing campaigns.
On the retail front, as far as I can see there isn't any. Before anyone can do anything in Internet Lifestyle Network they appear to have to pay either $37 or $95 a month – which is a an affiliate fee.
When one considers that these fees are directly tied into income potential, a "pay to play" element is also introduced. This only gets worse when one considers the differing commission payout 50% versus 10% if an affiliate hasn't paid for a particular commission tier.
All in all, the Internet Lifestyle Network can be boiled down into the following:
Pay your participation fee
Pay your fee at all of the Solomon and Private Vacation Club levels, which qualifies you to collect a 50% commission at each tier
One is able to make 10% without buying in, but that introduces the sticky question of "why do you want me to pay for this if you yourself haven't" – which is likely to hamper an Internet Lifestyle Network affiliate's marketing efforts.
No doubt one argument that will be raised against the obvious reliance of constant recruitment at the bottom of the business in order to pay out commissions elsewhere, is the inclusion of a "blogging platform" with affiliate fees.
A quick check of the source-code on Internet Lifestyle Network blogs reveals the "blogging platform" to be a simple multi-user install of WordPress on the Internet Lifestyle Network domain. Egregiously, Internet Lifestyle Network refer to WordPress as as "Internet Lifestyle Network's Blogging Platform" on their website.
WordPress is free, open-source and more importantly is  owned by the WordPress Foundation. Any claims that Internet Lifestyle Network "sell" the platform are false, as they do not own WordPress, nor do they license it for resale. In anycase, claiming to resell something that's given away for free is a silly argument to make.
Final red flags I observed was the claim of "guaranteed income" on the Internet Lifestyle Network website: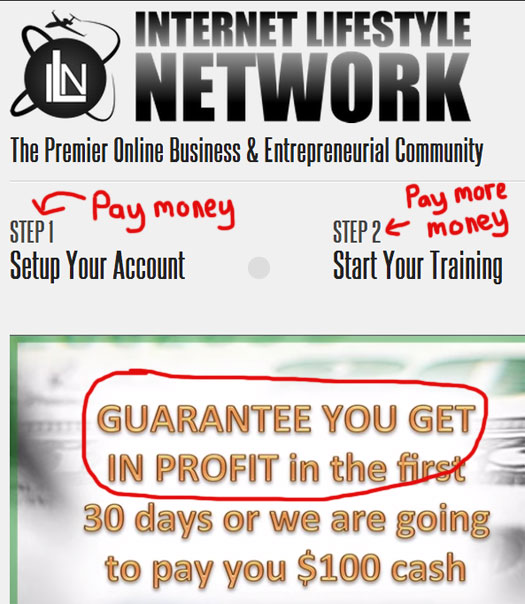 And claims of "autopilot income" on co-founder Vincent Ortega Jr.'s Internet Lifestyle Network blog site:

…go over to the right of this blog post and optin to learn more… to get deeper…to see what I sell… for example ILN… that makes you and I money on auto-pilot.

Yes… autopilot.
In conclusion, Internet Lifestyle Network serves as little more than a feeder program to ultimately get people to hand over up to $12,000 for Global Resorts Network packages.
Clifton & Ashley Hatfield are credited with doing some initial design work for GRN, and presumably are behind the tech side of Internet Lifestyle Network. Mark Hoverson is a co-owner of GRN, and brings the packages to the table. Vincent Ortega is a long-standing member of his downline, and so he's come along for the ride (training and marketing support).
These guys should know better than to launch an MLM company with no retail offering… but here we are.