Easy 1up Review: Five-tier pass-up cash gifting

There is no information on the Easy 1up website indicating who owns or runs the business.
The Easy 1up website domain ("easy1up.com") was first registered on the 8th of June 2007.
The domain registration was recently updated on June 9th, 2016. The current registration details are set to private.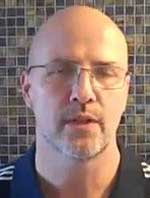 Further research reveals affiliate naming Peter Wolfing (right) as the owner of Easy 1up. This can be confirmed by way of the Easy 1up website being hosted on the same private server as Ultimate Cycler.
Ultimate Cycler is a matrix cycler Ponzi launched by Wolfing back in 2014.
Other MLM underbelly schemes launched by Wolfing over the years include Turbo Cycler (cash gifting), Business Toolbox (chain-recruitment), Infinity 100 (cash gifting), National Wealth Center (cash gifting) and Pay Me Forward (cash gifting).
Read on for a full review of the Easy 1up MLM opportunity.
The Easy 1up Product Line
Easy 1up has no retailable products or services, with affiliates only able to market Easy 1up affiliate membership itself.
Once signed up, Easy 1up affiliates gift between $25 to $500 to the affiliate who recruited them. Bundled with each gifting payment is the following:
$25 payment – Network Marketing Basics course and Affiliate KickStarter video series
$100 payment – Free Marketing and Cash Generation video series
$250 payment – Advanced Digital Business video series
$500 payment – Money Counts Live Business Building course
The Easy 1up Compensation Plan
The Easy 1up compensation plan sees affiliates gift $25 to $500 to the affiliate who recruited them.
This payment then qualifies them to receive the same amounts from subsequently recruited affiliates.
Payments in Easy 1up are tracked via a 1-up model through a unilevel compensation structure.
A unilevel compensation structure places an affiliate at the top of a unilevel team, with every personally recruited affiliate placed directly under them (level 1):

If any level 1 affiliates recruit new affiliates, they are placed on level 2 of the original affiliate's unilevel team.
If any level 2 affiliates recruit new affiliates, they are placed on level 3 and so on and so forth down a theoretical infinite number of levels.
The 1up model sees each Easy 1up affiliate pass up their second gifting payment to the affiliate who recruited them.
In turn, every affiliate they recruit must all pass up their second gifting payments too.
Gifting payments are made across each of Easy 1up's four tiers, with higher levels automatically qualifying an affiliate to receive payments across the lower levels.
A gifting payment of $500 qualifies an Easy 1up affiliate to earn commissions across all four tiers.
Note that entering at the $500 level also waives the pass-up component of the compensation plan.
Joining Easy 1up
Affiliate membership with Easy 1up is tied to payment of a $25 to $500 gifting fee plus 10% admin fee.
The larger an affiliate's gifting payment the higher their income potential through the Easy 1up compensation plan.
Conclusion
Easy 1up is yet another cash gifting scheme from serial gifting admin Peter Wolfing.
The attached products are neither here nor there, with the gifting income opportunity what is truly marketed by Easy 1up affiliates.
Don't believe me? Good luck finding an Easy 1up affiliate marketing the bundled products and not the income opportunity.
Leave alone the fact that with affiliates paying eachother directly, these can hardly be called product sales. If anything the actual value (if any) attached to the products is reflected in the admin payments, representing a whopping 90% markup just to fund the compensation plan.
As with all gifting schemes, once affiliate recruitment dies off so too will will gifting payments within Easy 1up.
No gifting payments means nobody is getting paid and the scheme collapses.
At that point anyone who hasn't recruited at least one affiliate at the same level they bought in at loses out.
Being a pass-up scheme, Wolfing will have inserted himself at the top of the company-wide unilevel. This ensures that he receives the majority of funds passed up within the scheme, on top of admin fees each Easy 1up affiliate pays.