MoneyBee 1up Review: $15 a month memberships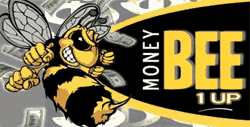 There is no information on the MoneyBee 1up website indicating who owns or runs the company.
The company domain ('moneybee1up.com') however was registered on the 12th September 2012 and names a "Brittany Johnson" (photo bottom right) from "That Cash Train" as the owner. Johnson appears to be operating out of the US state of Tennessee.

That Cash Train is an MLM income opportunity launched around June 2012 and appears to be recruitment based. Here's how That Cash Train describes itself:
You will be generating an income using our system through our referral based program, bringing in others to complete the exact same training you are doing.
Just a few short months later after the launch of That Cash Train, for reasons not disclosed (although most likely recruitment dried up), Johnson has launched MoneyBee 1up.
Read on for a full review of the MoneyBee 1up MLM business opportunity.
The MoneyBee 1up Product Line
MoneyBee 1up has no retailable products or services. Instead MoneyBee 1up members are only able to market membership to the company itself.
The MoneyBee 1up Compensation Plan
MoneyBee 1up, as the name suggests, use a MLM 1up compensation plan. In a nutshell, MoneyBee 1up members market membership to the company and pass up their first membership sale to their upline.
In turn any members they recruit also pass up their first sale to the upline as well.
An affiliate makes their money starting from membership sales from their second sale, and from the first membership sold by passed up sales from members recruited from their second and onwards membership sales.
Each MoneyBee 1up membership sale generates a $12 commission.
Joining MoneyBee 1up
Membership to MoneyBee 1up is $15 a month.
Conclusion
Taken straight from the MoneyBee 1up website, members
earn a huge monthly income from referring a few people to MoneyBee 1 Up.
100% of the commissions paid out to MoneyBee 1up are derived from membership fees with members directly compensated upon the recruitment of new members and payment of monthly membership fees.
Coupled with the fact that no product or service is available at a retail level within the company, and you've got yourself a stock standard $15 a month pyramid scheme.
Oh and upon joining MoneyBee 1up you'll also have to consent to receiving a daily dose of spam too:
By joining MoneyBee 1 Up YOU AGREE TO RECEIVE EMAILS UP TO EVERY 24HRS FROM admin@moneybee1up.com.
That Cash Train was recruitment based and appears to have crashed just a few months after launch, prompting Johnson to launch Moneybee 1up. Also being recruitment based it's not hard to see how the same will most likely happen to MoneyBee 1up.