Centurion Network Review: Centurion Coin Ponzi points

There is no information on the Centurion Network website indicating who owns or runs the business. The website currently displays a timer, presumably counting down to the Centurion Network launch.
The Centurion Network website domain ("centurionlab.org") was privately registered on November 16th, 2016.
Further research reveals an associated Centurion Network charity named Centurion Foundation.
The "staff" page of the website appears to list people involved in Centurion Network, some of which have ties to the MLM underbelly.
The first person listed is "Gustavo Artusio".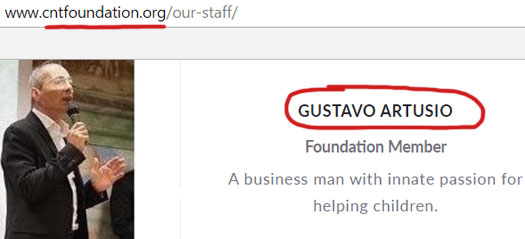 This is a screenshot of Claudio Gustavo Artusio speaking at a My Advertising Pays event. The image is part of a profile image for a YouTube account bearing the name "Claudio e Claudia Artusio":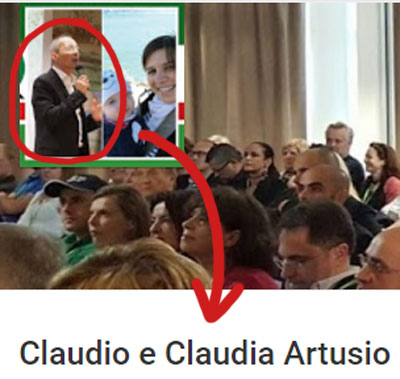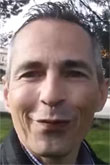 Claudio Artusio (right) is from Italy and was an affiliate in the My Advertising Pays Ponzi scheme. My Advertising Pays collapsed late last year and has since been rebooted as The Advertising Platform.
Other individuals listed on the Centurion Foundation have a history in network marketing:
Sunitkumar Patel (FGXpress)
Pascal Federle (Sisel)
Vincent Piscitello (Organo Gold)
Gianvito Ricciardone (Sisel)
Benedetto Cancemi (no specific company but lots of marketing coaching on his Facebook page)
Fabrizio Di Silvio (Sisel)
Nicole Ganier (Sisel, FGXpress)
The exact nature of professional relationship between those listed on the Centurion Foundation website with Centurion Network is unclear.
As always, if an MLM company is not openly upfront about who is running or owns it, think long and hard about joining and/or handing over any money.
The Centurion Network Product Line

Centurion Network has no retailable products or services, with affiliates only able to market Centurion Network affiliate membership itself.
Centurion Network affiliates invest in Centurion Coin, a cryptocurrency owned by the anonymous admins behind Centurion Network.
At the time of publication Centurion Coin does not appear on any public cryptocurrency exchanges. Centurion Network have however set up Centurion Network blockchain and mining pool websites.
The only transaction recorded thus far is a single transfer of 50,000,000 CNT last December. This is presumably the Centurion Network admin(s) reserving a sizable amount of Centurion Coin for themselves.
The Centurion Network Compensation Plan
The Centurion Network compensation plan sees affiliates invest in the Centurion cryptocurrency. The hope is the value of Centurion will rise and the affiliate will be able to earn a ROI.
Centurion Network affiliates are also paid to recruit new affiliates via
direct recruitment commissions
residual recruitment commissions paid out via a binary compensation structure and
a unilevel matching bonus
Bonus Pools and a Car Bonus are also available.
At the time of publication the specific details of Centurion Network's compensation were not publicly available.
Joining Centurion Network
Centurion Network affiliate membership is tied to investment in one of the following packages:
Free – €30 EUR (yes you're not reading that wrong, the "free" option actually costs money)
Basic – €200 EUR
Advanced – €500 EUR
Professional – 1000 EUR
Secret €1500 EUR "Master Centurion" and €5000 EUR "Primus Centurion" affiliate packages are also available.
Note that Centurion Network only accept investment via bitcoin.
Conclusion
Centurion Network presents itself as yet another entry into the MLM pump and dump altcoin cryptocurrency niche.
Centurion as it stands is currently not publicly tradeable, meaning it is under the control of the anonymous owner(s) of Centurion Network.
They can thus manipulate the price, relegating Centurion Coin to nothing more than Ponzi points.
The value of Centurion Coin determined how much of a ROI a Centurion Network can realize, by selling the coin on an exchange.
With Centurion Coin not publicly tradeable, Centurion Coin will only be exchangeable via a platform under the control of Centurion Network.
This flow of money between affiliates constitutes Ponzi fraud, paying out a ROI set by Centurion Network.
The MLM side of the business is pyramid fraud, with Centurion Network affiliates paid to recruit new affiliates.
Although we don't know the percentages of specific payouts, the binary/unilevel combination is the most common seen in MLM altcoin pump and dump scams.
Of particular note is Centurion Network only accepting bitcoin for investment. This leaves no paper trail for affiliates to follow in the event of a collapse.
It also means the anonymous owners behind Centurion Network can squirrel away what they steal with relative ease. It appears some of the funds invested into Centurion Network will be laundered through an inhouse charity (yes, straight out of the OneCoin playbook).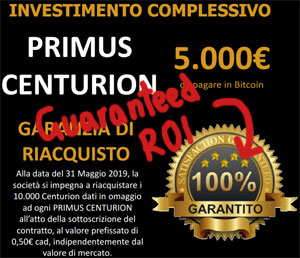 In addition to the ROI Ponzi offering, Centurion Network are also engaged in securities fraud. The company currently offers a "100% guarantee" on Primus Centurion investment.
This guarantee sees Centurion Network offer to buy back Centurion Coins for €0.5 EUR each in 2019, irrespective of the current price of the coin.
There is no indication Centurion Coin have registered their securities offering with a regulator in any jurisdiction.
As with all Ponzi/pyramid schemes, once affiliate recruitment dies down Centurion Network will collapse.
Affiliates in MLM pump and dump altcoin scams lose their money and are left with altcoins they can't do anything with.
Centurion Coin is no different, with it having no practical use outside of the Centurion Network income opportunity. Once Centurion Network collapses, the value of Centurion Coin will also collapse.