Sisel Compensation Plan v2.0 Review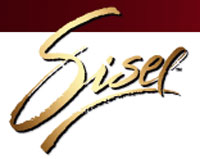 I first reviewed Sisel back in April 2012 and hit the company hard over its ridiculous compensation plan material:
Nothing prepared me for the absurd complexity and unnecessary headache that is the Sisel compensation plan.

After four or five days of trying to get my head around it I finally think I managed to present in a way that's understandable. But even I'm painfully aware that my break down still reads like something that was designed for math nerds.

Forget the company history and forget the product line, as far as success with Sisel goes you're going to have to spend countless hours studying their compensation plan if you want a hope in hell of explaining to new members how they're going to get paid.
As someone who's reviewed hundreds of MLM company compensation plans, if it takes me four or five days just to get my head around it god help Joe Average when he's trying to do his due diligence.
This I felt was inexcusable and despite Sisel's compensation plan being orientated towards preferred customers and autoship (still retail), I couldn't let the absurd complexity of their compensation go.
Earlier this year Sisel updated their compensation plan, presumably in the hopes that it wouldn't be as confusing as the last one. Did they succeed?
Let's find out.
I don't know who writes Sisel's compensation plans but it's clear they're a numbers guy (or girl). I suggested back in April 2012 that the Sisel compensation plan was written for "math nerds", and this new revision appears to be more of the same: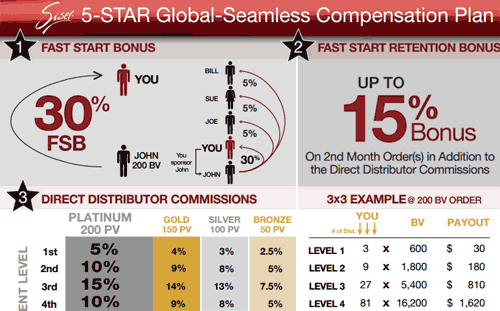 It's just a bunch of numbers with no explanations whatsoever. Tiny asterisked notes accompany the plan but cmon… really?
It does look clearer (and it's certainly shorter) than the original compensation plan, but if I could make a quick suggestion? Sisel, fire whoever is writing your compensation plans and for the love of god hire somebody who doesn't have such a hard-on for numbers (or at least get someone else other than your comp plan designer to write the explanation for it).
With that out of the way here's my best attempt to break down Sisel's new compensation plan.
Fast Start Bonus
Sisel's Fast Start Bonus has been condensed down to four levels from the initial seven. And rather than three tiers of percentage commissions, it's been reduced to just two:
Level 1 (personal recruits) – 30%
Levels 2 to 4 – 5%
Note that this bonus also includes orders made by personally enrolled preferred customers (retail customers on monthly autoship).
Fast Start Retention Bonus
The confusing as hell Fast Start Bonus pool is gone, being replaced with a "retention bonus" that pays 15% on a newly recruited affiliate's second month order (including personally recruited preferred customers).
Direct Distributor Commissions
This is the residual income component of the new compensation plan, paying out on what appears to be a unilevel structure 7 levels deep.
A unilevel compensation structure places an affiliate at the top of the structure with every personally recruited affiliate places directly under them (level 1).

In turn, if any recruited level 1 affiliates recruit new affiliates of their own they are placed on level 2 of the original affiliates structure and so on and so forth.
Using this unilevel compensation structure, Sisel pay out a percentage commission on the sales volume (PV) generated by affiliates in a downline, paid out on seven levels of recruitment:
Bronze (50 PV) – 2.5% on level 1, 5% on level 2, 7.5% on level 3, 5% on level 4 and 2.5% on levels 5 and 6
Silver (100 PV) – 3% on level 1, 8% on level 2, 13% on level 3, 8% on level 4 and 3% on levels 5 and 6
Gold (150 PV) – 4% on level 1, 9% on level 2, 14% on level 3, 9% on level 4 and 4% on levels 5 and 6
Platinum (200 PV) – 5% on level 1, 10% on level 2, 15% on level 3, 10% on level 4, 5% on levels 5 and 6 and 2% on level 7
Note that the 7th level commission for Platinum ranked affiliates is only for "qualified 5-Star members" (250,000 monthly "downline volume").
Master Check Match
The Master Check Match is paid out on the Direct Distributor Commissions earnt by recruited affiliates, paid out down 4 levels of recruitment.
Note that it appears an affiliate can only qualify for the Master Check Match if they qualify as a Master Affiliate first.
Qualifying as a Master Affiliate requires the generation of 1000 PV in an affiliates first four weeks or 1000 monthly downline volume (DV) and 5000 cumulative DV.
200 PV a month thereafter is required to maintain Master Affiliate status and qualify for the Master Check Match.
After initial qualification is achieved, the Master Check Match pays out monthly as follows (all DV qualification figures are monthly requirements):
1 Star (7500 DV) – 10% on the first generation
2 Star (20,000 DV) – 10% on the first generation and 5% on the second
3 Star (50,000 DV) – 10% on the first generation, 5% on the second and 3% on the third
4 Star (100,000 DV) – 10% on the first generation and 5% on the second and third
5 Star (250,000 DV) – 10% on the first generation and 5% on the second, third and fourth
Luxury Auto Bonus
Sisel's new compensation plan material mentions an "up to $750" Luxury Auto Bonus, paid monthly.
The Luxury Auto Bonus follows the "star qualification ranks" above, as well as requiring an additional minimum monthly commission of  $2000 received by the qualifying affiliate.
If the above qualification criteria is met, Sisel pay out the Luxury Auto Bonus as follows:
2 Star – $300
3 Star – $500
4 Star – $600
5 Star –  $750
Conclusion
Despite lacking a text component (a bunch of confusing asterisked explanations at the bottom of the plan doesn't count), the new Sisel compensation is a marked improvement over the old spaghetti-jumble mess.
That said the company would do well to include detailed explanations of each income component, aimed at affiliates who might not be familiar with the typical mechanics of an MLM compensation plan.
As for the plan itself it seems to be more heavily geared to the recruitment of new affiliates and placing them on autoship than the last one.
Preferred customers were at least mentioned in the previous plan however here they are just an asterisked side note. Once again, retail sales are not mentioned anywhere in the compensation plan material.
A greater focus on this would serve the company well. As it stands now, the Sisel compensation plan very much reads as if the business model leans heavily towards recruiting new distributors (Fast Start Bonuses), and then placing them on monthly autoship (Direct Distributor Commissions and Master Check Match).
A few more retail orientated components wouldn't go astray either. One possible solution would be to include recruited affiliates purchase volume at half points or not count it altogether.
This would require Sisel affiliates to focus on retail sales to meet qualification criteria, as opposed to being able to just focus on building a downline and encouraging those recruited to do the same.