Ducatus Network Ponzi reboots as Centurion Global

You won't find anything about Centurion Global's history on its website.
All Centurion Global provides is a vague generic marketing pitch;
Each day, in some part of the world, a big idea is being born. It may be an innovation that could revolutionise everyday living, a technology that could improve the lives of many, or a product that could help create generational wealth.

At Centurion, we have made it our mission to find these big ideas and bring them to life, and to you.
Oh and apparently the company runs out of a PO Box in the scam-friendly Cayman Islands.
There are a few chinks in Centurion Global's armor. The first of which are website links leading back to Ducatus Network.

Centurion Global's Terms and Conditions also state:
THE INFORMATION PROVIDED ON THIS SITE IS NOT FOR CIRCULATION, DISPLAY, RECEPTION OR DISTRIBUTION IN SINGAPORE (INCLUDING TO THE PUBLIC OR ANY SECTION OF THE PUBLIC IN SINGAPORE) OR ANY OTHER JURISDICTION WHERE THE PRODUCTS OR SERVICES OF CENTURION GLOBAL OR ITS AFFILIATES WOULD BE PROHIBITED WITHOUT A REQUISITE LICENSE OR EXEMPTION.

NEITHER CENTURION GLOBAL NOR ANY OF ITS AFFILIATES HEREBY OFFER ANY SERVICE THAT WOULD CONSTITUTE A PAYMENT SERVICE FOR PURPOSES OF THE SINGAPORE PAYMENT SERVICES ACT 2019, OR ANY OTHER ACTIVITY SUBJECT TO REGULATION BY THE MONETARY AUTHORITY OF SINGAPORE, IN SINGAPORE OR TO ANY PERSON IN SINGAPORE.

NEITHER THE DUCATUS COIN NOR DUCATUSX IS AVAILABLE FOR SALE BY CENTURION GLOBAL IN SINGAPORE.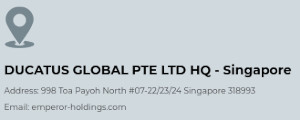 Securities fraud is of course illegal all around the world. The reason Centurion Global singles out Singapore however, is because Ducatus Network represents it is headquartered there.
Perhaps India would have been a better fit for meaningless pseudo-compliance, seeing as Alexa attributes the country with 100% of Ducatus Network's website traffic.
Centurion Global's website isn't busy enough for country demographics, but what little traffic it receives is also likely to be from India.
Anyway let's backtrack and revisit what Ducatus Network is and why it rebooting as Centurion Global matters.
In 2017 Swiss Mine emerged as a clone of the then popular OneCoin Ponzi scheme.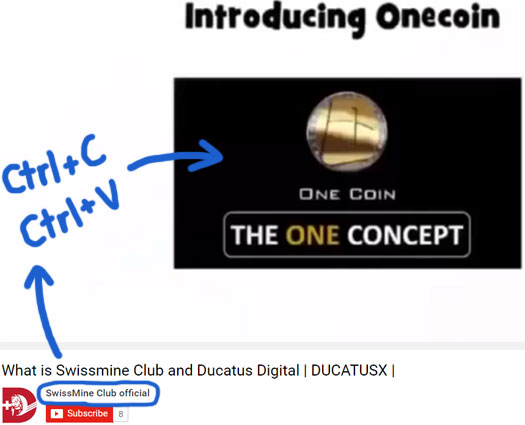 Back then Swiss Mine was pretending it was based out of Switzerland.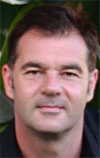 Heading up the company were Knut Unger and Ronny Andreas Tome (right).
Instead of OneCoin Ponzi points, Swiss Mine affiliates invested in Ducatus Ponzi points (DUC).
A year later Swiss Mine rebooted as Ducatus Network.
Seeking to distance itself from OneCoin, which by then had collapsed, Ducatus Network was presented as a bitcoin alternative.
As a hard fork of bitcoin Ducatus will work in a very similar way to Bitcoin.

Ducatus will use an almost identical set of rules and we will run our own software on e-wallets to establish, build, maintain and manage its own decentralised blockchain.
At some point Ducatus Global was introduced, as well as the ducatusx shitcoin.
DucatusX is a fork of the Ethereum blockchain. But unlike Ethereum, DucatusX uses a "Proof of Authority" consensus algorithm which significantly reduces its maintenance cost.

In the future, it is envisioned to switch to "Proof of Stake", giving users even more confidence in choosing DucatusX for their projects.
Something something, Indians getting scammed, and that brings us to 2021 and the October 2020 launch of Centurion Global.
The new ruse is getting gullible affiliates to invest in DUC through rEaL-eStAtE tOkEnIzAtIoN.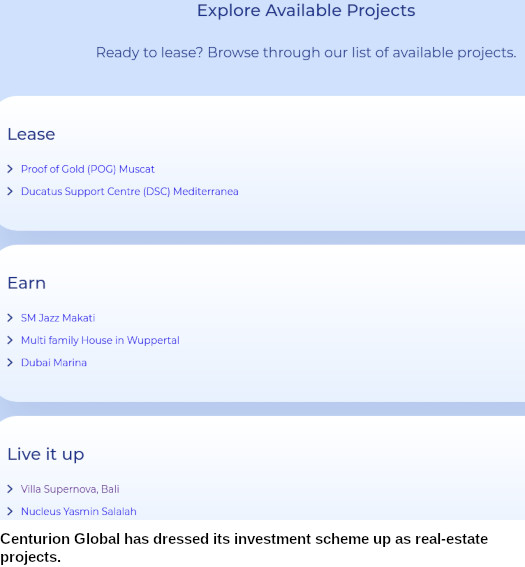 Meaning absolutely nothing in the real world, this is just an excuse to steal more money.
Each property is allocated a set amount of tokens, on the promise of a set ROI – paid in DUCX tokens.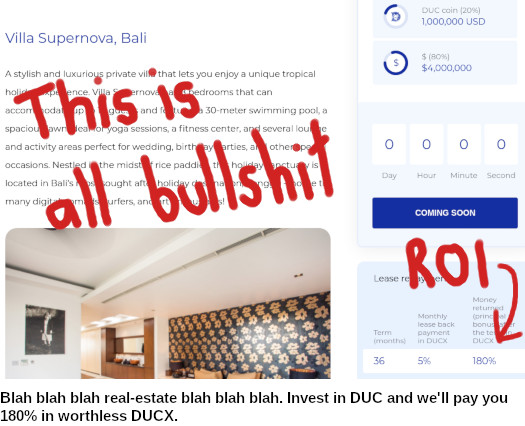 The only real money is that entering the scheme on the front-end for DUC. When it comes time to cash DUCX out, sorry for your loss.
For a more specific look at the loss process in action, here's a first-hand account sent in by a BehindMLM reader;
When trying to sell our coins we purchased at $0.06 under "Ducatus"(now worth only $0.02 under "Centurion"),  members now also need to purchase DSVs (Digital Vouchers at USD$1 ea) then swap to purchase their coin/s the "DUC" under Centurion etc.

Then if you want to use your DSV to purchase a product in their "Digital Economy" you must swap your DSV for a DSV-P (more fees) which can only be redeemed in their overpriced store stocking only their other MLM products they represent at highly inflated prices, i.e. USD $36.00 for one cake of Soap?

And If you want to sell or cash in your DUC they will tell you you now need to swap those for their other coin the "DUC-X" which is traded on an exchange they own aaplussg.

Once you get to this site, its a long wait, and the coin has lost most of its value in fees and exchanges and then you only get to swap for another cryptocurrency, i.e. USDC (Not Cash).

Then there are more fees when you try to transfer or try to sell that and so on…
Of course none of this is revealed on Centurion Global's website.
When Swiss Mine was launched Ronny Tome was living in Indonesia. He's since relocated to Singapore, which ties into the "our Ponzi scheme is not available in Singapore" pseudo-compliance.
Beyond that there's nothing much else to Centurion Global. New name, hope that new suckers invest, existing suckers cash out, Ronny Tome skims his admin fees and uh, yeah.
If Centurion Global takes off, the eventual exit-scam will play out via any number of well established methods.
If not, Centurion Global reboots with a fourth company name in a few years. Who knows.
Neither Ducatus Network, Ducatus Global, Centurion Global or Ronny Tome are registered to offer securities anywhere in the world.
Stop falling for this garbage.